Serena Williams' Wedding Photos Will Make You Cry Happy Tears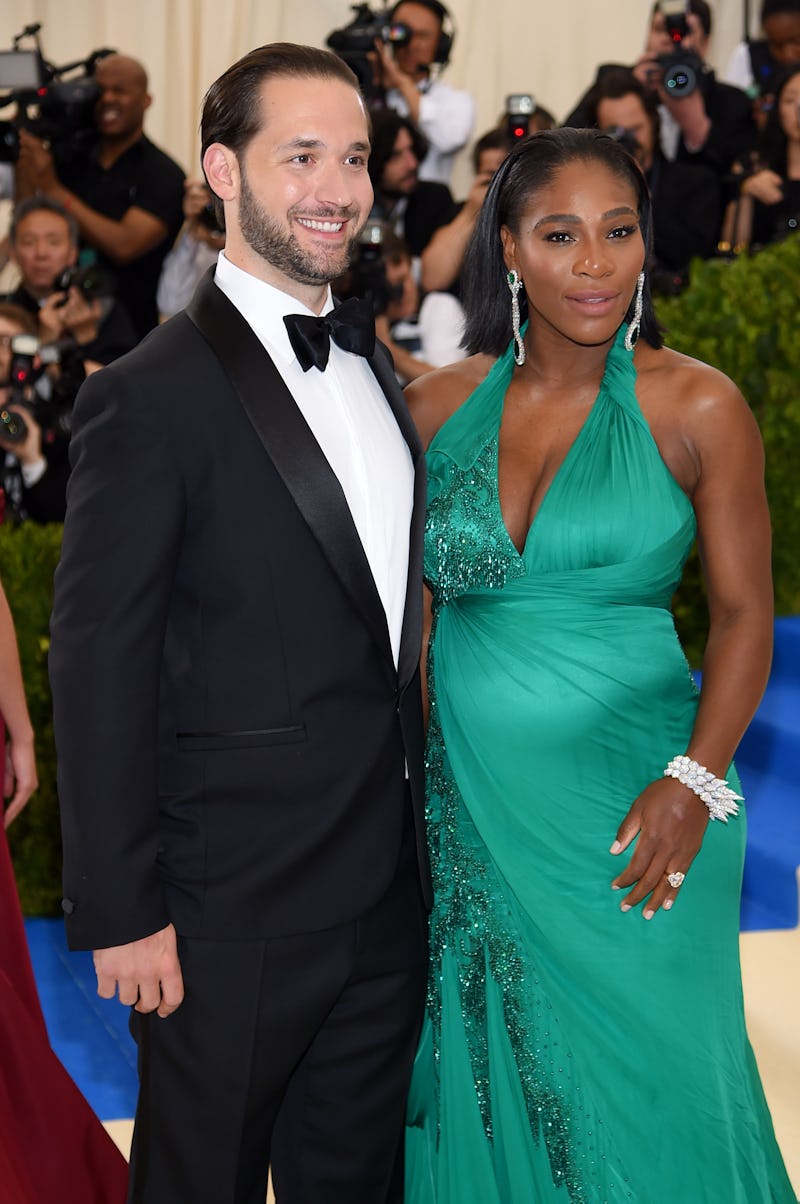 Dimitrios Kambouris/Getty Images Entertainment/Getty Images
It was a tale as old as time when Serena Williams and Alexis Ohanian wed on Nov. 16. According to Vogue, the tennis champion and founder of Reddit had a Beauty and the Beast-themed wedding, and the stunning photos from Serena Williams' wedding show off the fairytale evening in all of its opulent glory. The couple seemed to have had a dream wedding with their family, friends, 2-month-old daughter Alexis Olympia, and Williams' Yorkshire Terrier, Chip, all in attendance.
Williams and Ohanian reportedly met in Rome in 2015, and became engaged in 2016. Earlier this year, the couple welcomed their daughter into the world just a few months after Williams won the Australian Open. To say it's been a whirlwind few years for these two titans of their respective fields would be an understatement. Through it all, they've been each other's constants, and from the looks on their faces in their wedding photos, Williams and Ohanian are happily committing to being there for each other forever.
Vogue reported that the couple's star-studded New Orleans wedding featured guests including Beyoncé, Kim Kardashian, Kelly Rowland, Serena's sister Venus, and many more. While the iconic Disney film Beauty and the Beast inspired the decor (and the couple's first dance to "Tale as Old as Time"), the ceremony was also full of nods to Williams' career. Each table at the ceremony was named after one of Williams' 12 Grand Slam titles, and guests were given their tennis trophies as party favors, according to Vanity Fair. The magical evening was capped off by Ohanian proving he's a real prince. Williams' new husband surprised her with an actual working carousal to cap off the romantic event.
While nothing could ever top receiving an invite to Williams and Ohanian's bash, swooning over photos from their wedding is the next best thing.
The First Family Portrait
Williams posed in her stunning wedding gown (one that Belle would totally approve of) alongside Ohanian and baby Alexis to create what may be a contender for the most perfect family portrait ever.
Williams Prepares For Her Walk Down The Aisle
If the bride-to-be was feeling any jitters, she wasn't showing them in her pre-wedding pictures.
The First Kiss
Disney probably wishes they could create a wedding as picture perfect as Williams'. In case you were wondering, yes the archway with the yellow flowers was a nod to the Beauty and the Beast aesthetic — this couple knows how to keep things chic. Oh, and if you need any tips writing your vows in the future, then Ohanian is your man. The Independent reported that Ohanian told Williams,
"You are the greatest of all time, not just in sport. I'm talking about as a mother and as a wife. I am so excited to write so many more chapters of our fairy-tale together. And my whole life I didn't even realize it, but I was waiting for this moment."
Emotional sobbing is totally allowed in this situation.
Williams & Ohanian's Flawless Party Favors
Not all of the guests can win a real Grand Slam, but at least they can hold a trophy now. And enjoy the wonders of a ceiling donut.
The Couple Came Ready To Dance
Just look at Williams' after-party shoes. Those sneakers are a work of art.
The Wedding Party
There's no doubt about it, this wedding party is spectacular. Even Chip (the dog, not the teacup) was included in the fun.
Ohanian's Big Surprise
Dreams clearly do come true, because Williams got a carousal for her wedding. Is everyone sure Ohanian isn't an actual prince?
The Guest List
How cool was Williams' ceremony? It had an actual mini Destiny's Child reunion, that's how cool.
Venus Supports Her Sister In Style
Venus and Serena always have each other's back, and that will never change.
As beautiful as their wedding was, Williams and Ohanian's story is just beginning. From their photos, it seems clear these two are devoted to one another, and their big day is surely just the start of another amazing chapter for these two champions.