The 'Scandal' Cast & Crew Just Wrapped Production On The Series Finale & The Photos Will Make You Sob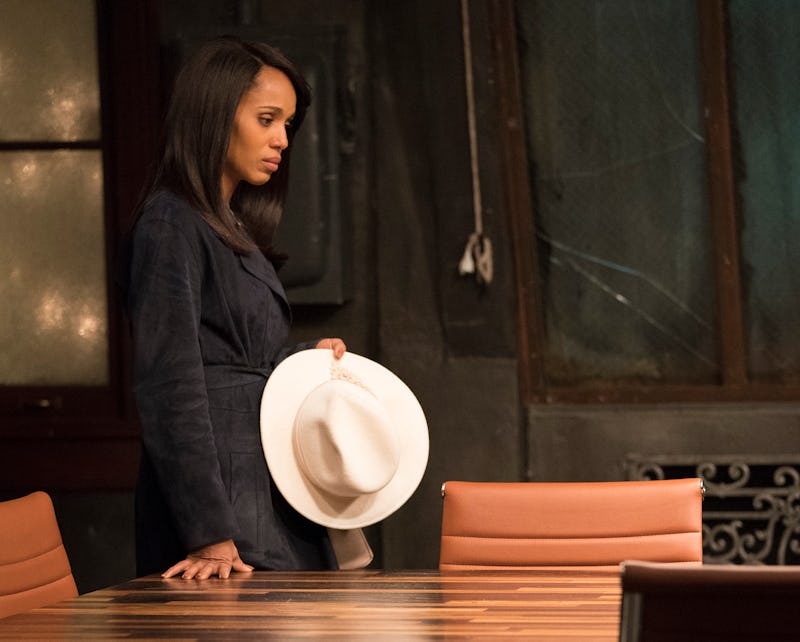 Mitch Haaseth/ABC
Gladiators, it's officially been handled for the last time. The cast and crew of Scandal wrapped production on the series finale this weekend, and judging by a few photos from the set of the Scandal series finale from some of the show's actors, there weren't too many dry eyes in the house that day. The OG gladiators who have kept you on edge for seven seasons straight found themselves in tears on Saturday morning, March 17 as reality set in that Olivia Pope & Associates would finally be closing its doors for good.
Most of the show's cast and crew took to social media to express their gratitude for the past several seasons of the show, while also giving nostalgic nods to earlier episodes and moments on set.
"And that's a wrap on #scandal," Shonda Rhimes tweeted. "A lot of tears. A lot of love. Forever grateful for every second." The series' showrunner and creator followed that tweet up with a photo of the Truman Balcony set — where Fitz, Mellie, and Olivia have had a countless number of intense discussions — and Rhimes thanked the production team for the amount of work they put in on the show over the years.
"Could not be prouder," Rhimes captioned the pic. "Here is a shot of the Truman Balcony created by our amazing production crew. Thank you to every single person in our #scandalfam who helped bring this show to life."
Before officially wrapping things up, Rhimes posted a series of photos and videos from the day on set, showing the moments in which the cast and crew all came together to celebrate the final moments of production.
She even posted this photo of herself and actor Katie Lowes just before filming the show's final scene.
And as if that wasn't enough to completely obliterate your emotions, "Olitz" fans were feeling A LOT of things when Kerry Washington later posted a series of photos of herself and Tony Goldwyn via Instagram, one of which she captioned, "You're welcome."
Needless to say, fans of the show were more than emotional after seeing the pic, leaving comments underneath that read things like, "What will I do with out [sic] you two," and "I'm not sure what happens to my life after the season finale."
Katie Lowes and Darby Stanchfield, who play Quinn and Abby on the show, respectively, also got in on the action. Both actors posted throwback behind-the-scenes photos that were taken when the show's pilot episode was filmed, and followed them up with sweet tributes from their last day.
Stanchfield tweeted a picture of herself and Henry Ian Cusick, aka Stephen, on Friday night and, yeah, Abby has definitely come a long way since Season 1.
But her character evolution hasn't been nearly as wild as Quinn's. Lowes took to Twitter to share a photo taken on her first day playing the bright-eyed-OPA-associate-turned-assassin. "What a ride this has been," she caption the photo. She later shared a photo of her trailer taken on the early morning of the crew's final day.
Season 7 of Scandal focused mostly on Olivia's return to the White House as Mellie's Chief of Staff, with Quinn doing her best to keep the OPA train chugging along. It sounds like a pretty good set-up in the beginning, but since this is Scandal we're talking about, all of that ends up getting more complicated as the season progresses.
The Scandal series finale is officially set to air on Thursday, April 19 on ABC, so you better start arming yourself with tissues now. Once this season is over, the only thing that anyone should really be wondering is what's next for Olivia and Fitz. Maybe they'll finally make it to Vermont? Fans might have to keep their fingers crossed for that one.