These Photos Of A Border Patrol Facility Show People Actually Living In Cages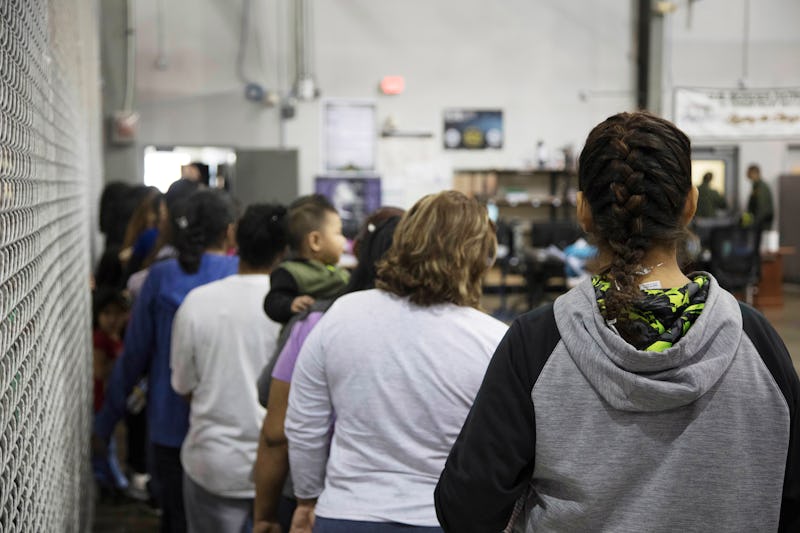 RGV-FCB/AP/REX/Shutterstock
Despite Border Patrol's attempts to keep out even U.S. senators from their migrant holding facilities, a group of journalists finally gained access on Sunday to document the conditions that children and sometimes their parents are experiencing after being picked up at the border. More than 1,000 people were in one facility, and children are being held in large caged-in areas. These photos of the migrant Border Patrol facility shows what they're like. Some cages hold up to 20 kids at a time. Bustle has reached out to Border Patrol for comment.
The facility is an old warehouse in South Texas, and the AP reports that there are hundreds of children being held inside the fenced cages. There are wings for unaccompanied children, adults, and families that have not been separated. The agents in this area told the AP that they have refrained from separating families with children under 5 years of age — though migrant advocates who visited the facility suggested this rule was not always followed.
Manuel Padilla Jr., the Border Patrol's chief agent at the "Ursula" facility (nicknamed such because of the street the facility is on) is also in charge of the Rio Grande Valley Sector. He told the AP that exempting people from the law created a "draw" for people to come. "That creates the trends right here," he said. Of the 1,100 migrants being held there, 200 were unaccompanied children and another 500 were "family units."
Reporters were not the only visitors on Sunday. Democratic lawmakers also visited five government facilities and denounced what they found.
"Those kids inside who have been separated from their parents are already being traumatized," Sen. Jeff Merkley of Oregon, told the AP. "It doesn't matter whether the floor is swept and the bedsheets tucked in tight."
Merkley had garnered headlines earlier in the month for being denied entry to a similar facility. A video of his attempts went viral.
Rep. Peter Welch, a Democrat from Vermont, spoke out after visiting the facility. "It's a pretty grim sight to see really good, young, healthy-looking kids with so much fear, so much anxiety, so much wonder of what is next," Welch told activists outside.
Migrant advocates used even harsher language. Michelle Brane, director of migrant rights at the Women's Refugee Commission, told the AP about some of her conversations with the migrants — reporters weren't allowed to speak to them. "The government is literally taking kids away from their parents and leaving them in inappropriate conditions," Brane told the AP. "If a parent left a child in a cage with no supervision with other 5-year-olds, they'd be held accountable."
Politico reported that Border Patrol made the argument that they weren't separating anyone at the border; that only happens later after they're already in custody at a place like this facility. "There is no separation that happens out in the field," Padilla told the reporters on their walk through. "We do not have a policy of separating families at the border. Period."
But an information sheet that the Border Patrol gives to parents who arrive at the facility states, written both in Spanish and English, explains when it does happen. "Within the next 48 hours, you will be transferred to the custody of the U.S. Department of Justice (DOJ) and will be presented before a judge for having violated" laws on crossing the border without papers.
"While this process is occurring, your child or children will be transferred to" another facility run by a different federal agency, the refugee resettlement office, Politico reported that the document reads. The same sheet of paper apparently tells parents to call the Office of Refugee Resettlement (ORR) or Immigration and Customs Enforcement (ICE) to "locate [their] child(ren)."
From that point on, keeping the cases of the children and parents connected has proven difficult, with The New York Times reporting that at least one mother has been deported while her son awaits a court date.