Here's What David Looks Like After His 'Bachelorette' Injury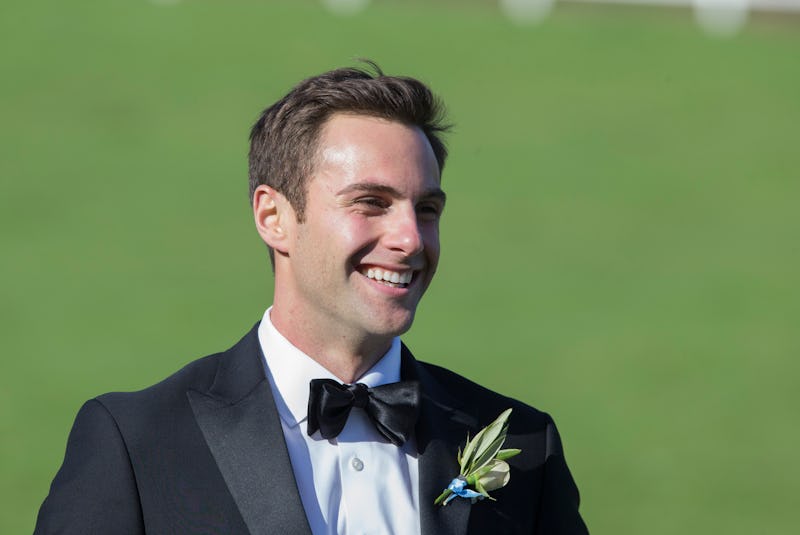 Paul Hebert/ABC
On last week's episode of The Bachelorette, David faced a pretty scary injury when he fell out of bed, hitting the tile floor of his bedroom face first. An ambulance was called to the Bachelor mansion, and the amount of blood on screen was scary. But on Monday, David made his return to the show, and it seems like he's a little bruised, but his spirit is still in good shape. And now that there are photos of David's face post-Bachelorette injury, not only is it clear that he managed to recover, but it seems like he's doing just fine these days, too.
When David returned, he went straight for Becca, who seemed pretty concerned about how he was doing. He looked pretty banged up — his face was red and bruised, and his eye was doing something a little scary, given that it appeared he burst a blood vessel in his eye. But he seemed to be doing a lot better once Becca handed over his rose, giving him permission to skip the rose ceremony to catch up on some much-needed rest.
Once the other guys saw David for the first time, he was greeted with cheers — from everyone except Jordan, who simply wasn't having it. And for the record, David could totally sense that, and he was living for it.
As far as David's Instagram reveals, it seems like he's doing really well, despite the whole falling out of bed debacle.
"Thank you all so much for the good wishes," he wrote in a post on Monday afternoon, before the latest episode aired. "Who would have thought falling out of a bunk bed could be as scary as falling in love? I'm feeling a lot better and excited to continue the adventure tonight on ABC!"
And looking at his recent pictures, it's almost impossible to tell that David was hurt in the first place. It's not like he's sharing gratuitous close up photos of his face or anything, but it seems like the extent of the lasting damage has been some leftover bruising, which will likely go away with time. Exhibit A:
He was also looking pretty good in this picture from a Philadelphia 76ers game in April, which would have been taken after his time filming The Bachelorette came to an end. It's hard to tell if his face is still showing signs of his injuries, but it's a good sign that he's looking good from this far away.
Fortunately, it seems like David's face is no worse for the wear — and according to Monday's episode, neither is his race for Becca's heart. Not only was she pumped to see him, but he didn't seem to lose any points for having to leave for his brief hospital stay. Falling out of bed definitely had to suck (especially after seeing what it did to his face... ouch) but it would have been way worse if it had killed his chances with Becca.
It was sweet to see how excited the guys were to see him back in one piece (minus Jordan, of course) and how happy David was to be there. Was there a little gloating about snagging a rose outside of the ceremony? Oh, definitely, but after having his face brutally smashed against tile and ending up in the ICU, he earned that gloating.
Let's just hope that David's luck is looking up and he doesn't suffer any more injuries while he's filming The Bachelorette. Nobody deserves a fate that cruel, especially considering how stressful being a contestant on this show must be in the first place.