Gal Gadot's Pageant Photos Are Sooo Early '00s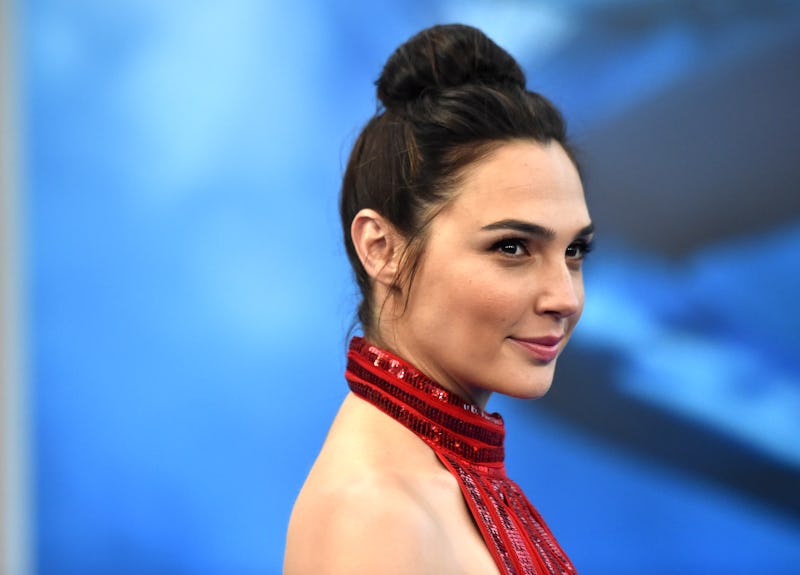 Frazer Harrison/Getty Images Entertainment/Getty Images
Beauty queens and superheroes have a lot in common. They're smart, talented, poised, and proud to represent their homelands be it Wakanda, Krypton, or Gotham City. That's why it should come as no surprise that actor Gal Gadot was once Miss Israel, as E! points out. Although audiences are anxiously awaiting to watch her kick butt on the big screen in Wonder Woman, back in the day Gadot was knocking out her competition. The 32-year-old was bestowed the honor in 2004 at just 19 years old. However, when it came time to compete for Miss Universe, Gadot told People magazine she was over the glam.
"I wasn't that type of girl," she said. "I rebelled. I came down late. I showed up late to everything. They make you wear even gowns for breakfast. I didn't wear evening gowns to breakfast. I didn't wear makeup."
Now, one could argue that the early 2000s wasn't the most stylish era. Every piece of clothing was covered in glitter and rhinestones. Studded belts with low-rise acid wash denim jeans were all the rage. Let's not forget pencil thin eyebrows, heavy eyeshadow, and frosted lips were an absolute must. After looking back at Gadot's reign as Miss Israel, the former beauty queen's wardrobe epitomized the dawn of the new millennium.
Take a walk down memory lane and marvel at what it was like being Miss Israel in the early 2000s.
She Wore A Studded Belt
Back in the day, a few studs made a big statement.
She Wore Lipgloss
Glossy lips > matte lips
She Used Hair Clips
Hair clips, especially in the shape of butterflies, gave your 'do extra oomph.
She Kept It Casual
Although Juicy Couture track suits defined the era, sports pants were a pre-athleisure go-to garment.
She Wore Logo Shirts
From Ed Hardy to Von Dutch, a big, flashy logo let people know you were styling.
She Rocked Halters Tops & Sarongs
Before the strapless bikini, there was the timeless halter.
She Was Glittery
Of course, that is to be expected in the pageant world.
She Worked Her Skinny Eyebrows
Her eyeshadow really helped them pop.
She Accented Her Looks With a Belly Button Ring
If you look closely, you can spot her jewel hidden beneath all those rhinestones. So totally 2000s.
As audiences prep for Wonder Woman to sport her signature red, blue, and gold ensembles, fans of Gadot will always have this reminder that she was totally on trend in the early 2000s.