The Photos Of Julia Roberts At The 'Pretty Woman' Musical Will Make You SUPER Nostalgic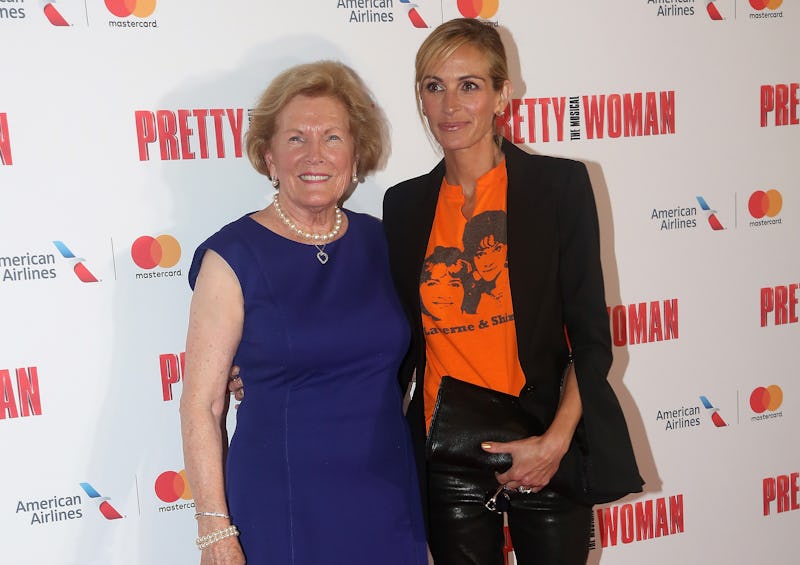 Bruce Glikas/Bruce Glikas/WireImage
Back in 1990, a then-21-year-old relative unknown actor named Julia Roberts snagged the role of charming Vivian Ward in Pretty Woman. The iconic film has since been reborn as a music-filled show on Broadway, and on August 2 — nearly 30 years the movie debuted — Roberts attended the Pretty Woman musical, People reported, and paid tribute to the rom-com's late director Garry Marshall, who passed away in July 2016.
Before the performance began, Marshall's son Scott spoke to Vanity Fair on the red carpet about his father's life-long aspirations. "It was my dad's dream to make it on Broadway since he was a little boy," he revealed to the publication. "His mother would take him and his sisters to Broadway shows on a Wednesday, and they could only get cheap tickets because they had no money. It's where he heard an audience laugh and cry and he knew he wanted to be in show business. His first dream was Broadway, and he has now made it." Aww. You guys. What a moment.
Marshall's wife Barbara — who walked the red carpet with Roberts — told the publication of her late husband,
"Garry liked happy endings. He was a good fairy-tale teller and he wanted all of his stories to have a happily ever after. He really wanted Pretty Woman on Broadway, and he knew it was going to happen. He was an optimist. And to have Julia here with us tonight is very special. He got his own happy ending."
It seems like it'd be a little weird to watch someone else play the role that made you famous — and in the form of a musical, no less. If Roberts felt weird about it, though, you'd have never known. Broadway.com shared a few photos of the star that were snapped while she was sitting in the audience, and honestly, Roberts was just straight-up beaming. Beaming in that genuine, 100-watt way that only Julia Roberts can.
After being cast as Ward back in 1990, Roberts continued to work with Marshall throughout the years. He was there with the star before, during, and after she became "America's Sweetheart," and reunited Roberts and Richard Gere — who played Edward Lewis, the wealthy playboy opposite Ward in Pretty Woman — in 1999, for what would become yet another iconic rom-com: Runaway Bride.
Roberts gave a subtle nod to Marshall via her wardrobe, People pointed out, as she donned an orange, graphic print t-shirt emblazoned with the faces of Laverne & Shirley — the '70s sitcom created by Marshall, and one of his earliest successes. The actor completed her look with a black blazer, black leather pants, and black heeled sandals. Halloween colors, but make it sophisticated, basically.
After the show was over, Roberts graciously took tons of photos with the cast and crew of the new Pretty Woman. She even posted a photo with Samantha Barks (the actor who plays Vivian Ward in the musical) to her very own Instagram page. Past and present Vivians united.