You Need To See Kylie Jenner's Moving Video Tribute To Her Daughter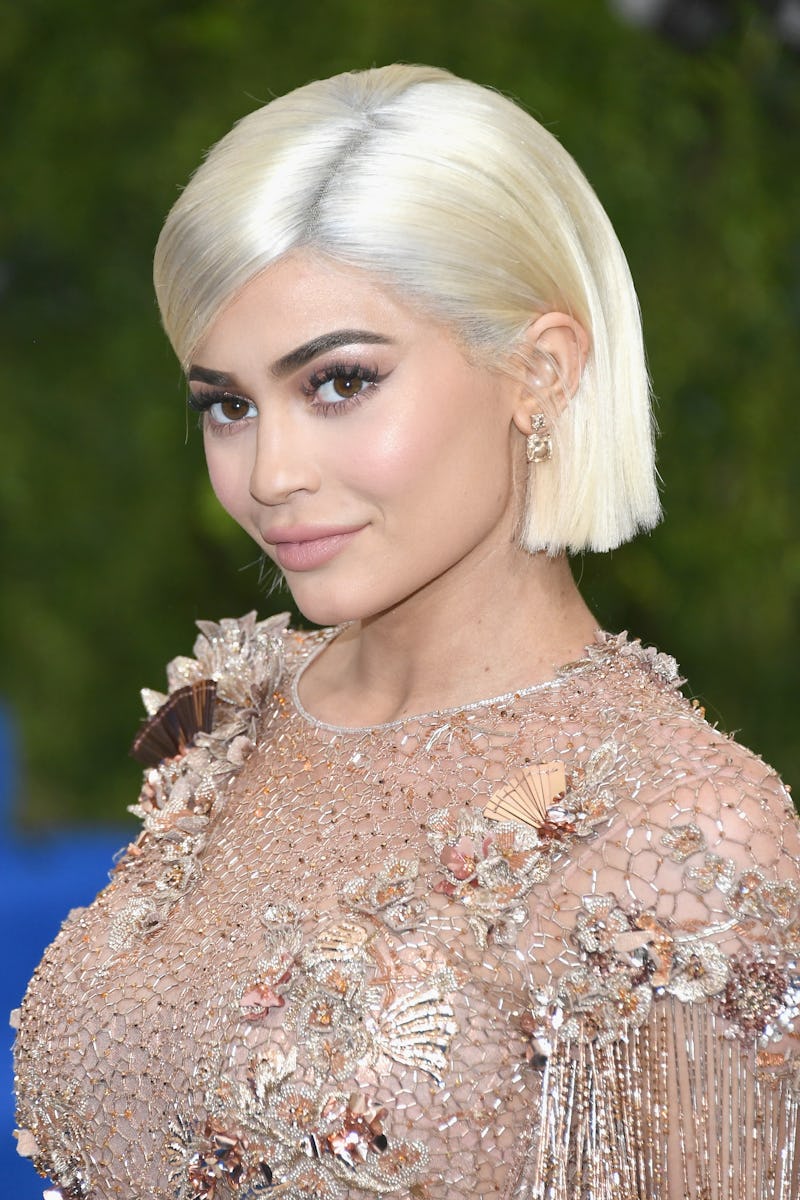 Dia Dipasupil/Getty Images Entertainment/Getty Images
It's official: Kylie Jenner is a mom! After rumors of her pregnancy remained unconfirmed for months, the 20-year-old reality star and makeup mogul finally confirmed via Instagram and Twitter the news. According to the announcement, Kylie and boyfriend Travis Scott gave birth to a baby girl on Feb. 1, 2018.
In a lengthy statement released via social media, Kylie confirmed her pregnancy and the birth of her daughter while also revealing why she chose to keep her pregnancy a secret. She said,
"my pregnancy was one I chose not to do in front of the world. I knew for myself i needed to prepare for this role of a lifetime in the most positive, stress free, and healthy way i knew how. there was no gotcha moment, no big paid reveal i had planned. I knew my baby would feel every stress and every emotion so I chose to do it this way for my little life and our happiness."
The new mom continued,
"pregnancy has been the most beautiful, empowering, and life changing experience I've had in my entire life and I'm actually going to miss it. I appreciate my friends and especially my family for helping me make this special moment as private as we could. my beautiful and healthy baby girl arrived February 1st and i just couldn't wait to share this blessing. I've never felt love and happiness like this i could burst! Thank you for understanding."
Kylie's baby girl weighed in at 8 lbs., 9 oz. After the reveal, Kylie also shared a touching 11-minute montage of videos she and close friends and family members captured of her throughout her pregnancy, including footage of her and Scott prepping for the birth of their baby as well as clips from her all pink, pajama party-themed baby shower.
In the last two minutes of the video, fans are given a glimpse into the moment the Lip Kit queen finally gave birth to her daughter. Though she has yet to release any photos of the newborn, the video includes a very quick shot of the mom and daughter in the delivery room right after her birth.
Rumors of Kylie's pregnancy began to spread like wildfire back in September, and when neither she nor any other members of her famous family came forward to confirm the news, the internet pretty much took the news and ran with it. The 20-year-old appeared to be in hiding for several months, save for a few cryptic posts on her social media pages that either didn't show her face or body or were throwbacks photos. Some fans even went as far as analyzing Kylie's Snapchat posts and questioning if she was dropping hints about her pregnancy. (In retrospect, a lot of those assumptions actually make a lot of sense now.)
Jenner's family stayed very tight-lipped about the situation, and even Travis Scott did a good job of staying silent about the news. The 25-year-old rapper recently spoke to Billboard and refused to give away any information on the rumors.
"I don't want to talk about that. They're just guesses. Let them keep fishing," he said.
The way Kylie chose to handle her pregnancy is strange, considering how open she normally is about her life. But because of that, it's also a decision that's deserving of so much respect. She's been out the spotlight for several months now because of her pregnancy, and it's possible that she might get back to regularly posting on the 'gram now that she's finally given birth — though it'd be totally understandable if she chose to wait a while longer before posting any photos of her baby girl. Whatever happens next, congratulations are definitely in order for the new mom.