All Of The Clues That Kylie Jenner Is Pregnant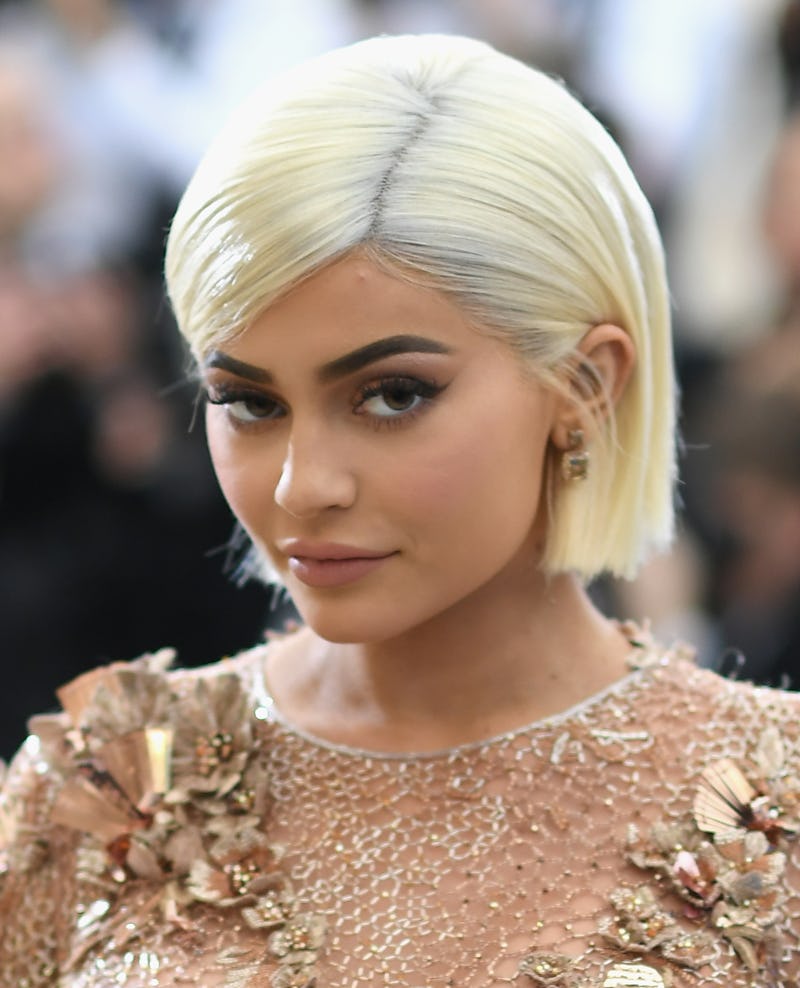 Dimitrios Kambouris/Getty Images Entertainment/Getty Images
For months it has been reported that reality star and lip kit entrepreneur Kylie Jenner is expecting her first child with Travis Scott. However, despite the fact that Jenner and her family have dropped a ton of clues that Kylie Jenner is pregnant, the Life with Kylie star still has not publicly commented on the pregnancy rumors.
Fans have been watching and wondering about Jenner's reported pregnancy for a while, but now that her sister Khloé Kardashian has confirmed that she's pregnant with a photo shared to Instagtam on Wednesday, Dec. 20, followers of the famous family are more interested than ever in whether or not the youngest Kardashian-Jenner sister is in fact pregnant. Judging by all of the hints, it seems near impossible that the star isn't pregnant after all, but we'll have to wait for Jenner to make her own announcement before we can really consider the case closed.
Way back in September, it was first reported that Jenner was pregnant by TMZ. Their sources claimed that both Jenner and Scott had been sharing the news with friends and family. Shortly thereafter People also reported that Jenner was pregnant, with an insider claiming that it was an "unexpected but completely amazing turn of events that [Jenner] could not be more excited or thrilled about." Although multiple outlets also reported that Jenner was with child nearly three months ago, neither Jenner nor any of her famous family members have confirmed or denied that she is pregnant.
During an appearance on The Ellen DeGeneres Show Jenner's sister Kim Kardashian (who has confirmed she and husband Kanye West are expecting a child via surrogacy) explained why she wouldn't address whether or not any of her sisters were also expecting. "There's so much that goes on that we respect each other's right to speak for ourselves," the Keeping Up with the Kardashians star explained. "So I will speak about myself, and hopefully, they can come on and address whatever rumors you might have."
So while we wait for Jenner to make her own statement about her pregnancy, here are all of the hints we've gotten that she is expecting.
Jenner's Previous Statements About Wanting Children
During an episode of KUWTK, Jenner explained that she wanted to have children before she was 25 years old, and she also recently broached the topic of having kids on Life of Kylie.
The Noticeable Difference In Her Instagram Activity
Since the pregnancy reports first broke, hardly any of the new photos Jenner has posted to social media have been full body shots, which is definitely a change from her previous Instagram photos. One of the only exceptions being the time she posed wearing an oversized blue shirt, which led some to believe she was teasing that she was pregnant with a boy.
She's Been MIA During Most Of This Season Of KUWTK
Jenner has barely been seen during the 14th season of her family's hit series, even during the KUWTK Christmas Special when the family received ice skating lessons from Nancy Kerrigan. The whole family also posed for a picture with the skater, but noticeably absent from the photo was Jenner. An insider told People that Jenner "was there, but didn't ice skate. She kept in the background."
Also, during the special, Jenner's mother, Kris Jenner, dropped what sounded like a hint about multiple pregnancies in the family when she said, "I used to pray that one of you guys would have a baby and now it's like a faucet that we turned on that won't turn off."
The Time She Literally Posted Buns In The Oven
In October Jenner posted the above photo to Snapchat, which could have been a subtle sign — especially since there are three buns (Kylie, Khloé, and Kim).
She "Teased" A Gender Reveal
When Jenner posted a photo of pink and blue phone cases with a caption saying she was "thinking blue," fans immediately took it to mean that Jenner was having a boy.
Her Lack Of Public Appearances
Jenner has been lying under the radar for the past few months and for the most part has avoided being photographed by paparazzi. She even skipped the WWD annual Beauty Inc. Awards (where Kylie Cosmetics was honored), sending her best friend Jordyn Woods in her place.
Her Absence From The Family Christmas Card Photos
So far Jenner has yet to show up in any of the photos Kim has shared to social media of their family's annual Christmas card. Pretty suspicious, right?
Jenner's Pink Christmas Tree
She decorated her holiday tree with pink decorations, which fans took to mean that she could be having a girl instead of a boy. At this point, though, who knows what the baby's gender will be — if there even is a baby.
The Number Of Pajama Sets Kris Was Gifted
A month ago Kris shared a picture of pajama sets she'd been given. "Thank you for a collection for every one of my grandchildren," Kris captioned the photo. But as you can see, there are a total of nine pajama sets in the shot above. Kris currently only has six grandchildren, plus two more when Kim's and Khloé's little ones arrive, which will make eight. So, in order for Kris to have a total of nine grandchildren someone else in the family must be expecting, as well! (That, or Burt's Bees just assumed the reports about Jenner were true, too.)
Kim Possibly Teased Us With An Instagram
In September, Kim shared a photo of herself, Khloé, and Jenner with a caption that read, "The 3 of us." This could have been a hint that the three sisters were all expecting, and now that Khloé has confirmed her own pregnancy it seems even more likely that Kim was making some sort of hint about them all having children in the near future.
Joking About "Babies" With Her Pregnant Sister Khloé
Another hint that seems all the more relevant after Khloé's announcement — remember the promotional video Jenner and Khloé did for their lip kit collaboration? Towards the end of the video Khloé said, "We created them. It's our baby together." Later Jenner added, "We have so many babies. Who knew?" The two then raised their eyebrows and laughed, hinting that the sisters were in on a joke that the rest of us weren't.
A lot of fans are hoping that Jenner will confirm her pregnancy in the coming days, but it's worth noting that Jenner is under no obligation to share the news before she's comfortable doing so. It would be quite a treat though to finally have confirmation that three Kardashian-Jenner babies are on the way!