Meghan Marble Wore A Color She NEVER Wears To Prince Louis' Christening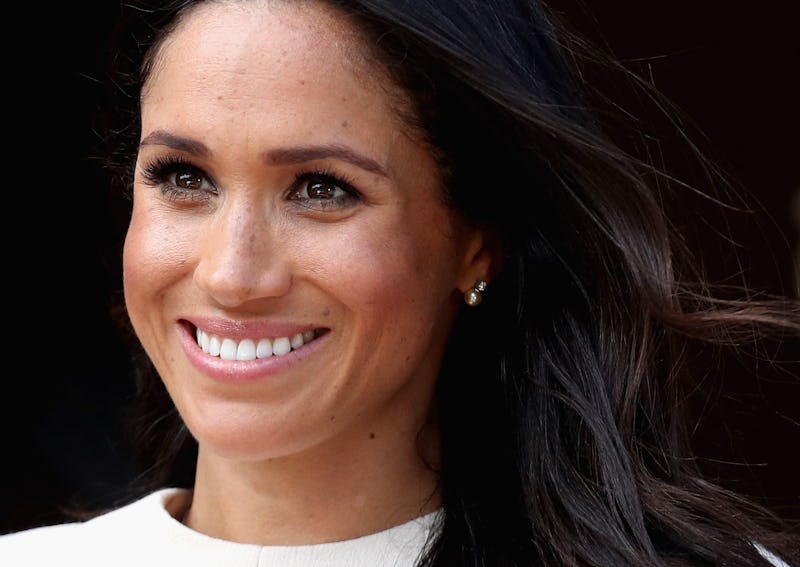 Chris Jackson/Getty Images Entertainment/Getty Images
The big day has come and gone, but the Duchess of Sussex is still killing it with her royal style. Meghan Markle wore a head-to-toe olive green outfit to Prince Louis' christening. Because any color is a summer color when you're royal. The hat, dress, and shoes combo will make you reevaluate the colors you buy this season and will likely have you digging into your winter wardrobe for the end of summer.
If you thought that Markle's yellow Brandon Maxwell dress was a whole lot of color, just wait until you see her latest look. The Duchess of Sussex wore an olive green Ralph Lauren dress in July. Yes, really. She wore the dress, plus a matching hat and shoes, to Prince Louis' christening at the Chapel Royal, St. James's Palace.
Unfortunately, you aren't able to buy the dress on the Ralph Lauren website at this time. That could be because it's custom. It could also be because it's from a different season or that she already had it in her closet. Either way, she looked absolutely gorgeous in the head to toe look.
The other ladies in the family — including Princess Charlotte — opted for all white looks, while the men went for navy suits and blue ties. Markle was the only one who decided to spice up the day with a little bit of color. You know, besides the Archbishop of Canterbury, Justin Welby.
Markle paired the Ralph Lauren dress with suede, olive green Manolo Blahnik pumps and an oversized Stephen Jones hat. The entire look is not exactly what you were probably imagining that she'd wear for a summer baptism, but leave it up to Markle to keep the sartorial surprises going. She also belted the dress, which is the exact opposite of the flowy summer dresses that you typically see in summer.
Not to mention the fact that she totally gave the color a new meaning. Well, at least seasonally. Go ahead and start digging into the back or your closet for your olive colored tees, because this is pretty much permission to wear the color all year long.
The color isn't just bold for summer, though. It's quite a colorful statement to make for a day when all eyes are on Prince Louis. As you might already know, Kate Middleton chose to wear a subtle outfit that she had already worn once to Prince Harry and Markle's wedding in order to keep eyes off of her and on the happy couple.
Color is something that Markle has never been too shy to incorporate into her wardrobe. Just recently, she wore the bright yellow Brandon Maxwell dress to the Your Commonwealth Youth Reception. It was quite a statement. So much so, that the bright shade might have just taken over as the new millennial pink, according to previous Bustle coverage. Now that is a power outfit.
Royals don't just choose any old outfit. They know that millions of eyes will be on them, and have to choose carefully when it comes to clothing. Since Queen Elizabeth wasn't at the christening, people had more leeway to wear the colors that they want to.
Because, as you might already know, the Queen wears bright colors, so that people will always know where she is. The effect wouldn't quite be the same if Markle was to show up in olive green or bright yellow when Queen Elizabeth wore her lime green suit.
Oh, and if you look closely at Markle's outfit, you'll see that she also has a pair of olive green gloves in-hand, as she's leaving the chapel. Monochrome style is not going anywhere any time soon.