Meghan Markle Is More Than Her Hair, But Celebrating "Curls In The Royal Palace" Is Empowering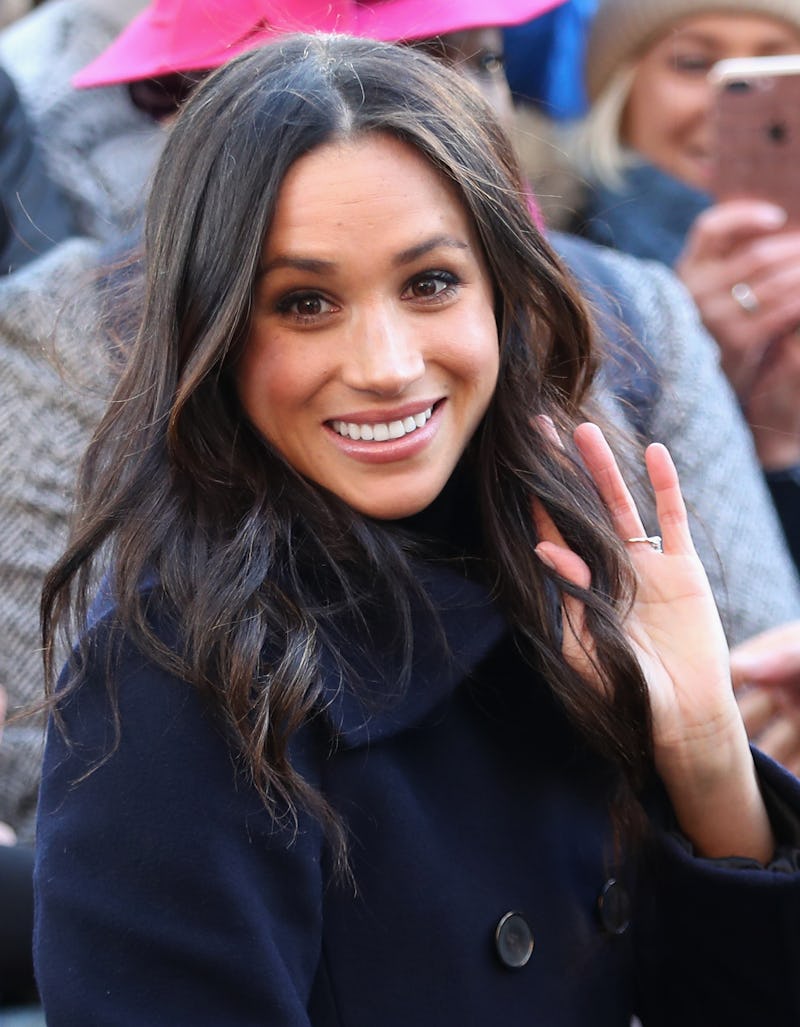 Chris Jackson/Getty Images Entertainment/Getty Images
Leave it to Twitter to do some major super sleuthing and unearth photos of Meghan Markle's natural hair from way, way back. The soon-to-be royal already spilled the tea on her top beauty secrets, revealing how she achieves a perfectly tousled, no strand out of place 'do. As discovered by one Twitter user, however, Markle isn't just the queen of a beautiful blowout. She has rocked natural curls in the past, which has the internet praising "curls in the royal palace."
In the midst of all the chatter surrounding Meghan Markle's ring, potential dresses, and the upcoming royal wedding, childhood photos of the actress are making their rounds — and they're probably the best thing to surface during all of the excitement. Throwbacks of Prince Harry's future wifey reveal her signature, straightened strands give way to a head full of — wait for it —mega, bouncy curls. So, it's possible the actress might be a wash and go curls kind of gal, too.
News of Markle's naturally curly texture should come at no surprise, considering she is biracial and identifies as both black and white. But the recently unearthed photos are giving the Twitterverse one hell of a shock since it's Markle like we've never seen her before.
Former Miss Teen USA and vlogger Kaime Crawford took to social media to share a photo mashup of Markle in her curly-headed youth.
The emojis speak for themselves. Markle's natural tresses inspired Crawford and a gang of other Twitter users that joined in on the natural hair talk. But, of course, there was backlash, too. After all, haters are always going to hate.
But Crawford was armed with one feisty comeback after another in support of Markle's natural 'do.
The possibility of natural hair representation amongst British royalty is beyond exciting. Whether Markle flaunts her natural 'do or sticks to her blowout, her presence in the palace speaks volumes for women of color.
Decades old photos of the future royal are proof that she can rock a silky, blowout like no other — but her natural curls are just as stunning.
There's a throwback of Markle posing outside of Buckingham Palace, with her strands neatly pulled back into a bushy ponytail. Another shows her curls flowing in the wind, wild and free. It's almost too much curly hair porn to handle — and the internet surely agreed.
All in favor, say "I".
The hashtag says it all.
Fingers crossed that we'll get to see Markle slaying wash and go curls in the presence of British royalty.
Above all, it's the fact that the royal palace is becoming diversified that's really getting the internet amped.
It has been decades since Markle has shown off her curls to the public. So, there's no telling if she'll ever opt for her childhood 'do again. Seeing her embrace her natural would be inarguably groundbreaking though. There's no denying that a princess sporting Afro-textured curls around the palace would be empowering for naturalistas.
But if Markle decides to stick with her go-to straightened 'do, it's totally no big deal. Because, in the end, it's her decision.
A black woman's hair is often a source of pride, strength, and cultural identity. But let's be clear: A black woman is not just her hair. Whether your strands grow short, long, blonde, black, curly, or straight, hair should not be a defining factor for anyone. And choosing to wear a blowout over her natural texture doesn't make Meghan Markle any less black.
If Markle wants to break out a glorious wash and go routine every now and then, the internet likely wouldn't have any qualms about that. But it's the soon-to-be royal's call, as it should be.