This Is What It Looked Like When The Most Diverse Congress In History Was Sworn In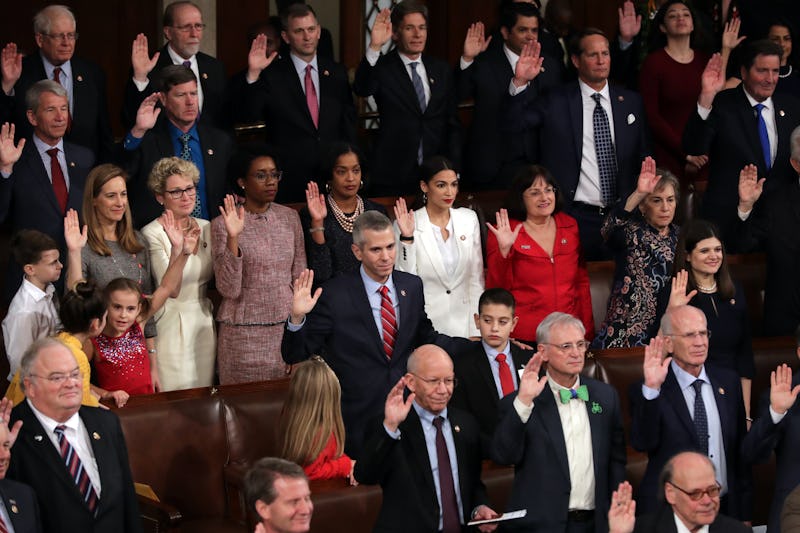 Chip Somodevilla/Getty Images News/Getty Images
On Thursday afternoon, the 116th Congress came to order. With the House now controlled by the Democratic Party and a record number of women — as well as women of color — officially seated in Congress, Capitol Hill has never before seen such a diverse group of lawmakers. And the photos of new members of Congress being sworn in show exactly that.
It was an important day for Nancy Pelosi as well, who was officially elected as House speaker. Republican House Minority Leader Kevin McCarthy of California praised Pelosi on Thursday after her election as speaker. "The country knows Nancy Pelosi as an experienced leader with three decades of service in Congress, a fighter for her causes and a true trailblazer," McCarthy said. "Even when we disagree with one another completely, it is important to remember that we are bounded together in a common cause, our love for America."
This new class of Congress is historic in itself: It welcomed its first two American Muslim congresswomen, Rashida Tlaib of Michigan and Ilhan Omar of Minnesota; the first two Native American congresswomen, Deb Haaland and Sharice Davids; and the youngest women to serve in Congress, Alexandria Ocasio-Cortez and Abby Finkenauer, who are 29 and 30, respectively.