These Photos Of North & Penelope's Unicorn Party Will Make You Instantly Jealous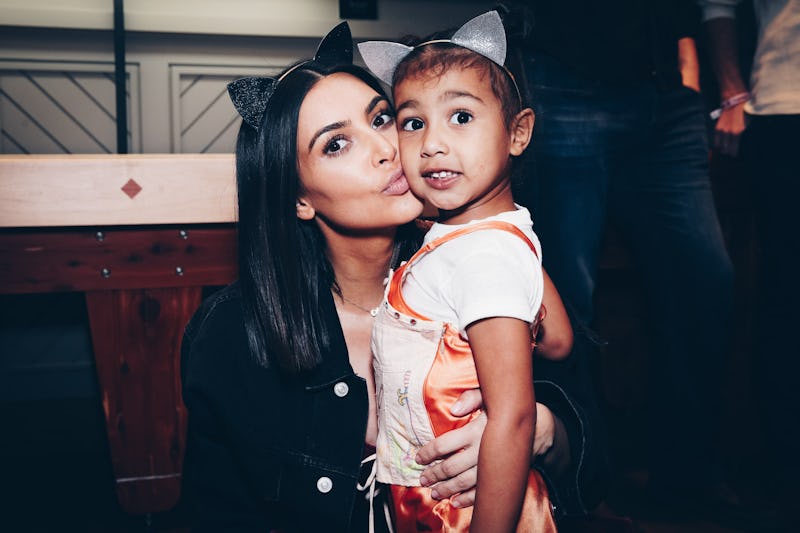 Handout/Getty Images Entertainment/Getty Images
When there's a special occasion, it's almost guaranteed that the Kardashians will throw an amazing party, but their latest might be their best yet. On Sunday, North West and Penelope Disick had a unicorn party to celebrate their birthdays, and it's enough to make anyone jealous, especially if you're still on board with the unicorn trend.
Since West and Disick have birthdays that are relatively close to each other — West was born on June 15 and Disick was born on July 8 — it makes sense that they'd celebrate with a joint party (plus, they're BFFs, duh). Everything looked amazing, from the food to the decor to the birthday girls' matching rainbow outfits, and the video and photos that the family shared on Instagram from the day is all anybody needs to make them wish they were on the guest list.
Kim Kardashian shared video of the party on her Instagram story, including plenty of footage of the elaborate food spread, which may actually be the best part. There were doughnuts with pastel icing, ice cream cones topped with edible unicorn heads, and a unicorn cake that looked way too beautiful to eat. The decorations were just as gorgeous, with colorful balloons and flowers everywhere.
And as she also pointed out on Instagram, there were actual unicorns at the party (OK, horses wearing rainbow horns, but it still counts) and a 10-year-old was there working as the DJ. Kid DJ for kid birthday party — it makes sense. Because why wouldn't this family know a 10-year-old who is also talented at spinning music?
Kardashian also posted a video of West and Disick showing off their matching outfits, because of course the theming of this party wouldn't end at the decor:
How adorable are they? Not only are their outfits precious, but West's reaction to her mom wanting to film is pretty perfect. She's not concerned with letting the world see her birthday robe and swimsuit, she just wants to know if her mom can tie it so her outfit can be perfect.
And it's a good thing they had those swimsuits, because the rainbow pool floats were unreal. Is this the most Instagrammable children's birthday party or what?
And, as always, plenty of family members were there to celebrate, like MJ, West and Disick's great grandmother, who looked as fashionable as she always does. Kardashian showed off the "lady of the hour" on her Instagram story, too.
Their grandma, Kris Jenner, shared this photo of her with Dream, which means that Rob Kardashian must have made a rare appearance at this family gathering. And yes, she is wearing a lip color from Kylie Cosmetics, and yes, she is killing it.
And speaking of Kylie Jenner — yes, she was there, too, with Stormi in tow. It will probably surprise exactly zero people to see that she was using a Gucci baby carrier. This is Kylie, guys; of course she's going to carry her baby around in style.
All in all, it seems like the birthday girls had a fabulous day surrounded by their family and friends (and lots of yummy snacks). Can we talk about this cake that is literally bursting with candy, though?
West and Disick may only be turning five and six, but a love for unicorns knows no age limit, so if you're feeling a little jealous, you're not the only one. Let's just hope the Keeping Up With The Kardashians cameras were there to capture all the details the family didn't share on Instagram. Obviously, the world needs to see this party in all its glory.