Princess Eugenie's Autumn-Themed Wedding Cake Will Make You Spit Out Your PSL With Envy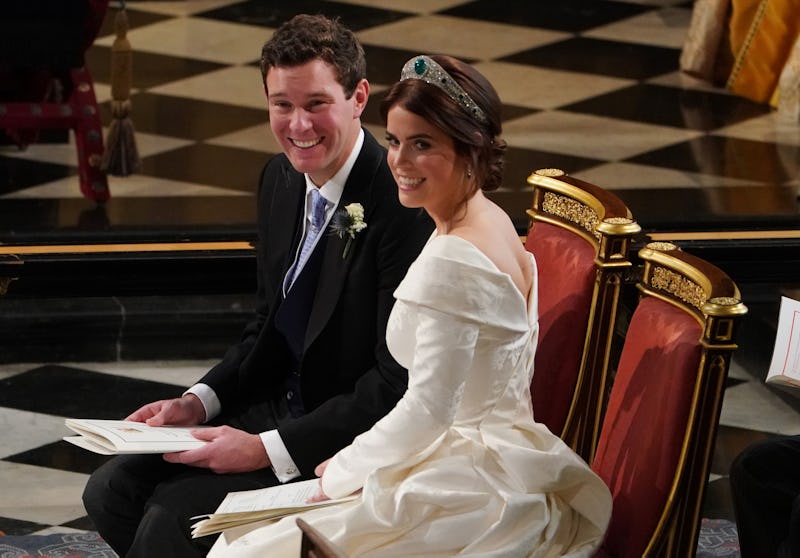 WPA Pool/Getty Images Entertainment/Getty Images
In case you somehow haven't heard, there was a royal wedding on Friday. Princess Eugenie married Jack Brooksbank at St. George's Chapel, and details continue to come out about the ceremony, guests, reception, and more. Now, photos of Princess Eugenie's wedding cake have been released, and wow, this thing is very fall.
It was previously announced that Eugenie and Brooksbank would have a red velvet and chocolate cake. The official announcement (yes, there was an official cake announcement) said that the cake would "incorporate the rich colours of autumn in its design and will be covered with detailed sugar work including ivy."
The baker is Sophie Cabot, who started her cake business in 2014 and specializes in sugar flowers and hand-painting. When the news was announced, Cabot said in a statement, "I am incredibly excited to be given this wonderful opportunity to create such a special and unique cake. It has been lovely working with Princess Eugenie and Jack and I really hope they enjoy the cake on the day."
Now, the cake has come together, and it really is impressive that the leaves and ivy featured are all sugar work. The five-tiered cake also features gold bands at the base of each layer and, at the bottom, Eugenie and Brooksbank's monogram surrounded by more foliage.
According to People, Cabot started making the sugar work in July, and began baking the actual cake on Wednesday, two days before the wedding. To make the gigantic confection, Cabot needed 400 eggs, 44 pounds of sugar, 33 pounds of flour, and at least 53 packs of butter. It was reported that there would be around 800 guests at the reception, so I guess you really do need that much of everything.
From the decor to the flavors, Eugenie and Brooksbanks' cake is very appropriate for the season. People reported that Cabot said of the cake's flavors, "It's a lovely thing to have at this time of year as well — it's a nice, rich cake."
Eugenie and Brooksbanks got married in the same place as the previous British royal wedding, that of the Duke and Duchess of Sussex, and they also followed in their footsteps when it came to a seasonal cake. Meghan Markle and Prince Harry got married in the spring and had a lemon-elderflower cake made by baker Claire Ptak. According to their official cake announcement the cake was said to "incorporate the bright flavours of spring." Their cake was decorated with buttercream and fresh flowers.
After their ceremony, Eugenie and Brooksbanks had their reception, hosted by the Queen, at Windsor Castle. They will also have a black tie party at night at the Royal Lodge, the York family's country home, which is sure to be more exclusive. The couple also plan to roll the celebrations over to Saturday. A source told the Sunday Times that "the Saturday bash will be a relaxed party." They continued, "There will be dodgems and funfair rides, coconut shies, lots of food stalls, loads of cocktails, bloody Marys for the hangovers and a festival vibe."
That sounds... intense. It'll be interesting to see if they really go all out like that with the carnival theme. Maybe they'll end up just sitting around eating leftover cake — if there's any, that is.