Here's What Food Will Be At Princess Eugenie's Wedding Reception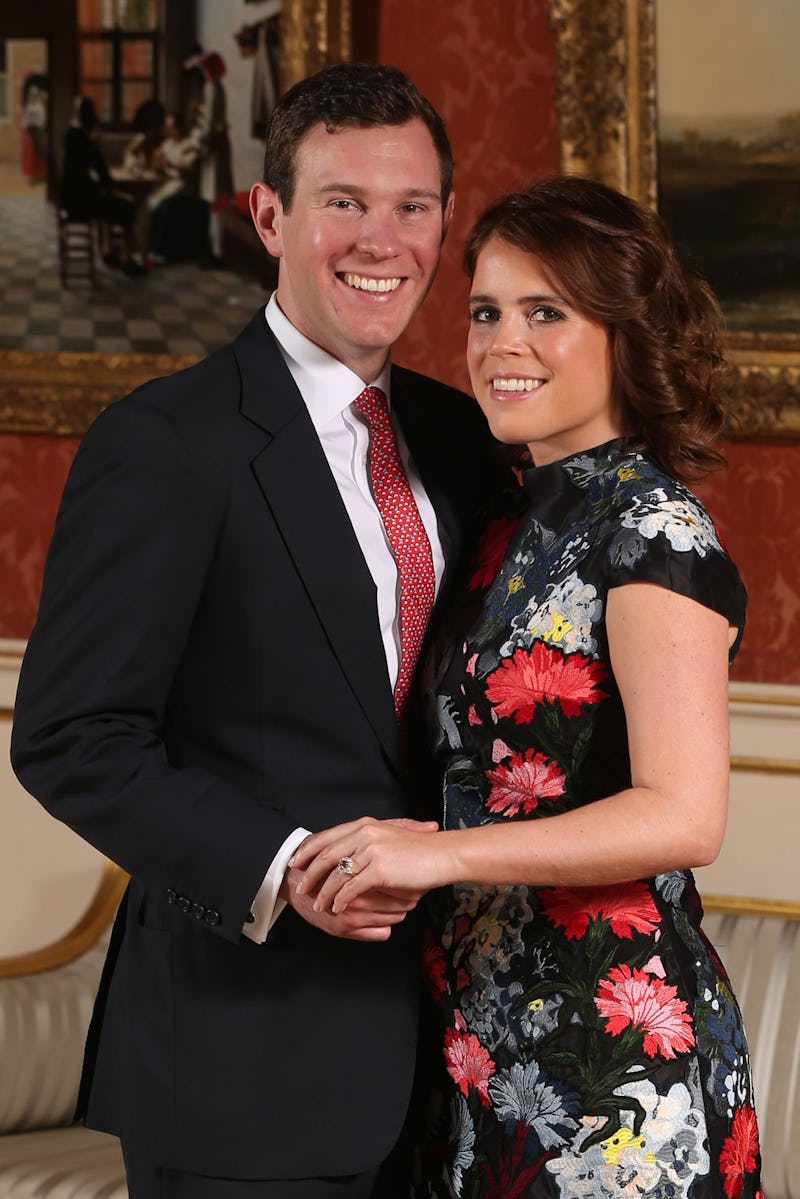 WPA Pool/Getty Images Entertainment/Getty Images
The best part of a wedding is the food, even if it's your own wedding. (Trust me, I've had three separate wedding parties.) And gourmets around the world have been watching the royal weddings of the past few years with anticipation to see what traditions and new variations they bring to the royal wedding table. Meghan Markle and Prince Harry had a tradition-busting lemon elderflower cake and finger food at their bash earlier this summer, while Prince William and Duchess of Cambridge Kate had an eight-tier fruit cake and a separate chocolate cake when they married. So what food will be at Princess Eugenie and Jack Brooksbank's wedding, coming up on Oct. 12?
Royal wedding traditions around food can be complicated. Giant centerpieces have been common throughout history, as have dishes named after family members (the Queen had an ice cream bombe named "Princess Elizabeth" at her wedding to Prince Philip, according to royal chef Darren McGrady) and seriously expensive, trendy food. This is the time for the royal family to go all out, and even though Princess Eugenie is pretty far down the line to the throne, she's still expected to put on a giant and delicious spectacle for guests.
The wedding food at Princess Eugenie's wedding bash will be divided into two over the weekend: a conventional wedding meal and a more relaxed reception. The Sunday Times reports that "After the more formal celebration at Windsor Castle on Friday, the Saturday bash will be a relaxed party. There will be dodgems [bumper cars] and funfair rides, coconut shies, lots of food stalls, loads of cocktails, bloody Marys for the hangovers and a festival vibe."
There's no word on what food stalls have been hired, but the stall craze has hit London, where Eugenie lives, pretty hard over the past few years and everything from Korean chicken to duck burgers is available. Things at the Saturday party will probably be trendy and uber-Instagrammable.
For elegant Friday event, a little bit less is known. Town & Country pointed to Harry and Meghan's choice of caterer Table Talk as a potential indicator of how Eugenie and Jack might plan their formal feast. Harper's Bazaar further speculates that Eugenie's London Pinterest board (!), which shouts out two particular London restaurants, Detox Kitchen and Mae Deli, may influence Friday evening's menu towards focusing on healthy eating, vegetarian and vegan menus, and sustainable, locally sourced produce. Of course, none of this is confirmed, but based on Eugenie's statement that the wedding will be plastic-free, per Brides, it's more than possible that the menu will lean that way.
And as for the cake, they're going seriously non-traditional. According to People, the couple are having a red velvet and chocolate cake from cake designer Sophie Cabot. Buckingham Palace told People that the cake will "incorporate the rich colours [sic] of autumn in its design and will be covered with detailed sugar work including ivy." No fruit cake in sight.
Eugenie has been clever enough to keep any wedding-related Pinterest pages strictly private, and family members aren't talking to the press, so there's still some mystery to be preserved in the details. But with 850 guests reported to be showing up to the wedding and reception, it's worth predicting that this royal wedding is going to be go-big-or-go-home extravagant.