Princess Eugenie's Wedding Reception & After Party Sound Amazing (There'll Even Be Food Stalls!)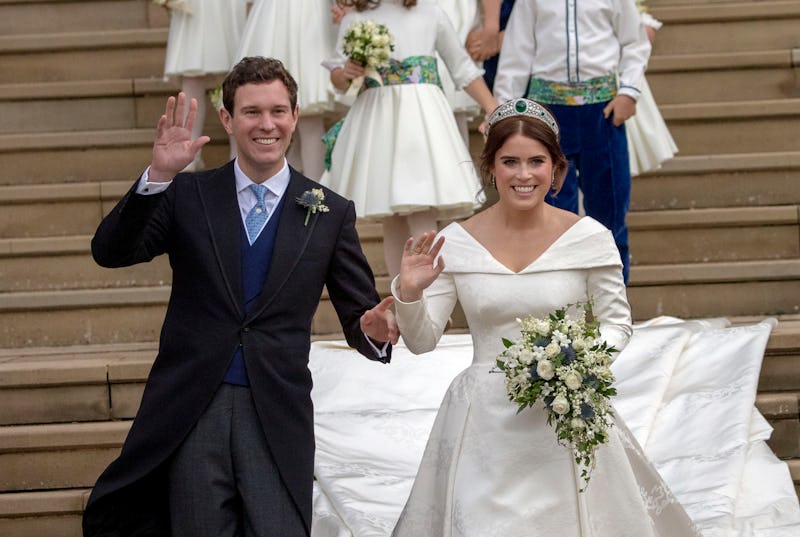 WPA Pool/Getty Images Entertainment/Getty Images
On Oct. 12, in a fabulous ceremony filled with royals and celebrities alike, Princess Eugenie wed her longtime love Jack Brooksbank. But, the party isn't going to stop there. Princess Eugenie's reception and after party are sure to keep all of the wedding guests (and royal watchers) entertained all day long.
According to People, the bride and groom's post-ceremony celebrations will be quite similar to Prince Harry and Meghan Markle's, who tied the knot at the same location as Eugenie and Brooksbank, St. George's Chapel at Windsor Castle, back in May. The publication detailed that guests will be treated to a lunch reception at the castle hosted by none other than Queen Elizabeth herself.
Following the day's events, there will also be an evening, black tie reception at the Royal Lodge in Windsor, a residence that Eugenie's father, Prince Andrew, shares with the bride's mother (and Andrew's ex-wife), Sarah Ferguson. So, there's a good chance that you'll catch a glimpse of Markle, Kate Middleton, and various guests such as Naomi Campbell, in their black tie best at the evening event. While all of the guests have a fun day in store for them on Oct. 12, they may want to take a little bit of time to rest because the celebrations are set to continue on Oct. 13, as well.
As Town & Country noted, Eugenie and Brooksbank aren't going to limit their wedding festivities to one day. Instead, the celebration is going to be a weekend-long affair. A source told the Sunday Times that the Oct. 13 event will be a fun, low-key affair, "After the more formal celebration [of Eugenie's wedding] at Windsor Castle on Friday, the Saturday bash will be a relaxed party."
They continued to say, "There will be dodgems and funfair rides, coconut shies, lots of food stalls, loads of cocktails, bloody Marys for the hangovers and a festival vibe." It definitely sounds as though guests will be in for a fun time for the second part of the newlyweds' wedding weekend.
Eugenie's wedding day on Oct. 12 was already filled with a ton of excitement and some incredibly sweet moments. One of the best moments of the day came courtesy of the bride's sister and the maid-of-honor, Princess Beatrice. During the ceremony, Beatrice read a passage from The Great Gatsby by F. Scott Fitzgerald, the full excerpt of which read:
"He smiled understandingly-much more than understandingly. It was one of those rare smiles with a quality of eternal reassurance in it, that you may come across four or five times in life. It faced–or seemed to face–the whole eternal world for an instant, and then concentrated on you with an irresistible prejudice in your favour. It understood you just as far as you wanted to be understood, believed in you as you would like to believe in yourself, and assured you that it had precisely the impression of you that, at your best, you hoped to convey. Precisely at that point it vanished — and I was looking at an elegant young rough-neck, a year or two over thirty, whose elaborate formality of speech just missed being absurd. Some time before he introduced himself I'd got a strong impression that he was picking his words with care."
There will be undoubtedly many more sweet moments to come during Eugenie and Brooksbank's wedding festivities as they continue to celebrate with their royal family and friends all weekend long.