These Pics Of Priyanka Chopra & Nick Jonas On A Ranch Show Them Totally Embracing Camo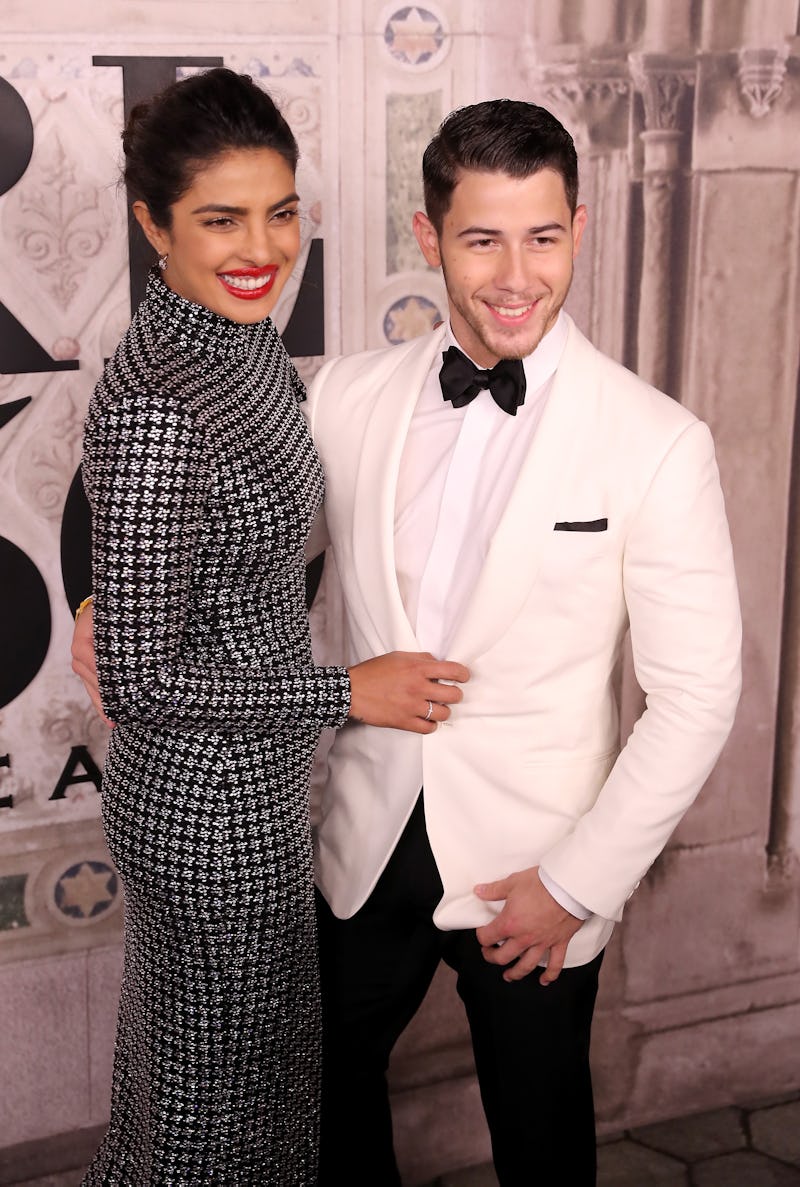 Rob Kim/Getty Images Entertainment/Getty Images
Who doesn't like to see celebrity couples on vacation? If so, you need to check out these photos of Priyanka Chopra and Nick Jonas on a ranch, which the recently engaged couple shared recently on their Instagram accounts. They went on a group trip together with friends and family, including Joe Jonas, in Oklahoma where they apparently lived the ranch and camouflage life. Regarding the latter, Chopra and Nick were seen proudly sporting camo outfits, because when on a ranch, you wear camo, right?
As you can see below, Nick and the former Quantico star have their arms wrapped around one another and posed like they've been wearing camo on every red carpet. Chopra captioned her Instagram posted on Tuesday, "Ranch life." In an Instagram shared on Sept. 18 by the singer, Chopra is sitting on Nick's knee, which he captioned, "Out on the ranch."
You probably can't take your eyes off their outfits, because, well they wore them so well. They totally pulled off the look as individuals and as a couple. Now, it's not too much camo. Nick wore a camo hat and shirt, whereas Chopra wore a camo hat and pants. Do you think they coordinated their outfits, so they weren't too matchy-matchy? Whatever the case, they rocked the look flawlessly, and all while standing in front of a huge bulldozer. Did they also operate the piece of machinery? That detail remains unknown.
You probably also noticed Joe in their pictures. As previously mentioned, he tagged along with his brother and Chopra. However, the DNCE singer chose to go with a bright orange T-shirt, rather than camo. That said, Joe is seen sporting a camo face mask in Nick's Instagram.
It's unclear exactly what they did on the ranch, in addition to what ranch they visited. Though, Chopra shared a few Instagram Stories of them riding around the land. She wrote on one of the videos, "Faster faster." In a second video, where Nick was briefly seen, she said, "Need for speed."
On Tuesday, Chopra posted another photo in Oklahoma, where she's wearing a stellar cowboy hat. "Cowboy life," she wrote next to the Instagram.
According to Page Six, this trip was part of Nick's birthday celebration. On Sept.16, he turned 26. In an Instagram Story that seemed to be posted on Sept. 15, Chopra shared a picture of her fiancé and wrote, "Birthday weekend begins." Speaking of his birthday, Chopra posted a sweet photo of herself kissing Nick's cheek on his actual birthday and wrote, "Happy birthday baby."
Before stopping in Oklahoma, Chopra, Nick, and Joe also visited Dallas, Texas. As you can see below, Chopra sported her cowboy hat and boots. Joe also rocked a pair of cowboy boots, whereas Nick stuck with his camo hat. He could've been wearing boots, but, unfortunately, his feet aren't shown in the Instagram shared by Chopra on Monday. The Baywatch star also captioned it, "Stay cool. @nickjonas @joejonas #cowgirl."
Talk about a memorable trip. It's something Chopra and Nick will probably never forget, especially when camo outfits are involved.