These New Photos Of Speidi's Baby Show Spencer Pratt In A Whole New Light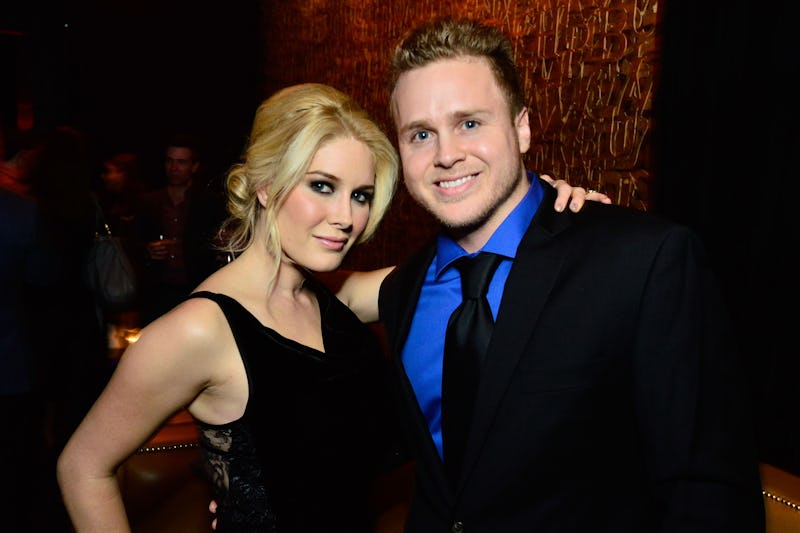 Jerod Harris/Getty Images Entertainment/Getty Images
Basically, the entire cast of The Hills are now parents, including Spencer Pratt and Heidi Montag. They welcomed their first child, a son, named Gunner Stone Pratt on Sunday, Oct. 1. If you haven't seen photos of Montag and Pratt's baby, then you definitely need to check them out. The super sweet pictures shared by Us Weekly Friday will probably make you do a double take. You've never seen Pratt in this light.
He appears to be totally in his element as a new father. To say he's in love with his son is an understatement. According to Us Weekly, Pratt "cried the whole interview" and said, "It's an unspeakable love. The little moments are the most precious." Did you ever think you'd hear the crystal lover talk like that?
Fans of The Hills mostly remember Pratt as the guy who contributed to the downfall of Lauren Conrad and Montag's friendship. He was definitely one of the villains of the show. But let's not forget that the MTV reality series wasn't 100 percent real, at least according to multiple cast members. Plus, it's been seven years since the series finale, so both Montag and Pratt have changed a lot. That doesn't mean Pratt isn't still his unique self (as you'll see from his quotes about fatherhood that mention trap music and selfies), but he's definitely beyond happy to be a dad, which was far from the case back when the show was on.
"I thought I was going to be most excited to play sports when he got older," Pratt said. "But my favorite thing to do is just have little homie lie on my chest. When I play trap music, he starts dancing and kicking his legs." He even described their "first moment" with Gunner, which had quite the effect on Pratt. "Our first moment was when they were weighing him under the heat lamp. We did our first selfie with Enya playing "Only Time" which is one of my favorite songs." He added, "That was the moment when my brain started to officially explode. Holding him is still so unbelievable."
FYI, he's also already changed his Instagram and Twitter name to "Pratt Daddy". Yes, he's taking this fatherhood role seriously. Just take a look at the following image. Being as a dad suits him well, doesn't it?
After Gunner was born, Pratt told Us Weekly, "Officially the most lit day of my life." Based on how the 34-year-old reality star spoke about Montag's pregnancy, you could tell how important this life event was for him. It's something he didn't take lightly. As Montag told Us Weekly in May, "It was in my heart to have a boy. I thought Spencer really used to want a boy, and then a few months ago we had a conversation where he said, 'Let's just make sure it's healthy. Boy or girl, I don't care.'"
Oh, and if this doesn't prove to you just how overjoyed Pratt is, here is what he tweeted on Oct. 11: "honestly can't imagine my life more amazing." This won't be the last time he discusses being a dad or Gunner on social media, either. The couple created an Instagram for their little guy, which as of Oct. 13 had over 28,000 followers. So far, there is only one Instagram of Gunner's first magazine cover, but there will no doubt be more.
Be sure to head on over to Us Weekly to see the rest of the pics, including the one of Pratt touching his head to Gunner's. You'll never be able to look at him the same way ever again — and in a good way.