These Photos Of The March For Black Women Are A Powerful Call For Justice & Equality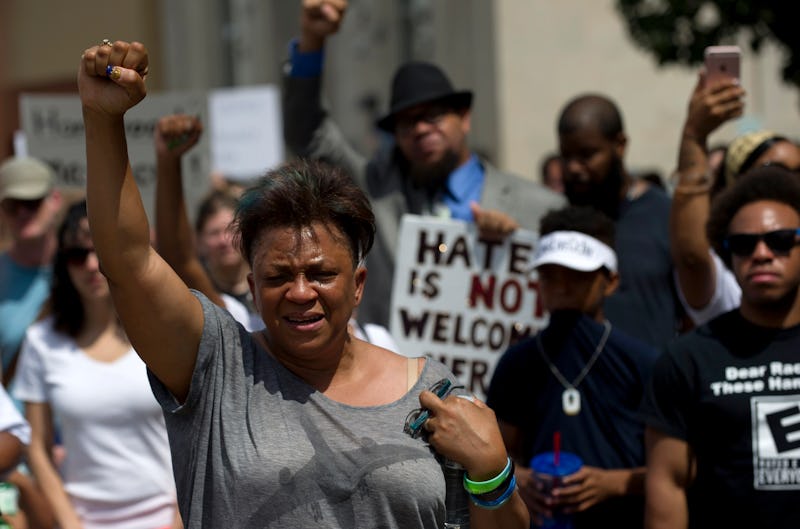 Jeff Swensen/Getty Images News/Getty Images
On Saturday, thousands gathered at Seward Square in Washington, D.C. for the March for Black Women, a civil rights demonstration intended to raise awareness about racial inequality and discrimination. The event is a message of resistance against the institutionalized racism that black women face each day, and photos of the March for Black Women are incredibly powerful.
The march intersected with the March for Racial Justice, and according to a statement posted by the event's organizers on the March for Black Women's official Facebook page.
Our March within a March is not only a mass mobilization centered on Black women, but a reminder to every single one of us that so long as Black women are killed by the cops; so long as Black women are taken or go missing; so long as we are raped by state officials, by friends, by strangers or by nationally renown members of our communities -- there can be NO JUSTICE.
The march was intentionally scheduled for Sept. 30 to commemorate the anniversary of the Elaine Massacre in Elaine, Arkansas in 1919, a racial confrontation in which over 100 black Americans were killed by white plantation owners. According to organizers, the march is an attempt to "honor the resistance" of the lives lost that day, and serve as a reminder that "their courage reverberates through the generations and inspires our struggle today."
Here are some of the march's most powerful photos.