These Photos Of The Woolsey Wildfire Will Render You Speechless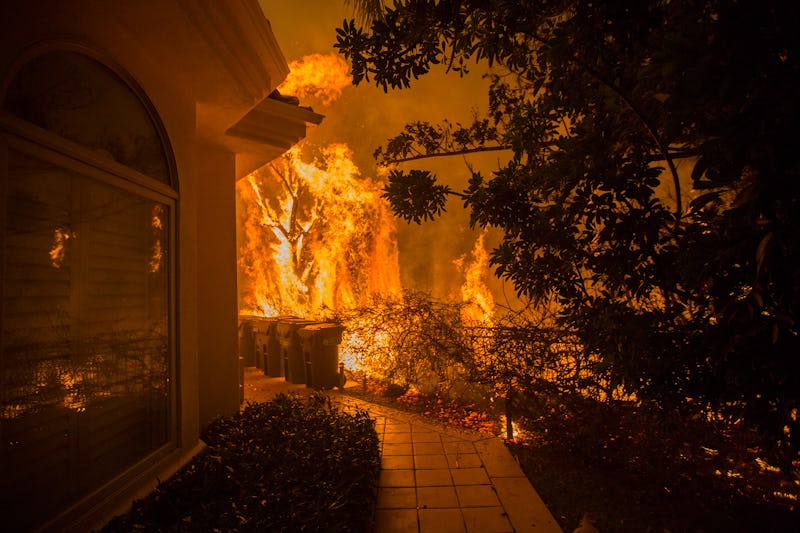 David McNew/Getty Images News/Getty Images
A California wildfire that developed earlier this week doubled in size on Saturday, according to NBC News. The Woolsey Fire continues to spread across Southern California, and two people were found dead in the area affected by the fire. Roughly 200,000 people have had to evacuate the region, and photos of the Woolsey Fire illustrate just how much devastation it has caused.
The Woolsey Fire has rapidly grown in size and has traveled across Los Angeles and Ventura Counties, CNN reported. During a news conference on Saturday, Ventura County Fire Chief Mark Lorenzen told reporters that Friday had been a "rough night," and noted that the fire had crossed the 101 Freeway into Malibu, per NBC News.
Acting California Gov. Gavin Newsom issued an emergency proclamation for Los Angeles and Ventura Counties on Friday, and President Donald Trump subsequently approved federal assistance to the state. However, Trump also generated controversy on Saturday by blaming the wildfires' rapid spread on "poor" forest management, prompting swift backlash from environmentalists and firefighting associations.
Officials in Southern California told NBC News that high winds in the region had enabled the fire to spread more quickly. The wind experienced a lull on Saturday, but the hot, dry Santa Ana winds are projected to pick up again on Sunday. As the following photos of the Woolsey Fire indicate, the wildfire has already destroyed numerous homes and caused extensive devastation.
According to the Los Angeles Times, the Woolsey Fire has covered at least 70,000 acres — doubling in size overnight — and wind speeds of up to 50 miles per hour are enabling its continued spread.
Citing the Los Angeles fire chief, Axios reported that the fire has destroyed at least 100 structures.
However, L.A. County Fire Chief Daryl Osby told reporters that firefighters have managed to save "thousands of homes" from the "miles and miles of flame fronts coming at multiple communities."
In Thousand Oaks — where a gunman killed 12 people at a country music bar earlier this week — residents are now having to contend with the rapidly spreading wildfire, even as they attempt to mourn and heal.
As of Saturday morning, the Woolsey Fire was at zero percent containment, NBC Los Angeles reported. However, the typically high-speed winds temporarily subsided on Saturday, giving firefighters a brief window in which to battle the flames in calmer conditions.
As the fire continued to burn on Saturday, Trump — who is currently in Paris to commemorate the 100th anniversary of the end of World War I — threatened to revoke federal aid to California, attributing the fire's rapid spread to "poor" forest management. Trump has previously blamed California's wildfires on the state's environmental laws, Vox reported, and has advocated for tree-clearing in order to stop fires from spreading. The Pasadena Fire Association pointed out that the Woolsey Fire is actually an "urban interface" fire, however, and did not actually start in a forest.
Southern California is not alone in confronting wildfires this week; in Northern California, the fast-moving Camp Fire destroyed the town of Paradise, and at least nine people are dead.