This Photo Of Tonya Harding & Margot Robbie Together Is A Powerful Sight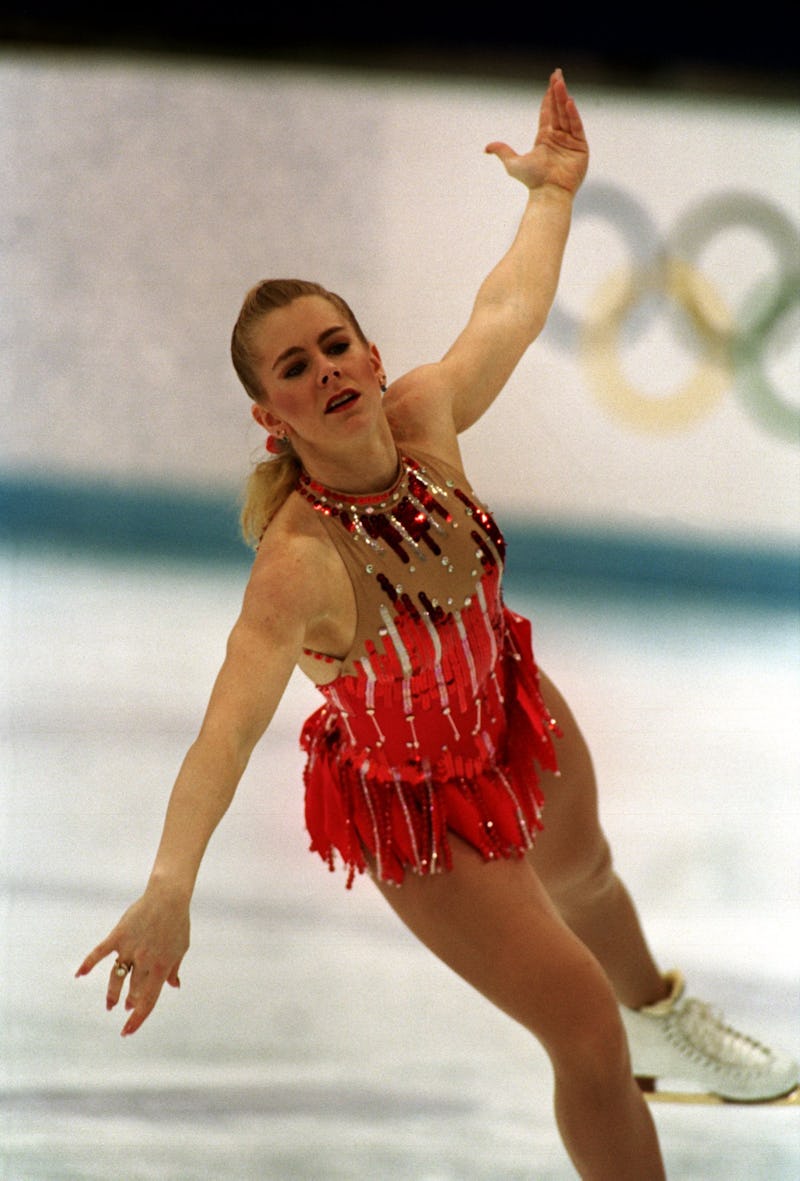 Chris Cole/Getty Images Sport/Getty Images
There was a time not too long ago when Tonya Harding was one of the tabloids' favorite subjects. First as the underdog of U.S. Figure Skating, then as the bad girl of the sport, Harding shot to fame in the early '90s, and photos of her in those years are more than easy to find. Photos of Tonya Harding in 2017, however, are much fewer and farther between. Ever since Harding was forced out of the professional skating world in 1994, the former Olympic athlete has kept a relatively low profile. Now over 20 years later, she's stepping back into the spotlight thanks to the new film based on her life I, Tonya.
I, Tonya, which was inspired by interviews with Harding herself (among others). tells her story from childhood to the present, with a focus on the years she spent as the best figure skater in the country and her tumultuous downfall. In 1994, Harding was banned from professional figure skating in the United States after she was implicated in a plot to sabotage her U.S. teammate and sometimes rival Nancy Kerrigan. To this day, Harding denies having had any prior knowledge to the attack that left Kerrigan injured and unable to compete in the 1994 U.S. Championships (a competition Harding consequently won). Despite her protestations of innocence, Harding never really got the image rehab we're used to seeing from professional athletes.
Now in her 40s, Harding is a married, living a quiet life in Oregon with her husband and young son. And, though she seems perfectly content to live her life in peace, she has stepped out recently to support I, Tonya, giving fans a glimpse at Tonya Harding in 2017.
Harding shocked fans on Dec. 5 when she walked down the red carpet with I, Tonya star Margot Robbie for the film's premiere (pictured above). Though she didn't stop for interviews, Harding was definitely the hit of the night, surprising even Robbie's I, Tonya co-stars. "I don't know if I should even say 'Hi' to her, I mean, I play Jeff," Sebastian Stan told People — he plays Harding's ex-husband who orchestrated the attack on Kerrigan Jeff Gillooly in the film. "I'm totally star struck right now." After the film, Robbie invited Harding on stage, where she was met with warm applause from the audience.
Robbie met Harding before she began filming I, Tonya, but after she had trained for five months to play the ice skater. "She was really sweet. We spoke a lot and it's just nice to hear where she is at her life now," Robbie said of their meeting in an interview with The Hollywood Reporter. Harding later saw the completed project before the film's premiere at the Toronto International Film Festival. "I think she found it emotional to watch. She said she laughed and she cried and there's obviously parts she doesn't agree with," Robbie told Deadline. Disagreements aside, Harding is clearly supportive of the film — her first major red carpet outing in decades signals her approval loudly even if she hasn't spoken publicly about it yet.
This isn't the first time Harding has put herself out into he public eye since 1994. Over the years, she has appeared in a few reality television shows, including as a contestant on Celebrity Boxing in 2002. In 2009, Harding spoke to Oprah Winfrey about her volatile upbringing and career. Five years later, she put herself out there once more, participating in the 2014 NBC documentary Nancy & Tonya.
Harding will forever be linked to the Kerrigan attack of 1994, but in 2017, she'll also be remembered as a history making athlete who was celebrated by a major movie. Hopefully, this means fans will get to see more of Tonya Harding in 2018.