Baby True & Tristan Thompson Are Basically Twins In These Kardashian-Jenner Vacation Photos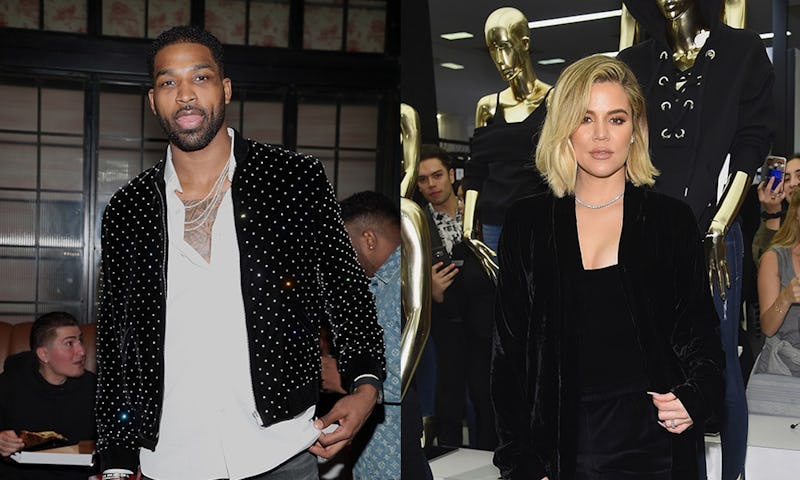 Cassidy Sparrow/Getty Images Entertainment/Getty Images; Jamie McCarthy/Getty Images Entertainment/Getty Images
You know that saying — "like father, like daughter?" Tristan and True Thompson took an adorably literal approach to the expression during the first (airborne) leg of a weekend family trip. And just to clarify: Yes, Tristan Thompson is on vacation with the Kardashian-Jenners. How do we know? Fans looking for proof need not look further than Khloé Kardashian's recent social media activity.
On Saturday, September 1, Khloé shared photos to Instagram to document the start of what looks like a big ole Kardashian-Jenner family get together. "Family vacay!" Thompson says with a smile, during the first of two video clips that cropped up on Khloé's Instagram Story throughout the course of the afternoon and evening.
(Those who missed Saturday's sweet back-to-back videos on Khloé's IG Story can no longer access them via the social media platform, thanks to its 24-hour turnover. That said, both of Khloé's wholesome family-centric vids have already been re-posted to YouTube, so fans can still watch them in full there.)
After watching the rest of Khloé's first video — which kicks off with a closeup shot of baby True's face that'll have most Kar-Jenner fans worth their salt absolutely melting — it becomes pretty clear that, like Thompson said, this particular "vacay" is certainly a family affair. Once True and her dad have made their introductory cameos, Khloé's smartphone camera pans to a wider shot of the whole vacay crew, lounging around the interior of a swanky private plane.
"Hi, everyone!" KoKo calls out, as the flight's remaining occupants — mom Kris Jenner and her boyfriend, Corey Gamble, respectively — wave toward the camera.
No word yet on exactly where the clan is headed for this happy little family excursion (and whether or not other members of the Kardashian-Jenner crew will be joining later on), but Khloé did provide fans with another glimpse into their pre-vacay journey about an hour after that first video first graced her Instagram Story. And this is where all the father-daughter sweetness really comes into play.
The second video opens on another shot of baby True. Only this time, the angel-faced 4-month-old is sound asleep in her mother's arms. Khloé, for her part, is wide awake, cradling the infant against her chest as she flashes a quick, but nonetheless searing, "super-mom" glance toward the camera. And as if True's sleepy face alone wasn't enough to tug the heartstrings of most everyone who watches this video, the clip continues on to reveal that the infant was just taking a note from her dad. (Or maybe the other way around.)
At this point, the camera shifts perspective from Khloé's comfy leather seat to Tristan's, just across the aisle. And, much like baby True, the clip sees the NBA player similarly fast asleep on some sort of makeshift futon seat right beside them. There's no audio in this clip — for obvious reasons, it sounds like the cabin was pretty quiet, perhaps in an effort not to wake little True — but make no mistake, lack of noise definitely doesn't detract from its overall capacity for bowling over viewers with its ultra-sweet, ultra-wholesome content.
Again, exactly where the Kardashian-Jenner clan will be taking this "family vacay" remains to be seen, at this point. But in lieu of more photos to come out of this particular destination trip (and here's to hoping there are more to come), at least fans can rest assured knowing little True is getting to spend some undivided quality time with both of her parents and her grandma this weekend. Even if "undivided quality time" looks like snoozing on the plane in Khloé's arms, with Tristan catching some z's in the next seat over.