Photos Of Trump & Pence Vs. Obama & Biden Show How Different Their Relationships Are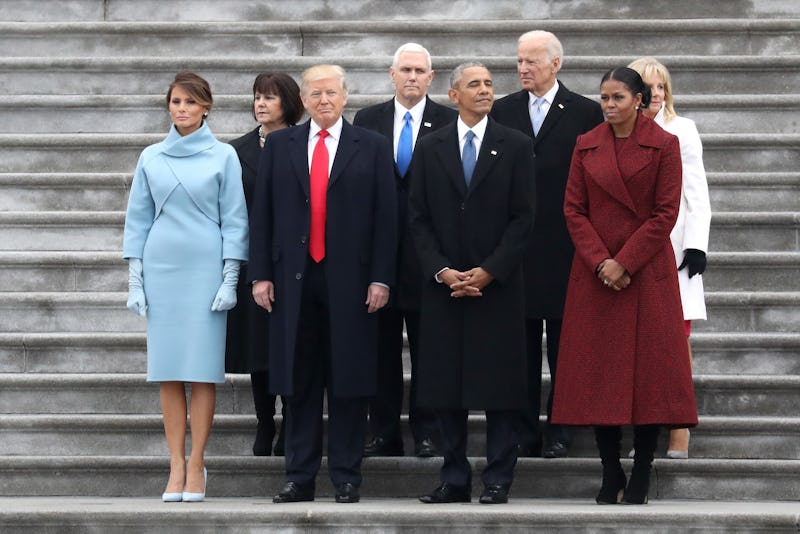 Rob Carr/Getty Images News/Getty Images
After eight years of the bromance between Barack Obama and Joe Biden, the relationship between Donald Trump and Mike Pence is under scrutiny. As all four men have held some of the most highly photographed jobs in the world, photos over the years show the contrast between Trump and Pence's relationship with Obama and Biden's — and the difference is stark.
In 2017, Obama awarded Biden the Presidential Medal of Freedom, which is the highest civilian honor in the country, according to TIME. At the ceremony, Obama called Biden his "brother" and "the best Vice President America's ever had." In an interview with MSNBC in 2017, Biden described his relationship with Obama: "I don't like, I love him."
Beyond the two men's friendship, their families have grown close as well. So much so that Obama offered financial support — "whatever you need" — when Biden's son Beau was diagnosed with cancer and had to stop working, according to CNN.
After Biden told reporters about Obama's offer, then-Press Secretary Josh Earnest told CNN that it was indicative of how the men had become good friends outside of their professional duties. "Obviously, the President and the Vice President have developed the kind of personal relationship that just transcends their professional responsibilities," Earnest said.
Trump and Pence have only been in office for almost two years. While the two men appear together for official functions like bill signings, their relationship appears to be grounded in a much more professional alliance as opposed to Obama and Biden's genuine friendship.