These Photos & Footage Of Hurricane Nate Are Intense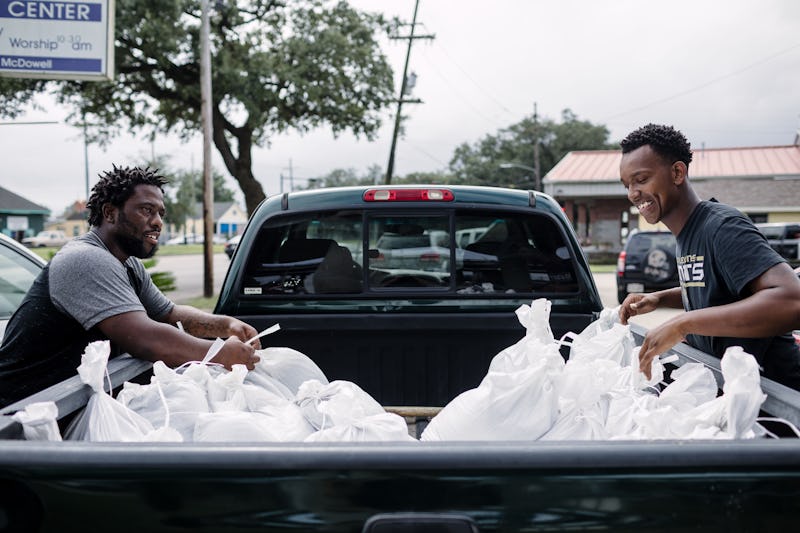 BRYAN TARNOWSKI/AFP/Getty Images
Hurricane Nate made landfall on Saturday night in southeast Louisiana, making it the fourth hurricane to hit the U.S. this hurricane season. Nate struck Louisiana as a Category 1 storm with reported winds of 85 miles per hour. A few hours later, Nate made a second landfall during the early morning hours of Sunday in Mississippi, also as a Category 1 storm. Since making its second landfall, the storm has reportedly weakened to a tropical depression. Nonetheless, photos of Hurricane Nate's damage show yet another round of storm damage for coastal Americans to handle.
Although weak, Hurricane Nate was noteworthy for its strike to the U.S. As the fourth hurricane to make landfall in the U.S. this hurricane season, Nate was the sixth major storm to strike Americans in just six weeks. Nate was also the first storm to make landfall in Louisiana since Hurricane Katrina. Although many areas saw damage from Nate, it's safe to say the scale of Nate's destruction is nowhere near that of Hurricane Katrina. According to The Weather Channel, it's the first time since 2005 that four storms have hit the U.S. in one season and the first time since 2005 that a storm has made landfall in Lousiana.
According to CNN, Nate left at least 110,000 people from Alabama, Mississippi, and Florida without power on Sunday. Severe rain, strong storm surges, and flood waters also threatened the area.
Emergency Declarations
President Trump on Sunday approved emergency declarations for four gulf coast states following Hurricane Nate.
Margaritaville
Nate's winds and rain apparently damaged Biloxi, Mississippi's Margaritaville location.
Strong Winds
Meteorologists once again battled strong winds and flood waters to report on the storm's status.
Flooded Garages
Scenes of swept-away vehicles have become far too common in recent weeks.
Flooded Parking Lots
Nate sent fast-moving flood waters through public roads and parking lots, creating a potentially dangerous situation for residents.
Storm Surge
In Mississippi, Nate's storm surge caused sand from gulf coast beaches to cover nearby highways.
Debris
Much of the damage from Hurricane Nate appeared to be concentrated along the gulf coast beaches.
More Beach Damage
Nate's winds were apparently strong enough to move a gazebo on this beach in Mississippi.
Close Call
Hurricane Nate proved that even a Category 1 storm is serious business.
Pumpkin Patch
This must be what happens when a hurricane hits in October.
Curfew
New Orleans implemented a 7 p.m. curfew for Saturday night, but city officials reportedly lifted the curfew when the forecasts for the New Orleans area improved.
Mobile
Mobile, Alabama, which sits only a short distance east of Biloxi, also saw flooding from Hurricane Nate.
Dirt Roads
The only evidence of this road was the tire tracks in mud.
Serene
Some gulf coast residents were spared from the worst of Nate.
No Church
Residents who were affected by the storm appeared to make the most of it.
Hours after making landfall, Hurricane Nate was downgraded to a tropical depression on Sunday. Although the damage from Nate appeared to be less devastating than the damage from some of the more powerful storms that have moved through the region in recent weeks, the Category 1 storm still left its mark on the gulf coast in the form of downed trees, flooded roadways, and widespread power outages. Comparatively, other communities in Nate's path were not so lucky. The storm reportedly caused at least 27 deaths across Nicaragua, Costa Rica, and Honduras, according to NBC News. As clean-up efforts across the Caribbean and the U.S. began, Nate was a reminder of those previous storms and the busy hurricane season that has impacted the region.