Pink Shared A Heartfelt, Candid Message With Fans After Being Released From The Hospital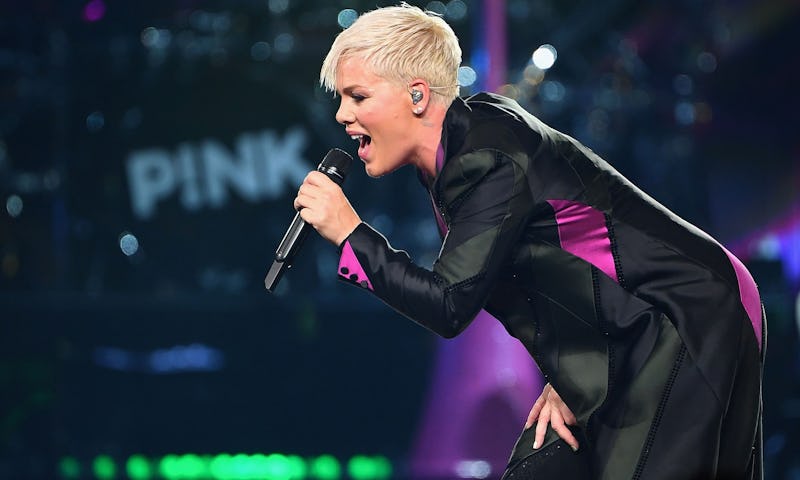 Quinn Rooney/Getty Images Entertainment/Getty Images
Earlier this week, Pink fans were shaken after the singer was forced to postpone several shows along the Australian leg of her Beautiful Trauma tour, due to a gastric virus that warranted immediate hospitalization. But after reading Pink's message to fans post-hospital release, it sounds like worried inquirers can officially take a much-needed deep breath. Pink is going to be OK. Plus, those shows that had been postponed have now been rescheduled, courtesy of Live Nation, so folks who weren't able to see Pink perform in Sydney will still have the opportunity to do so.
In her lengthy message — which the singer shared with her Instagram following on Tuesday, Aug. 7 — Pink assured fans that, while the week's medical proceedings certainly haven't been a walk in the park, she's been released from the hospital and seems to be getting back on her feet.
"I was discharged from hospital last night, and am following doctors orders of liquids and rest," she wrote, after opening the post's caption with a sincere "thank you" to all those fans who've been sending her good wishes for a speedy recovery.
Before diving into the rest of Pink's IG post, let's rewind. This latest news of the singer's discharge trails a series of alarming reports and announcements over the past week about her health. The first came last Wednesday when Pink tweeted Friday's show would be postponed due to a reported upper respiratory infection (as explained in a follow-up statement from Live Nation). A few days later, on Sunday, the singer raised pretty serious concerns when she postponed that evening's performance just hours before audiences were set to arrive.
On Monday, Aug. 6, Live Nation addressed the cancellation in a tweet, which said Pink was admitted to a Sydney hospital the evening before "suffering from dehydration." And, while the statement went on to say that the singer had been "treated and discharged," it quickly noted that she was readmitted to the hospital on Monday — this time, for a "gastric virus" — and would be postponing Tuesday night's show as well. This is the first fans are hearing from the musician herself since then.
In the singer's new IG message, Pink explained in a bit more detail exactly what's been going on and why she wasn't able to perform those shows in Sydney. "On Monday, we were absolutely planning on going ahead with the show," she wrote, before segueing into a frightening play-by-play of the events. Suffice to say, it sounds like Monday's cancellation was very much the result of a very real, very scary medical emergency. To that end, Pink continued, writing,
"About 20 minutes before I left for soundcheck, I was rushed to the hospital, in excruciating pain. That was the reason for the late cancellation."
And while she certainly doesn't owe the public any sort of explanation for her illness or the steps she's taken to care for herself, Pink's recent statement did include a candid response to any dissenters making assumptions about the seriousness of her medical situation. (And to anyone else who might have something disrespectful to say about her reasons for postponing those shows.)
"A lot of you know how physical my shows are, and that I don't just stand in front of a microphone and sing," she wrote, adding that her shows generally consist of flipping, dancing, flying, and screaming more than anything else. So, therefore, she needs to be in tip-top physical shape to perform. Or at least in reasonably good health — obviously. Lucky for fans, it looks like Pink will be back to her onstage tricks in just a couple of days.
After sharing some comforting words with Sydney audiences who might've been feeling disappointed in the aftermath of this week's cancellations, the singer revealed, point-blank, that "our next show will be Saturday." According to Live Nation's event schedule, that show will take place this upcoming Saturday, Aug. 11, at Qudos Bank Arena in Sydney.
Anyone wondering what's on Pink's personal agenda from now until Saturday evening, look no further than the singer's IG message. She'll be drinking green tea, hanging out with her adorable children, and hopefully catching up on some much-needed R&R before getting back to the stage.