Why Pink's National Anthem Performance Could Be The Super Bowl's Must-See Event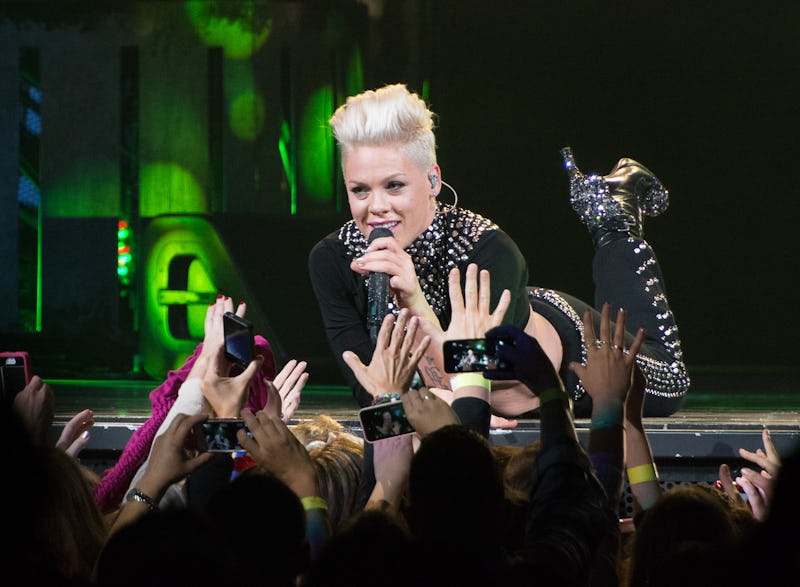 Dave Kotinsky/Getty Images Entertainment/Getty Images
Before Super Bowl LII officially kicks off on Feb. 4, the folks in Minneapolis' U.S. Bank Stadium, and the rest of us watching at home, better be prepared for a powerhouse performance. On Monday, the NFL and NBC announced that Pink is performing the National Anthem at the Super Bowl. Given Pink's recent track record for spellbinding live numbers, both on tour and during award shows, its no wonder that the Grammy Award-winner would be a top pick for opening the annual most-watched event on television. But, even if Pink's performance of the "Star-Spangled Banner" is entirely straightforward, given this season's history of NFL players protesting during the anthem it will interesting to see if the song takes on a political bent.
Though Pink generally makes headlines with her amazing acrobatics, which she can do while belting insane notes, she has also proven that she can lend a gravitas to more somber moments. Yes, its fun to imagine Pink — decked out in a sparkling red, white, and blue jumpsuit — flying through the air while vocally changing keys and octaves like a pro, but it's probably more likely that she'll let her voice do the heavy lifting for this number. In other words, expect less of her gravity-defying 2017 AMA performance and more of her lovely duet with Kelly Clarkson of "Everybody Hurts" by R.E.M., which they sang in tribute to the first responders at the top of that award ceremony.
The NFL National Anthem protest was started by former San Francisco 49ers quarterback Colin Kaepernick in 2016, who chose to take a knee during the anthem as a silent protest against racial injustice and police brutality. Other players joined his protest. Though Kaepernick had already lost his job at the end of the prior season and was not hired by any other teams in the fall 2017, President Trump reignited the debate surrounding the protests, and inspired a new wave of similar protests, last September when he said:
"Wouldn't you love to see one of these NFL owners, when somebody disrespects our flag, to say "get that son of a b*tch off the field right now?" Out. He's fired. He's fired!"
Pink has been outspoken about the issue, arguing that the president should not complain about the protests. In October of last year, she tweeted, "@POTUS you are doing a terrible job. Worse than every other job you've done terrible at. Do you seriously have time to worry about the NFL?"
Still, this doesn't mean that Pink will necessarily try to infuse her political views on the performance. At the time of the above tweet, the pop singer was diplomatic in her criticism, writing that, despite disapproving of Trump's time in office, she believed he could "change." "I've seen people change and turn their lives around," Pink tweeted. "There's still hope for you @POTUS. It's what the world needs."
She reiterated to fans questioning her political convictions that, while she did not stand behind Trump, she wanted to bring a message of positivity — a message of unity that could very well be appreciated at the start of Super Bowl.
Regardless of whether Pink's rendition of the national anthem is political charged, or if the players on the field choose to take action, there's bound to plenty to talk about during Super Bowl LII. Justin Timerlake, for the first time since his controversial 2004 Super Bowl Halftime show with Janet Jackson, is headlining the massive mid-game concert on the field.
Though Pink doesn't have the main event, she is in good company as the game's opener. Previous singers who belted out the National Anthem at the major championship game include Luke Bryan, Lady Gaga, Idina Menzel, Alicia Keys, Billy Joel, Diana Ross, and Whitney Houston. This year's rendition of the "Star-Spangled Banner" will also be interpreted in sign language by deaf actor and director Alexandria Wailes (Don't Shoot the Messenger, Nurse Jackie).
Basically, like many of the great pop artists and music icons before her, you better believe that Pink will bring heart and passion to the performance.