Pixar Is Adding Epilepsy Warnings To 'Incredibles 2' & Fans Are Feeling So Heard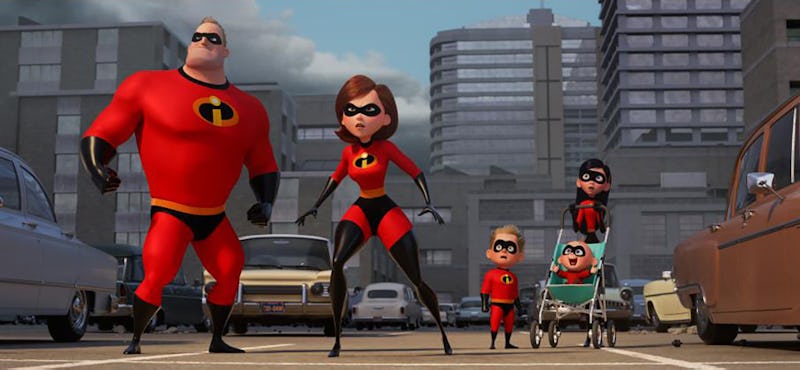 Pixar Studios
The team behind Incredibles 2, which grossed over $180 million at the box office during its opening weekend, is making a major and commendable move following fan outcry. While families and nostalgia-driven millennials arrived in droves to see the long-awaited superhero sequel in theaters, there was one complaint amongst a sea of praise. As several fans pointed out on social media over the weekend, one scene in the movie involving bright and flashing lights could be dangerous for those who suffer from epilepsy or are prone to seizures. Thankfully, Pixar and Walt Disney Pictures took notice by responding to fans and adding an epilepsy warning for Incredibles 2, as USA Today reports.
The main scene in question involves the movie's villain Screenslaver, and it is the reason for Walt Disney Pictures now sending an advisory to theaters warning them about the potentially triggering nature of the sequence, as reported by USA Today. Advisories are being posted in theaters across the country, with the notes reportedly saying, "Incredibles 2 contains a sequence of flashing lights, which may affect customers who are susceptible to photosensitive epilepsy or other photosensitivities."
Already, fans are taking to social media to express their gratitude. For audience members who have epilepsy or experience seizures due to other conditions, having a heads up about Incredibles 2 containing possibly triggering lights is a major deal.
A popular studio like Disney putting out a statement like that is actually pretty rare. Normally, many who suffer from photosensitivity or migraines have to rely on warnings from others in their community via social media, message boards or Tumblr accounts such as Movie Health Community in order to identify and prepare themselves for triggering sequences in films and on television. The Epilepsy Foundation is one such group that aims to warn the public about triggering media. Prior to Disney's response, the foundation issued a statement on Saturday about the nature of the Incredibles 2 sequence:
"For those who have been diagnosed with photosensitive epilepsy — or are simply sensitive to flashing lights — and are planning to watch the movie, they should be advised that the flashing lights may trigger seizures in some people."
This wasn't the first statement of its kind from the foundation. In 2011, following the release of The Twilight Saga: Breaking Dawn — Part 1, a warning was posted after nine moviegoers reported they had seizures in response to a scene with white strobe lights and blood, according to ABC News. Hopefully, the new Incredibles 2 advisories will alert fans who might suffer from that kind of scene and prevent a situation like that from happening again.
However, Epilepsy Foundation spokeswoman Jacqueline Aker, in an email to CNN on Monday, expressed a need for warnings beyond a movie theater's doors. "While we appreciate the efforts already taken to warn moviegoers, we are requesting that Disney Pixar post a warning on all its digital properties, including relevant websites and social media channels, about what has been described as 'flashing' and 'strobe' lights in its Incredibles 2 movie," Akers wrote to CNN.
The discussion over the scene has been a minor roadblock for the animated blockbuster, which was celebrated by critics and audiences alike for its spotlight on super-mom Elastigirl and its timely feminist message. Coming 14 years after the original childhood classic, the film was both a passion project for director Brad Bird and hotly-anticipated summer movie for fans who grew up loving the first. "I think it has been a long time, but what I like is that nobody twisted my arm to do it. It was clear that fans wanted another chapter of The Incredibles but they were able to wait until I had something worth doing," Bird said in an interview with AMC Theaters.
Now that the finished film is tearing up the box office and meeting fan expectations, Disney is ensuring that any potential moviegoer enters the theater prepared, and unendangered by their movie watching experience. Countdown to Incredibles 3, anyone?