Pizza Hut Just Launched A New $5 Deal — And Mini Cinnabons Are Included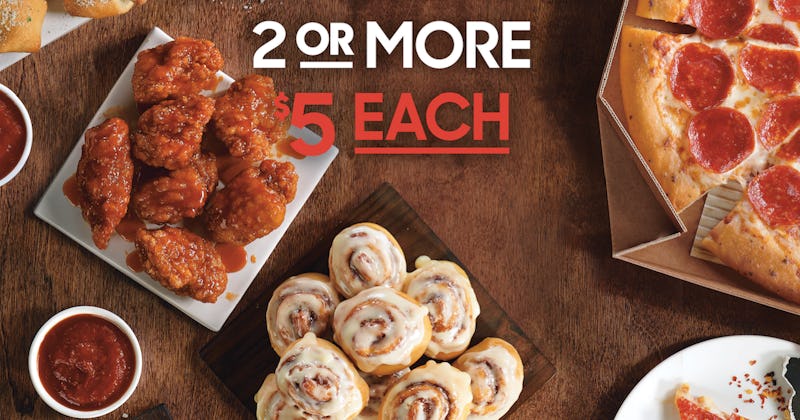 Courtesy of Pizza Hut
Discount menus have long been a reliable go-to for those short on cash, looking for more bang for their buck. Sometimes you don't want to (or can't) pay more than five dollars to satiate yourself. So, fast food becomes a saving grace. It turns out another one of those deals just hit the scene, and is coming for pizza lovers in a big way: Pizza Hut's new $5 Lineup is loaded with tons of yummy eats, no matter what kind of hot food you're in the mood for.
In a press release, the United States' largest pizza chain detailed its newest offering, which luckily incorporates its latest menu additions, too. For five dollars, customers can snag an assortment of menu items, including a medium one-topping pizza; eight boneless Wingstreet Wings; an order of Stuffed Garlic Knots; an order of the chain's signature Tuscani Pasta; a double order of warm breadsticks; an order of the brand spanking new Crafted By Cinnabon Mini Cinnamon Rolls; an Ultimate Hershey's Chocolate Chip Cookie; or a four-pack of 20 oz. beverages. You could feasibly craft a four-course meal with this menu, including drinks, for around 20 dollars. The only catch is that you have to buy two or more items. But, really, it's still an unbeatable deal — and weren't you going to end up buying two or more things anyway?
"The $5 Lineup gives our customers what they really want, Pizza Hut pizzas for just $5," said Marianne Radley, the chief brand officer for Pizza Hut United States, in the press release. "The ability to get the best tasting pizza made right when you order it for $5 is unrivaled and there's an incredible variety of food in this Lineup, from wings to indulgent desserts." She also noted, "In a sea of restaurant companies that are offering food at this price point, we're excited that our shareable menu items can feed your friends and your family, not just yourself."
The introduction of the menu follows some updates made to another money-saving initiative: the Pizza Hut Rewards pizza loyalty program, which launched in 2017, recently got an upgrade when Pizza Hut became the official pizza sponsor of the NFL. Now customers can enjoy all kinds of game day deals, and other fun offerings on Pizza Hut's website.
One of the highlights of the $5 Lineup is the newest addition to the Pizza Hut menu in general. The chain teamed up with Cinnabon to create and release miniature versions of the company's signature cinnamon rolls. The rolls are reportedly made with exclusive Cinnabon Makara cinnamon swirls, and topped with Cinnabon's signature thick cream cheese frosting. Since they are delivered warm along with the rest of your food, it makes eating dessert first easy.
So really, what are you waiting for? The deal launched on Oct. 17, so you can start taking advantage of it right the heck now — all you have to do is figure out which of those $5 items you want to take on a journey tonight.