Pizza Hut Just Added Mini Cinnabons To Its Menu, Be Still Your '90s Heart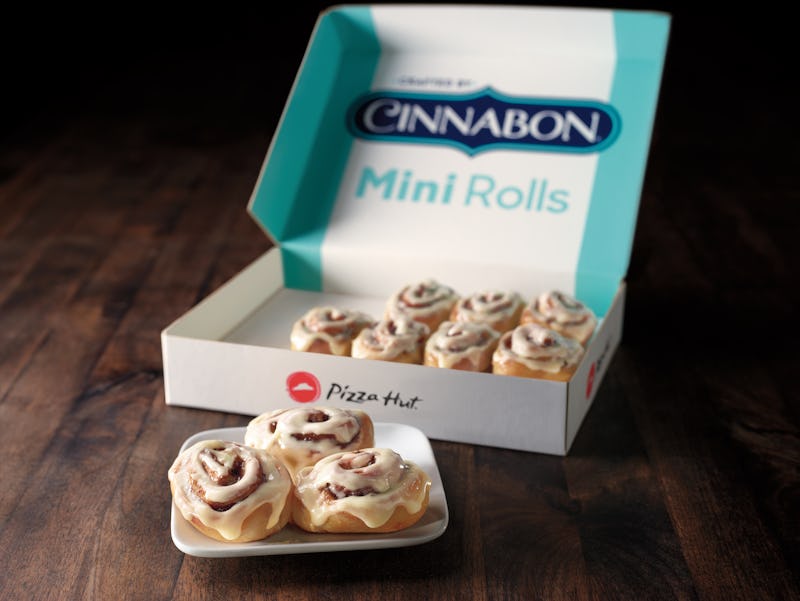 Courtesy of Pizza Hut
Ah, the ultimate '90s kid conundrum: you want pizza and you want Cinnabon, but they're on total opposite sides of the mall. Well, it turns out you really can have your rolls and eat them, too: solving your decades-long problem, Pizza Hut now has Cinnabon Mini Rolls available on its dessert menu, thanks to the most deliciously nostalgic collab to ever grace the world of food delivery.
The new menu item is officially called Crafted by Cinnabon Mini Rolls, and they are the exact kind that you know and love — complete with Cinnabon Makara cinnamon swirls, and topped with Cinnabon signature cream cheese frosting — except wee. Each order comes with ten mini rolls, and retails for $5.99. The menu item is available nationwide, starting Monday, Oct. 8, so you can order them for lunch, snack, and dinner and ride this glorious '90s food wave all the way to its delicious end.
"There's nothing better than polishing off pizza night with something sweet, so the new Cinnabon Mini Rolls are a perfect addition to our dessert portfolio," said Marianne Radley, chief brand officer of Pizza Hut U.S., in a press release. "Pizza Hut has a history of offering innovative menu items and craveable desserts that bring everyone around the table to enjoy -and few things can satisfy a sweet tooth like authentic Cinnabon cinnamon rolls."
But enough talk, friends. BEHOLD.
And truly, the timing on this could not have been more perfect. Not only are these Cinnabon Mini Rolls the ultimate cozy fall treat, but they are happening in conjunction with some other awesome Pizza Hut news — the chain recently became the official pizza sponsor of the NFL, and is celebrating with a season-long "Game Plan" program where fans can win prizes, earn points, and get exclusive game day deals. So basically, if your team wins, you celebrate with Cinnabon Mini Rolls ... and if your team gets pulverized, well, you'll just take those same Cinnabon Mini Rolls to the face to ease the pain.
Anyway, some incredibly important dessert implications may have been glossed over in the midst of all this news, so let me be the one to put this on your radar: this means that you can now simultaneously order Cinnabon Mini Rolls and the Ultimate Hershey's Chocolate Chip Cookie and Hershey's Chocolate Chip Brownie AND Cinnamon Sticks from Pizza Hut ... all at the same time. This is truly the dessert version of Thanos trying to shove stones into his Infinity Gauntlet, except that it's all of us trying to shove delicious desserts into our mouths.
All of this should be more than enough to ease the ache of missing the Cheesy Bites Pizza until Pizza Hut (hopefully) decides to bring it back for another limited edition run next year; in fact, I'm not really certain if there's any food-related sadness that a Cinnabon Mini Roll can't solve. You can order the new dessert item starting today, so go live out your dreams, fellow '90s mall rats; you've waited long enough.