Pizza To The Polls Will Send You Free Pizza If You're Waiting In A Long Voting Line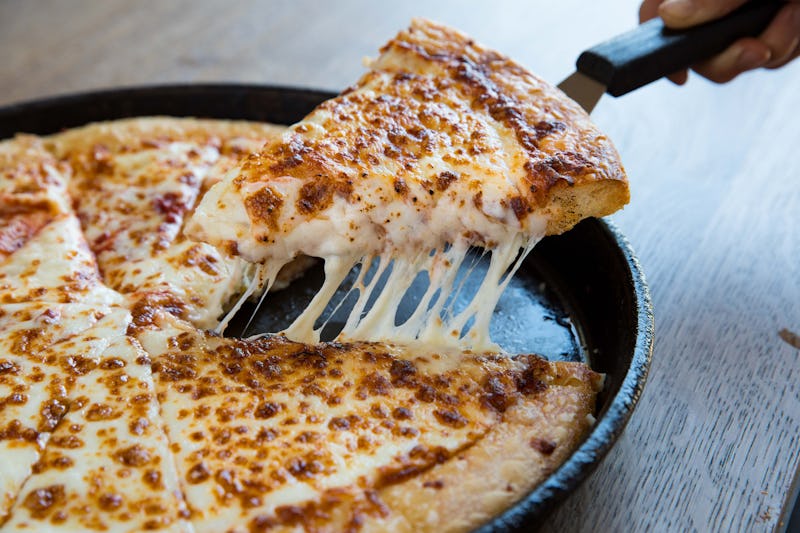 Shannon O'Hara/Getty Images Entertainment/Getty Images
Election Day is (finally) almost here, which means you should already know where your polling place is. But, if you know where you're voting and are dreading it because your location tends to have long lines, then this might help in some small way. As reported by Delish, an organization called Pizza to the Polls is delivering free pizza to polling places on Election Day if they have a long line. So, yeah, you might still have to stand in a line, but at least you can eat pizza while doing it.
The pizza will not just automatically be at the polling place, you have to summon it. You can report the long line on Pizza to the Polls' website (polls.pizza), which includes linking to evidence of the long line on social media (like a tweet or Instagram showing the line) and sending in the address of the polling site. You can also include a phone number or email address if you'd like to be updated on when the pizza will be delivered.
This year, Pizza to the Polls has already sent out 616 pizzas to 54 polling places in 20 states, as the time of this story's publication. According to Pizza to the Polls,
Americans are hungry for democracy and are turning out in record numbers to vote. But that means long lines and sometimes empty stomachs, which might discourage these brave patriots from performing their civic duty.
In order to send so many pizzas to hungry voters, Pizza to the Polls takes donations. If there is money left over after an election, its "saved for future hungry voters and/or marchers," according to the nonprofit's website.
Of course, having a slice of pizza doesn't totally make up for the fact that polling place lines can be out of control, especially when you think about what the long lines really mean. Long lines tend to be more prevalent in urban areas, for minority voters, and for early voting, as reported by the New York Times. This may be because of a lack of polling machines and polling workers. Still, until changes are made and things are fixed, it's helpful that Pizza to the Polls is encouraging voters to stick it out by feeding them.
Pizza to the Polls has been sharing updates about the pizzas being sent out to early voters and photos people shared of themselves eating while in line:
While it's important to remember that you can get free pizza while in line to vote, there are also some other very important things to keep in mind. First, if you are already in line to vote before the polling location closes, you are still allowed to vote even once the closing time passes. Also, know that you can ask for a provisional ballot as a final resort if you cannot be found on the list of registered voters. (Much more information about voting rights and voter intimidation can be found on the ACLU site here.)
And, finally, if you need to find your polling place, it can be located here. Hopefully, you won't have to face long lines at all, but if you do, you can probably make everyone in line at least a little bit happier by getting that Pizza to the Polls request going.