Pope Francis Says Trump Isn't Really "Pro-Life" If He Supports DACA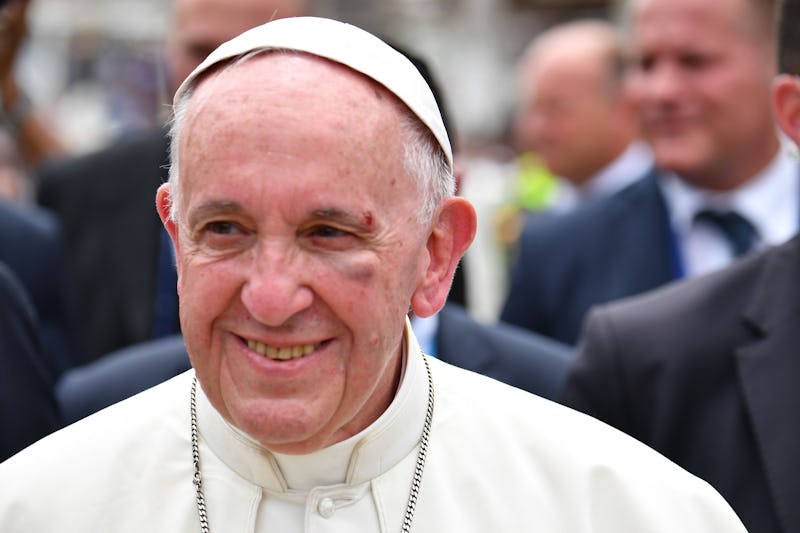 ALBERTO PIZZOLI/AFP/Getty Images
The Pope has never been shy of criticizing President Trump, and on Sunday he continued the trend, calling him out for his stance on ending the Deferred Action for Childhood Arrivals (DACA) program. The Pope said that Trump's decision to end DACA is hypocritical to his identification as a pro-life proponent.
The Pope made his remarks regarding the immigration program to reporters aboard his papal plane on Sunday. DACA is the Obama-era program that allows children and young adults who were brought to the United States by their parents to remain in the country undocumented. The Pope said that ending DACA would not be a decision that a true "pro-life" advocate would support, since it would harm the well-being of children.
"The president of the United States presents himself as pro-life and if he is a good pro-lifer, he understands that family is the cradle of life and its unity must be protected," Francis told reporters on Sunday. He also added that he was "hopeful" that the Trump administration's decision on DACA would be "rethought."
The Pope's criticism follows an argument that many liberals make against conservatives who identify as "pro-life," as the term relates to abortion, but then vote against funding programs that benefit poor children. And though conservatives make efforts to be "in favor of life," their views can actually do damage to women's health and well-being. The views and policies of pro-life conservatives are often referred to by opponents as hypocritical, because their definition of pro-life has a limited scope, such that their other policies can work directly in the face of that alleged mission.
It's not the first time the Pope has taken the president to task for policies that don't line up with his purported religious beliefs. During the presidential campaign, the Pope said that Trump was "not a Christian" because of his desire to build a border wall between the United States and Mexico.
"A person who thinks only about building walls, wherever they may be, and not of building bridges, is not Christian. This is not the gospel," the Pope said to reporters in February 2016.
But will the pontiff's words do anything to sway Trump on this controversial decision? Unsurprisingly, Trump has had choice words for the Pope in the past as well. Trump doesn't often let someone get away with criticizing him without making large mention of it, and then calling attention to what he sees as his opponents' own faults.
Trump said that the Pope's comments about his faith were "disgraceful," and said "No leader, especially a religious leader, should have the right to question another man's religion or faith." He also shared that he thought that the Pope was "too political," and that he was a "pawn" of the Mexican government, following his disapproving comments regarding Trump's planned border wall.
And of course there is their well-documented disagreement over climate change. The Pope had fresh comments on the topic during his press conference on Sunday, especially following the recent devastation of Hurricanes Harvey and Irma. The Pope quoted the bible, saying "Man is stupid. When you don't want to see, you don't see," in a comment seemingly directed at world leaders who would turn a blind eye to the overwhelming scientific evidence of climate change, like Trump. He added that "history will judge those decisions," made by those in power in regards to protecting the planet.
It's not likely that the Pope's criticism is what will cause Trump to change course on his decision to tend the DACA program. But after this quite blatant verbal dig, Trump is sure to have some retort of retaliation for His Holiness in the coming days.