This Is What The Young Marauders Looked Like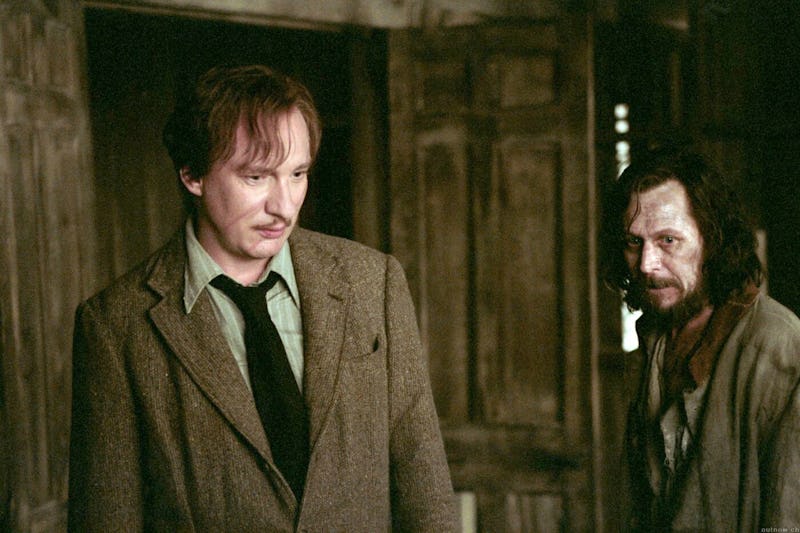 Warner Bros.
Ever since J.K. Rowling introduced us in Prisoner of Azkaban, Potterheads have been fascinated with the Marauders: Remus Lupin, Peter Pettigrew, Sirius Black, and James Potter, aka Moony, Wormtail, Padfoot, and Prongs. If you're similarly obsessed, you'll be pleased to know that Pottermore just published animated young Marauders portraits, and this is not a drill. The abstract illustrations come to us from Montse Bernal, an artist whose work has been featured in The New Yorker, Paste, and Oprah Magazine.
Pottermore is "celebrating the Marauders" this week, according to the introduction to its new quiz, "How Well Do You Know Moony, Wormtail, Padfoot, and Prongs?" The quiz follows features on Bernal's artwork, the inherent superiority of Remus Lupin — who would have celebrated his 57th birthday on Friday — and a longread titled "Everything We Know about the Lives of the Marauders."
In spite of the fact that Rowling dashed our hopes of a Young Marauders prequel series at least as far back as 2013, all this attention is sure to stir up some hopes and rumors that the Harry Potter author will give her fans at least one book about Remus, Peter, Sirius, and James' adventures. After all, Rowling is writing two new books, one of which is expected to be set in the Wizarding World, and is definitely not a Fantastic Beasts novel. Could this be Pottermore's way of introducing us to the long-awaited Young Marauders series? Only time will tell.
Check out Sirius Black and James Potter, and for more images, go to Pottermore to see the rest of the Marauders during their Hogwarts days.
Do you think J.K. Rowling is writing a Young Marauders series? Share your thoughts with me on Twitter!