Pottery Barn Just Launched A Collection With Lilly Pulitzer & I Want EVERYTHING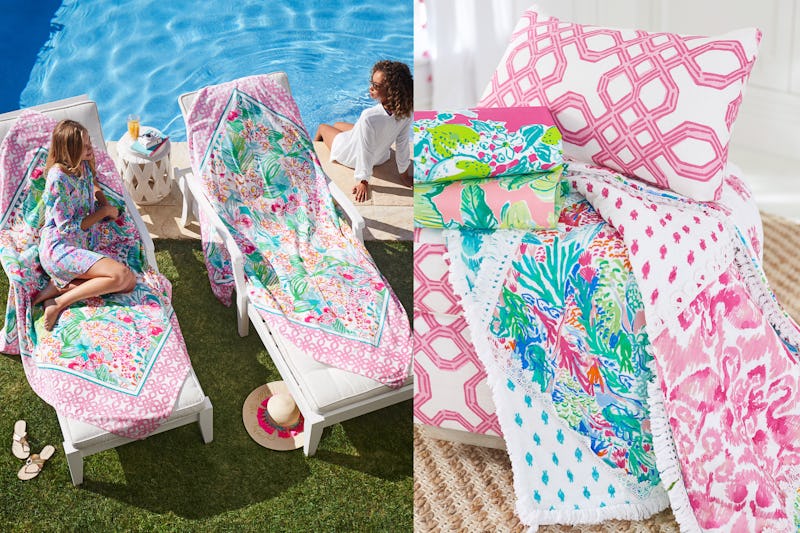 Courtesy of PBTeen/Courtesy of Pottery Barn Kids
When I was growing up in Connecticut, there was nothing cooler than Lilly Pulitzer. Her iconic vernal patchwork, in bright pinks, Kelly greens, and lemon yellows, was the light summertime quilt of my preppy upbringing; one simply did not graduate from 10th grade in anything but a Lilly Pulitzer shift dress. Heck, I spent the better part of my post-grad summer in a blouse from the designer's Target collaboration. But now, you can access that timeless preppy cool aesthetic in a new home décor line: Pottery Barn, Pottery Barn Kids, and PBTeen are all launching an exclusive collection in partnership with Lilly Pulitzer, and every single thing is a summertime dream come true.
In a press release, the brand explains that all three Pottery Barn brands have "simultaneously released coordinating collections" that let you achieve that signature Palm Beach style from the master bedroom to the nursery, or, most likely, from one wall of your 400 square foot studio to the other. But that's the beauty of Lilly P. — you don't need a bungalow in the Keys to appreciate the brand's classic designs. And this collection, with over 100 items at price points from $16.50 to $1,099, is a way to recreate the feeling of a South Beach pied a terre in your own home.
"Our collaboration with Lilly Pulitzer is effortless and fun, merging Lilly's quintessential Palm Beach style with Pottery Barn's iconic, casual approach to home décor," Monica Bhargava, Executive Vice President of Product Development and Design at Pottery Barn, was quoted in the press release. "We've infused Lilly's vibrant hand-painted prints throughout the collection, merging fashion and home to create a covetable collection that evokes the feeling of summer all year long." All year long, you say? Sign me right the heck up.
So, what exactly is in the collection? Friend, I'm so glad you asked. There are pillows, bedside tables, this white, open weave egg chair and accompanying comfy cushions. There are beach towels, reversible shams, this gold bas relief pineapple wall art, which you can also get as a flamingo or a palm frond. There are a large variety of products featuring capiz, or windowpane oyster, which lend a very South Beach-esque art deco vibe to items like this scalloped pendant lampshade, for one. I may have let out an audible gasp upon clicking on this upholstered slipper chair, which, somehow, evoked a dream I didn't even know I had to move to Palm Beach and become a competitive shuffleboard player. Though at $1,099, it isn't the most accessible piece in the collection, it's now a symbol for all my Floridian hopes and dreams. And isn't that what home décor is all about?
Actually, when push comes to shove, there are covetable items in each of the collections, even (and maybe especially) Pottery Barn Kids. While I probably can't justify purchasing this adorable flamingo rocking chair for myself, this palm wallpaper is a gorgeous way to update my tiny bathroom with a tropical vibe, and I can totally see this sweet eyelet lace bed skirt dressing up my bedroom (you know, when I get around to actually buying a bed frame).
In all serious, let's face facts. This winter has been long. We could all use a little something to at least evoke the feeling of summer, if not outright summon it to whatever cold corner of the world in which we're currently waiting out the season. These collections do just that, in their bright patterns, their gold and capiz, their interminable motif of flamingo, pineapple, and palm. And I absolutely want it all, please.