Obama Writes Short Stories About People He Meets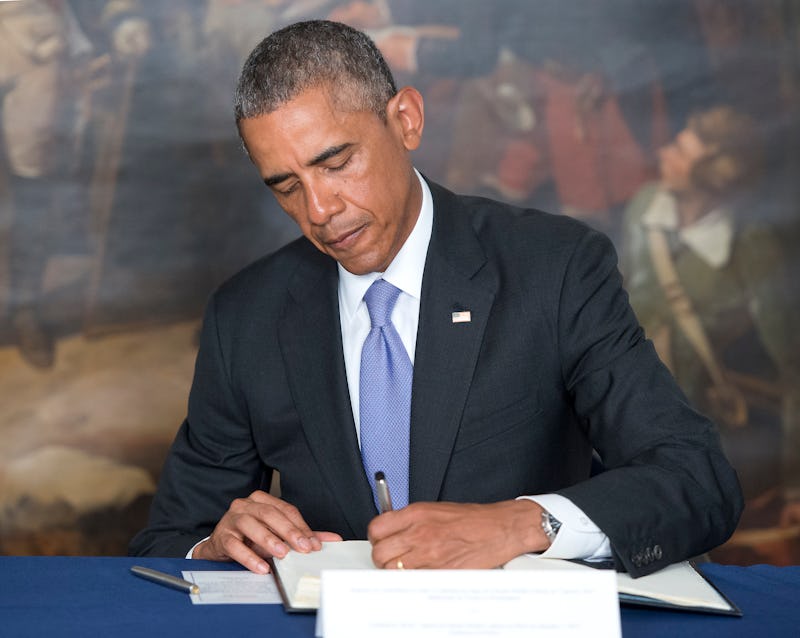 Pool/Getty Images News/Getty Images
If there's one thing that might help to dry your tears about the fact Obama will soon be leaving the White House, it's this: it turns out Obama writes short stories, and while we'll be devastated to lose him as our President, at least he might have some free time to write some more. It's no secret that Obama loves books and reading; he's talked openly in the past about the power of words, and his belief that literature teaches you empathy. We know he's a great writer, too: his last two memoirs have been best-sellers, and he even once wrote a moving children's book called Of Thee I Sing: A Letter to My Daughters. So can we get some more short stories too, Obama?
Obama has already revealed his plans to write a post-presidency memoir, and I have no doubt that's going to be fascinating — but what I have always loved about Obama's views on reading is that he sees the power in fiction. Most politicians are very well-read — but not all of them make the time to read novels. That's why our current president is so special: Obama's favorite books range from Harry Potter to The Underground Railroad.
Literature has always been important to the president — and as a young man, Obama used to write short stories about the people he met through his job as a community organizer. "There is not a lot of Jack Kerouac open-road, young kid on the make discovering stuff," he told the New York Times. "It's more melancholy and reflective." Obama describes fiction as "a reminder of the truths under the surface of what we argue about every day," and urged that right now "the role of stories to unify — as opposed to divide, to engage rather than to marginalize — is more important than ever."
Wise words from an incredibly wise man. Now pleeease can we read your short stories?