8 Of President Obama's Best Quotes About Reading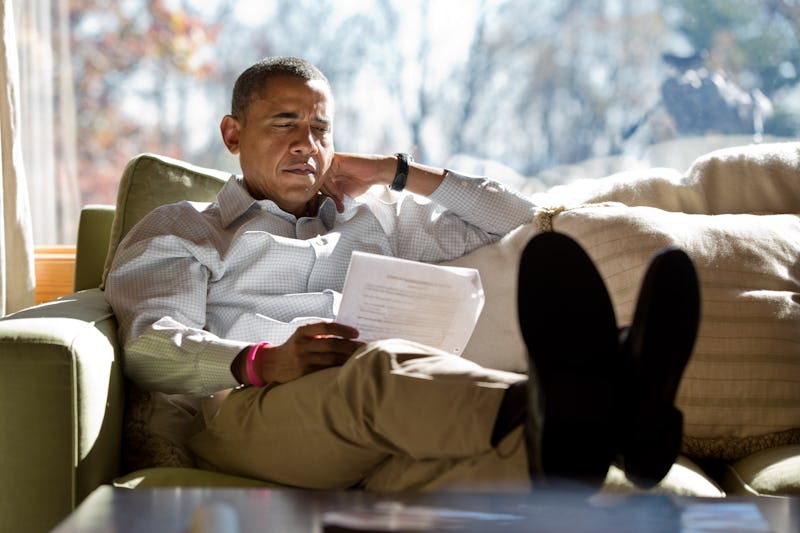 The White House/Getty Images News/Getty Images
With just a few days left in our 44th president's White House tenure, now is a great time to review the eight years of Barack Obama's presidency, and a lot of people are doing so. It's important to remember, however, that the POTUS enjoyed a starred career before his election in 2008, and many of President Obama's best quotes on reading — which I, being a books writer, will focus on here — come from his pre-White House days.
Throughout his presidency, Barack Obama has made himself known as an avid reader and cultural critic. His "essential reading list" for future leaders is 89 hours long, and includes everything from James Baldwin to Daniel Kahneman. President Obama isn't just a reader of books, however. He's also an accomplished author.
Before he became POTUS, Barack Obama was a U.S. Senator (D-IL), a civil rights lawyer, and a community organizer. In college, he became the first African-American editor of the Harvard Law Review, which opened the door for him to pen his first book, 1995's Dreams from My Father: A Story of Race and Inheritance. President Obama has since published two other books: The Audacity of Hope and Of Thee I Sing. He also became the first sitting president to publish a scientific paper, with "United States Health Care Reform: Progress to Date and Next Steps" appearing in the July 11, 2016 edition of the Journal of the American Medical Association.
But that's not the extent of President Obama's literary impact. In 2016, a group of academics published Barack Obama's Literary Legacy, a book of essays on selections from Dreams from My Father. Of Barack Obama's Literary Legacy, New York University's Jay Garcia remarked that, "[t]he deft contributions to this collection, together with its rich introduction, demonstrate that Barack Obama's 'Dreams from My Father' [sic] demands literary reading and attentiveness to a range of literary and cultural histories."
Check out President Obama's best quotes about reading below, and share your favorites with me on Twitter!