President Obama Surprised Michelle On Her Book Tour And The Crowd Lost It — VIDEO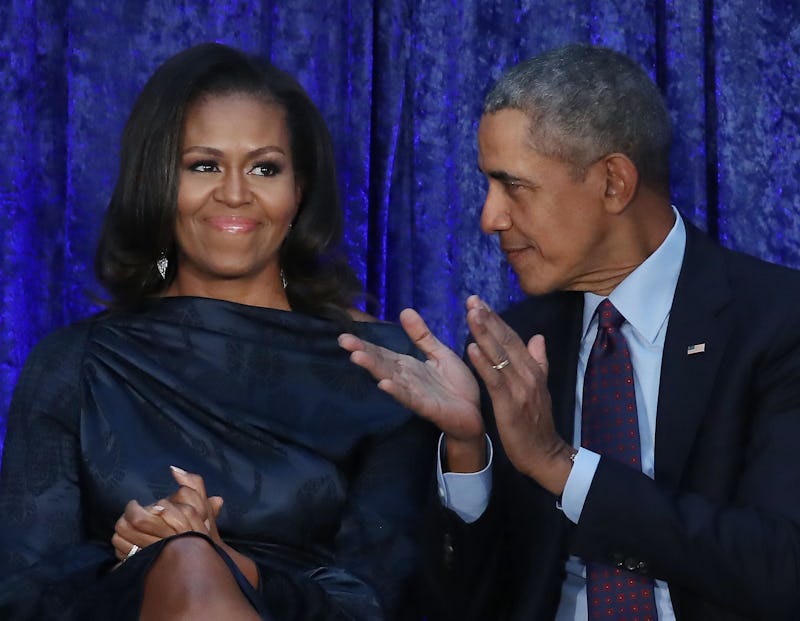 Mark Wilson/Getty Images News/Getty Images
Former first lady Michelle Obama has been touring the country publicizing her new memoir Becoming, but on Saturday night in Washington D.C. she shared the spotlight with her husband. Walking on stage, President Obama surprised Michelle and drove the crowd wild. The audience repeatedly interrupted with cheers as Obama talked about falling in love with Michelle.
First, Obama compared the political couple to two celebrity counterparts, CNN reported. "This is like — you know when JAY-Z comes out during the Beyoncé concert? ... Like, 'Crazy in Love'?" Obama said after walking on stage with a bouquet of flowers. "It's the same thing. It's just a little sample to enhance the concert."
The president was well received by the audience — the crowd shouted, "We miss you!" while he spoke. Obama then stuck around for several minutes and answered questions from Obama White House adviser Valerie Jarrett about why he fell in love with Michelle and how she's developed into who she is today.
"The thing that I remember during the summer as we became friends, and before she finally relented to a date, was she was one of a kind," Obama told the crowd. "I hadn't met somebody who was that strong, and that honest, and somebody who I felt was a rock. I knew at that point I would always be able to count on her."
The former first lady, though, was the main focus of the night. She commented not only on their eight years in the White House, but on how Obama has acted upon leaving office. Sometimes, she said she'd like him to speak out more on today's state of political affairs.
"There are so many times where I just want him — like, I know, all of you — to just curse them out. Just say these things," Michelle said. "And he's like, 'Well, that's not the point. You know, the president isn't the president for his own ego. The president is the president for the entire country. So we have to be very mindful of what we say and how we say it.'"
But according to Obama, he likes when Michelle challenges him like that. He gave that quality as a reason that he fell for her. "I knew she would challenge me," Obama told the crowd. "I think that the one thing for me, that I always understood, was that whatever marriage, whatever partnership that was going to work, it couldn't be one that was just one-sided."
"I did have a pretty clear sense of where I was going, and I wanted somebody there that would call me when I was wrong and would push me when I was falling short," he continued. "And, boy, does she do that."
Michelle talked about how only recently she and Obama have been able to start reflecting on what they accomplished during their eight years in the White House. "We were so busy doing and so busy trying to be perfect, and to get everything right that rarely did we have time to sit back and acknowledge what we've done," Michelle told Jarrett.
Now they have time to recognize each other's accomplishments, Michelle said. "I was able to do that with my husband just the other night. And just look at him and say, 'man, man you did this. You did this. You did one of the hardest jobs on the planet,'" Michelle told Jarrett.
From what Obama said, he couldn't have done it without Michelle.