Pret's Festive Coffee Menu Features A Crème Brûlée Latte & I'll See You At The Till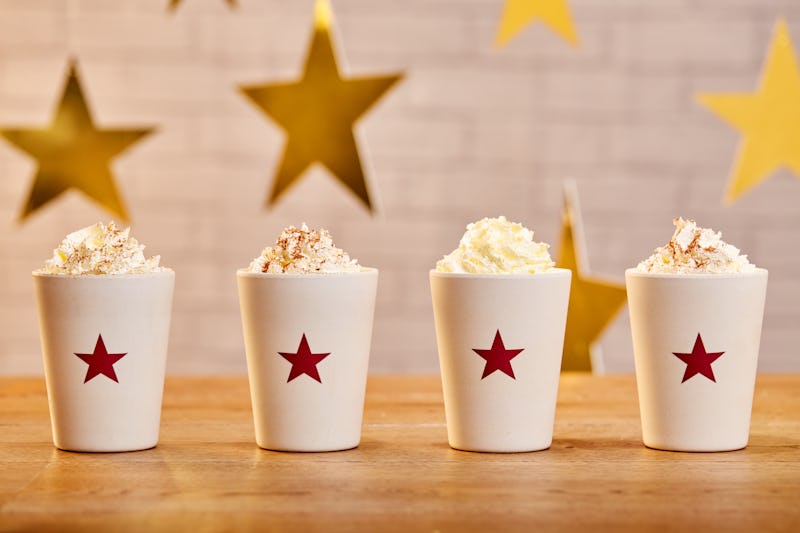 Pret
For foodies, Christmas is one of the most exciting times of the year. It's a time when all the very best festive editions are rolled out, from Christmas sandwiches to sweet treats, and those big tins of Roses and Quality Streets we all love are finally in the shops. And for Pret A Manger, it's a time when their unique hot drink Christmas creations come into their own. Let's take a look at Pret's festive coffee menu this year, and hear more about how it's been helping raise charitable donations for the homeless.
This year, Pret is bringing back one old classic, and introducing three new hot drink heroes to its menu. While I've always been a big fan of the Mint Hot Chocolate (delish), I think this year will be all about the Gingerbread Latte, which is quite possibly the most festive drink you can get your little mitts on.
Let's take a look at all four of the options: First up is the crème brûlée latte which comes topped with a swirl of whipped cream and a sprinkle of brown sugar. Next is the gingerbread latte, topped with whipped cream and a dusting of cinnamon. Third is the orange hot chocolate complete with a swirl of whipped cream and a dusting of chocolate powder. And last but most certainly not least is the classic mint hot chocolate, which like the orange edition is finished with a swirl of whipped cream and a dusting of chocolate powder. Delicious.
All four are available with dairy milk or with dairy-free alternatives, so are good to go for all diets. As well as the drinks menu, Pret has a range of Christmas sandwiches (there's three: Pret's Christmas Lunch, Pret's Veggie Christmas Lunch and the Very Merry Christmas Lunch) on offer, and other specials including baguettes (Pret's Christmas Lunch, Brie, Pistachio and Cranberry and Wiltshire Cured Ham And Wensleydale) , salads (Pret's Winter Festive Salad) and sweet treats (I've been eyeing up the Mince Pie Cookie for a while now, but the menu also includes the Pret's Mince Pie, the Christmas Tiffin and Melvin, Pret's Melting Gingerbread Snowman).
Everyone knows the true meaning of the festive season is giving to others and the great thing about Christmas at Pret is that a cut of the proceeds go to charity. So far, the Christmas menu has raised over £100,000 for the Pret Foundation Trust to help with homelessness in the UK.
And as if that wasn't great enough, the eatery has now announced it will be thanking customers for this by handing out over 300,000 special tokens for a free hot drink of their choice (including the Christmas specials). Customers who receive a token will have the choice to keep it for themselves or to pass it forward to a friend, loved-one or someone more in need.
These tokens will be given out at random over the next week, and can be redeemed anytime between now and at the end of the year 31 December.
If that's not festive spirit, I don't know what is!