Prince Charles Planted An Entire Wood For Prince George & It's Total Grandpa Goals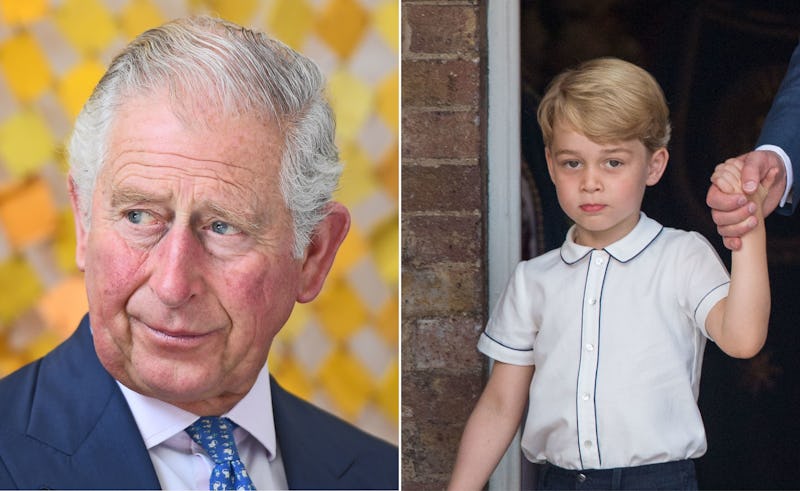 WPA Pool/Getty Images Entertainment/Getty Images
In a special documentary set to air on BBC One tonight, viewers will be given an exclusive look inside the life of Charles, Prince of Wales, who celebrates his 70th birthday on November 14. The programme, titled Prince, Son and Heir: Charles at 70, will see the heir to the throne open up to audiences about his busy work life, as well as his relationship with wife Camilla, Duchess of Cornwall. Charles will also speak about his beloved children and grandchildren, and it reveals that Prince Charles planted a wood for Prince George of Cambridge, his first grandchild, and he has the sweetest name for it.
According to the Mail, Prince Charles proudly shows of an arboretum — basically a fancy word for a collection of trees — which he planted for his eldest grandchild at Birkhall, his Scottish home. The Prince of Wales also revealed to the documentary crew that he refers to the arboretum as "George's wood". When speaking of the Prince's relationship with his grandchildren, Charles' eldest son, Prince William, Duke of Cambridge, praised his dad as a "brilliant" grandfather. However, Prince William also comments that he would like to see his "workaholic" father spend more time with his grandchildren. When opening up about his father's busy work schedule, William said: "It's something I'm working more heavily on, put it that way. I think he does have time for it, but I would like him to have more time with the children."
In the BBC documentary, William then also touches upon his father's upcoming 70th birthday, and says how it could inspire the hardworking royal to slow down. He says: "Now he's reached his 70th year it's a perfect time to consolidate a little bit because, as most families would do, you are worried about having them around and making sure their health's OK — and he's the fittest man I know but equally I want him to be fit until he's 95", and continues "So having more time with him at home would be lovely, and being able to play around with the grandchildren. Because when he's there, he's brilliant. But we need him there as much as possible."
Prince Charles' wife Camilla also goes into some detail about his playful approach to being a grandparent. The Duchess of Cornwall adds: "He will get down on his knees and crawl about with them for hours, you know making funny noises and laughing, and my grandchildren adore him, absolutely adore him. He reads Harry Potter and he can do all the different voices and I think children really appreciate that", reports the Mail.
During the major documentary, Prince Charles' youngest son, Prince Harry, Duke of Sussex, discusses his father's keen interest in the environment. Charles is known for his knowledge in this area, and throughout his life has campaigned to highlight the dangers of climate change. When speaking of his father's environmental work, Prince Harry says to brother William "You know how frustrated he gets. But he's done an amazing job, and without telling us what he should be doing or the direction that we should go in, he's just let us learn from the nature of the job, learning from him, learning from Mummy."
In the show, it is also revealed that Charles would often take both Harry and William litter picking whilst on holiday, and perhaps the plant-based tribute to eldest grandchild Prince George was inspired by his own passion for the environment? Prince, Son and Heir: Charles at 70 airs at 9 p.m. tonight on BBC One.