Prince Charles Just Opened Up About His Grandchildren In The Most Caring Way Ever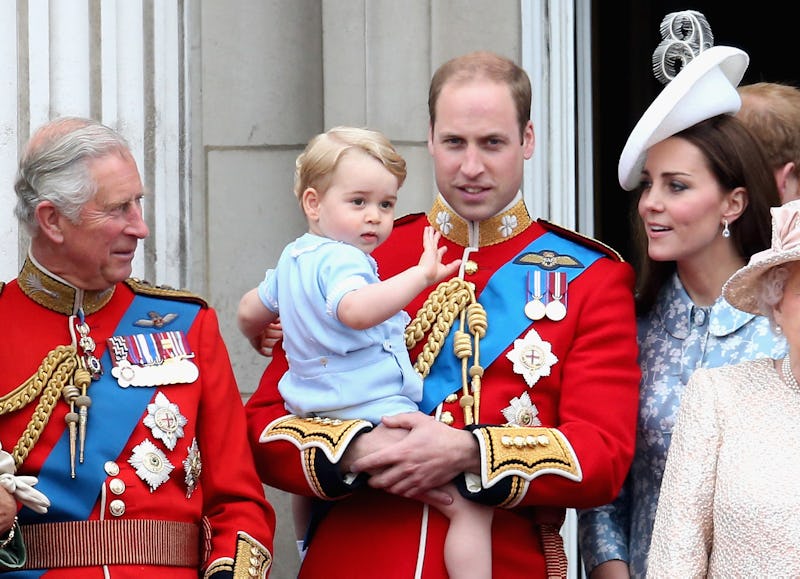 Chris Jackson/Chris Jackson Collection/Getty Images
Grandparents can influence the lives of their grandkids greatly, and just wait until you hear Prince Charles' comments about his grandchildren. According to The Telegraph, during the Prince of Wales' recent trip to Ghana, he opened up about how every single child deserves to have a better future, including his own grandchildren. Ensuring their future is bright is something Charles even tries to make happen himself.
As reported by The Telegraph on Monday, Charles attended a meeting about plastic pollution, where he opened up about his impending fourth grandchild, Prince Harry and Meghan Markle's baby, in addition to his other three grandchildren, Prince George, Princess Charlotte, and Prince Louis.
"I am about to have another grandchild actually," Charles said. "I suspect quite a few of you may too have grandchildren or will do soon."
He then added about their future,
"It does seem to me insanity if we are going to bequeath this completely polluted, damaged, and destroyed world to them. All grandchildren deserve a better future."
Seriously, how sweet is that? It's somewhat rare that the public gets to hear Charles talk openly and honestly about his grandchildren, so to be able to hear him say such meaningful words about their future is truly special.
For example, People reported in the 2018 documentary Prince, Son and Heir: Charles at 70, Charles revealed that after George's birth in July 2013, he planted a tree for his first grandson. While gesturing to a group of trees at his Scottish home of Birkhall, Charles said,
"This is George's wood. As I get older, all I really long for is to plant trees. I hope it will be quite amusing for George, as they grow up, and he grows up."
After Markle's pregnancy to Harry was announced in October, People reported Charles revealed he had toasted his soon-to-be fourth grandchild "several times."
It's clear he cares about his grandchildren dearly, and wants them all to have a safe and healthy future, especially when it comes to the environment. For those unaware, Charles is a huge environmental advocate.
Like he also said during his Ghana visit, per The Telegraph,
"A good start has been made.The matter of plastic debris in the environment, in particular the ocean, is now on the agenda. We do, however, need to keep it there as the amount of plastic entering the ocean every year is, unbelievably, set to get worse rather than better. We cannot, indeed must not, allow this situation to continue."
Charles also added about protecting the planet, specifically the ocean, "A solution is achievable and simply has to be done for all our sakes — and, above all, for the long-term viability of all those species in the sea which are already suffering unbearably because of our actions."
As you can see, ensuring the environment becomes healthier and stays green is an issue dear to Charles' heart. It's something he'll probably continue to fight for and speak about, especially for the sake of future generations, which includes his grandchildren.