Prince George's Look Of Boredom Is Way Too Relatable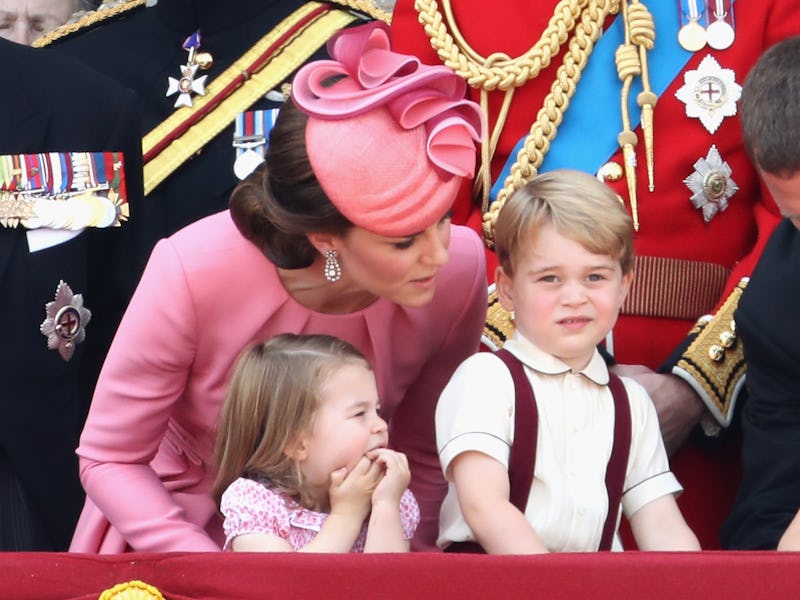 Chris Jackson/Getty Images Entertainment/Getty Images
Ladies and gentlemen, may we all spare a thought today for the son of Kate Middleton and Prince William. Because little Prince George looked so bored at the royal family's annual celebration of the Trooping The Colour parade that I just want to reach out to the poor kid and say, "Bruh, I totally know how you feel, and it's the absolute worst..." and such other angsty platitudes of my childhood. Seriously, he seemed so not into it. Prince George's reaction to the Trooping The Colour parade is basically how all of us felt as children, getting suited and booted and dragged to an event that we couldn't be less excited about. Especially when there's a perfectly good Super Nintendo system at home, and I'm this close to finishing Super Mario World, Dad. (Sorry, I'm still working through some of my own really petty grudges.)
Three year-old Prince George, who is basically one of the most adorable humans I've ever seen, is pretty well known for his arsenal of animated facial expressions. But this may just be his finest moment yet. Because, it finally gives us mere mortals something in common with a member of Britain's royal family: That miserable feeling of being dragged on a day out by your parents, when you just want to be back at home playing with your toys. Live it, George. You're my new hero.
I mean, just take a moment to really enjoy that expression for all the unimpressed sass that it's serving up. It's a face that says, "Seriously, this is what we're doing today? Come on, guys." It's like he stared adoringly at a pile of Playstation 4 games, only to be torn away to go and stand on a balcony for what feels like an eternity. And yeah, we've all been there at some point in our lives. Stuck in the middle of a seemingly endless ceremony, grumbling incoherently about all the fun things we could be doing, and delivering the best frown faces in existence.
It's worth mentioning, however, that it did look as though George was enjoying at least some of the festivities on offer at the parade, which serves as a birthday celebration for the Queen. At times, the young Prince looked visibly excited and full of smiles. In one instance, it even looked as though George and his sister Charlotte were happily waving at planes flying overhead as part of the parade (oh god, my heart). But as we all likely remember, three minutes to a 3 year-old is like three hours in adult time, and once he'd had enough, he'd officially had enough. Game over, Mom and Dad. It's home time. Let's go.
So, here's to you Georgie boy. Here's hoping that you're now free from this supposed family fun day, and that you're back at home enjoying a Georgie fun day instead.