Prince Harry Reveals His Musical Chops In A New Invictus Games Collab With Bon Jovi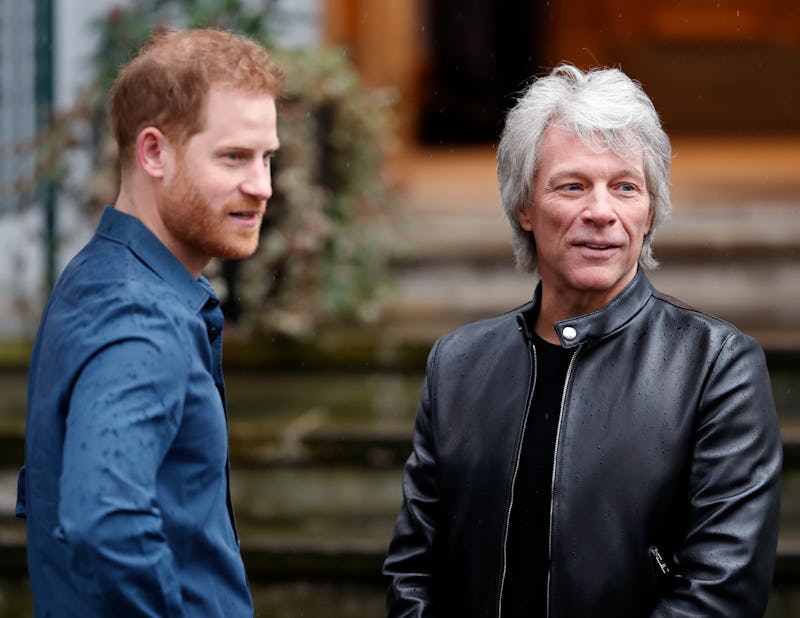 Max Mumby/Indigo/Getty Images Entertainment/Getty Images
The Prince Harry, Duke of Sussex has been hiding his musical talent. On Friday, Harry and Jon Bon Jovi's musical collaboration premiered, and fans will be shocked to hear how well the royal can sing. The updated version of Bon Jovi's "Unbroken" was recorded back in February at the Abbey Road Studios in London in support of the Invictus Games, a Paralympic-style sports competition founded by Prince Harry, according to People.
Bon Jovi originally wrote the track for the documentary To Be of Service, about service animals helping veterans struggling with PTSD. But the rock star felt the track might also be fitting to promote The Invictus Games, for which Harry is a patron. Bon Jovi wanted to "have real soldiers singing the song" and "bring a lot of attention to the issue," as per People. The duke reportedly loved the idea and, in addition to singing on the track himself, got the Invictus Games Choir on board.
The release of "Unbroken" follows some disappointing news for the sports event. On March 19, the Invictus Games were postponed until May or June of 2021 due to the new coronavirus pandemic, as per Reuters. The event was due to take place in The Hague, the Netherlands, in May, and does not yet have a rescheduled date or location.
On Twitter, Prince Harry addressed the Invictus Games postponement, and urged competitors and supporters alike to be patient and care for their health in the meantime. "This decision was the most sensible and the safest option for all of you and your families as well as everybody else involved in these games," he said. He encouraged competitors to continue to focus on training, adding: "The good thing is you have an extra twelve or so months to be at your absolute top mental or physical fitness, so in that sense I'm really excited about the games next year."
Despite the postponement, Harry remains optimistic about the Invictus Games' success in 2021, and continues to promote the event on social media. On Feb. 28, the Sussex Royal Instagram account posted a video of Bon Jovi and Harry in the recording studio, captioned, "I said I'll give it a shot...Stay tuned for more to come later...#WeAreInvictus."
Back in February, Bon Jovi expressed admiration for Prince Harry and his work with the Invictus Games in an interview for People. "He's so involved in the lives of these soldiers and their stories and, of course, he can relate to them because he was one of them," the singer said. Bon Jovi, whose also collaborated with Prince William, Duke of Cambridge and Prince Charles, on musical tracks, added that Harry had a great "set of pipes."