Prince Harry & Meghan May Miss Part Of Princess Eugenie's Wedding For A Very Specific Reason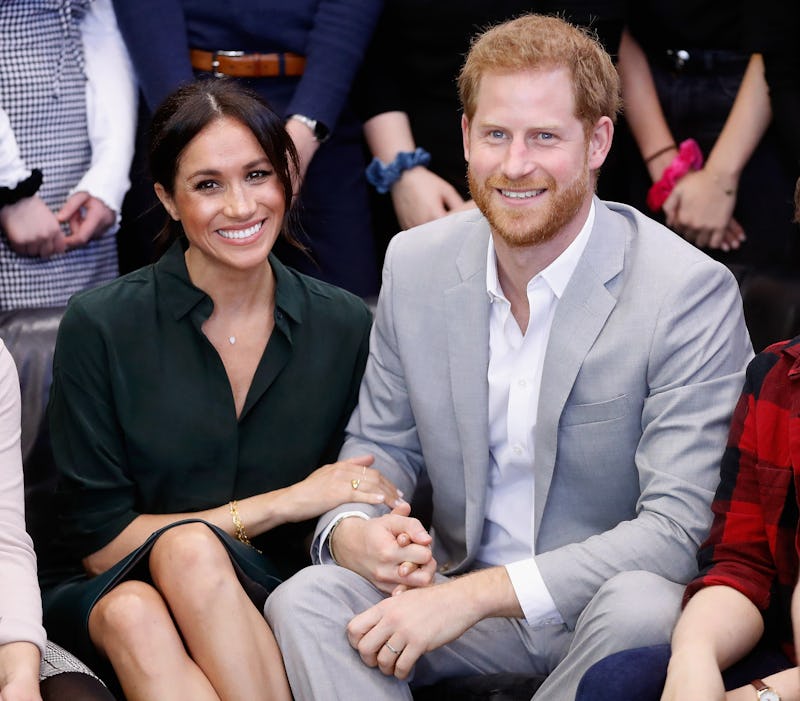 Chris Jackson/Getty Images Entertainment/Getty Images
While there are sure to be a ton of royals in attendance at Princess Eugenie's Oct. 12 wedding, there is one couple who may not be there for all of the weekend's upcoming festivities. According to People, Prince Harry and Meghan Markle might miss some of Princess Eugenie's wedding. But don't worry, the reason why they won't be there for the entire event makes so much sense.
As royal watchers are well aware, Eugenie is set to wed Jack Brooksbank on Friday at St. George's Chapel in Windsor Castle. However, the wedding festivities aren't limited to that day. As People noted, the bride and groom-to-be are extending their celebration to Oct. 13, in which guests will get to party at a festival-style event. Since the Duke and Duchess of Sussex have a lot on their docket in the upcoming weeks, they might not get the chance to celebrate on the 13th with all of their royal family and friends.
Because of their busy schedule, they may need to skip the Saturday festivities to allow for ample travel time for their first major world tour as a couple. The pair are set to travel to Australia, Fiji, the Kingdom of Tonga, and New Zealand between Oct. 16 and Oct. 31. Seeing as though a non-stop flight from London to Sydney would clock in at 22 hours, per People, they may need to get a jumpstart on their travel (or their rest) before going on such a journey. So, it's totally understandable if they need to skip some of the wedding celebrations.
But, there's no need to worry in any case. Even if Harry and Markle can't make the festival celebration on the 13th, you'll at least get to catch them in their wedding day best on the 12th for the main event.
They're not the only royals who might have to skip out on the extra day of festivities. According to People, Prince Philip may not attend the wedding, at all, and it might have a little something to do with Eugenie's mother, Sarah "Fergie" Ferguson. "He does what he wants," a source told the publication, "He made a supreme effort for Harry. I would be very surprised if he did go, because he is so estranged from Fergie. I think he will decide at the 99th hour."
Additionally, Camilla, the Duchess of Cornwall, will not be in attendance for Eugenie's big day, according to the Express. The publication stated that the royal already made plans for an outing in Scotland to visit a school and she did not want "to let anyone down" by rescheduling. The aforementioned royals may miss out on a ton of fun events come Oct. 13. According to a source at the Sunday Times, "There will be dodgems and funfair rides, coconut shies, lots of food stalls, loads of cocktails, bloody Marys for the hangovers and a festival vibe." Sounds like a pretty amazing reception to me.
Regardless of which royals will attend the weekend-long festivities or not, one thing is for sure: Eugenie and Brooksbank's nuptials are sure to be an exciting, grand, and royal affair.