The Real Reason Camilla Won't Be At Eugenie's Wedding Is Actually Pretty Legit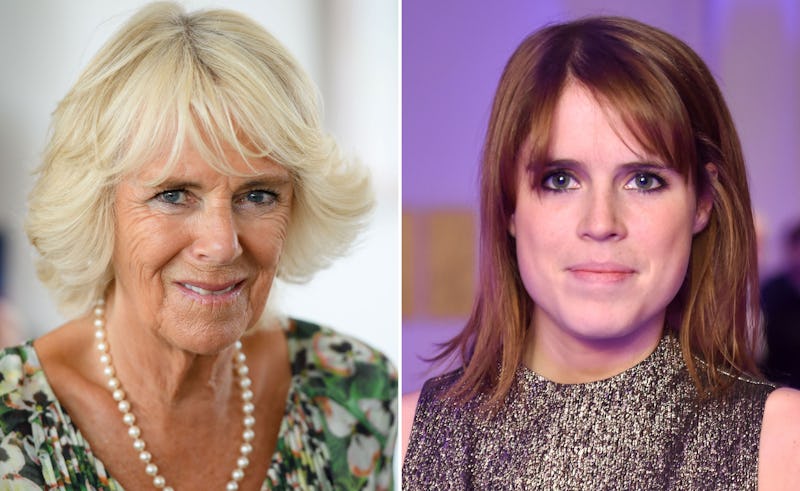 Nick Harvey/Shutterstock/Tim Rooke/Shutterstock
Fans and members of the royal family are currently gearing up for the second royal wedding event on the 2018 calendar, and preparations for the big day are already well underway. However Camilla, Duchess of Cornwall appears to be missing from the current guest list, so why isn't Camilla at Princess Eugenie's wedding? According to the Express, the decision to not attend was made by the duchess herself, the reasoning of which boils down to some already planned charity work.
Camilla has chosen to not take part in the upcoming nuptials as she had already signed up to attend a school event in Scotland on the same day. Despite the duchess being the only senior member of the family not in attendance, it is thought that she wanted to ensure her pre-planned royal duties were honoured. One source told the paper: "When this date was proposed, she said that regrettably she couldn't come. The family understood, particularly Eugenie, and were fine about it owing to her previous commitment. Camilla didn't want to let anyone down."
Another source also claims that parents of the bride Prince Andrew, Duke of York and Sarah Ferguson, Duchess of York, tried to convince her to change her mind, but to no avail, reports the Express. The source commented: "Eugenie and her parents wanted her to change her mind. But Camilla said she had a prior commitment and couldn't."
Although Camilla will indeed be missed, there is still an impressive line-up of guests who will be in attendance. In addition to the parents of the bride, Prince Andrew and Ferguson, Princess Eugenie and Jack Brooksbank's special day will also be celebrated by other notable royals including the Queen and Prince Philip, Duke of Edinburgh and Prince William, Duke of Cambridge alongside wife Catherine, Duchess of Cambridge.
Prince Harry, Duke of Sussex and Meghan Markle, Duchess of Sussex, will also find themselves immersed in their second wedding celebration of the year, the first being their own back in May. However the 850 person guest-list of this wedding isn't exclusive to members of the royal family, as many celebrity and socialites are expected to appear as well.
Long-time friend of the princess and singer, Ellie Goulding, has reportedly been invited tothe wedding in the company of her fiancé Caspar Jopling, and fellow musicians James Blunt, Ed Sheeran, and current X Factor judge Robbie Williams are also expected to attend, according to the Mirror.
The paper also claims that David and Victoria Beckham will be attending, making it their third royal wedding as invited guests, having previously been to Prince Harry and Meghan Markle's big day, as well as Prince William and Kate Middleton's.
According to Cosmopolitan, other rumoured celebrity guests include the likes of George and Amal Clooney, Cindy Crawford, Sir Elton John and David Furnish, and more.
Well, I'm not sure about you, but I think it sounds like this wedding is going to be a lot of fun, and frankly, I'd do anything to make my way onto that star studded guest-list, even if Camilla won't be there.