These Amazing Photos Show Prince Harry's Charitable Work In Action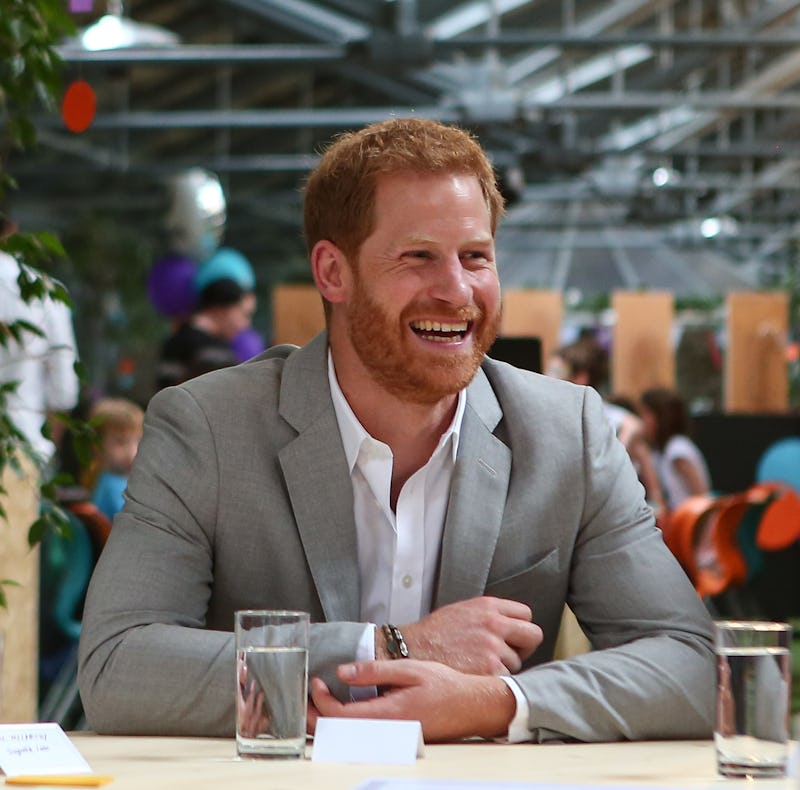 Pool/Getty Images Entertainment/Getty Images
Prince Harry and Meghan Markle have been married for just over two months, but the newlyweds have stayed very busy since their May 19 nuptials. The Duke and Duchess of Sussex have been outspoken about their passion for charitable causes, and Prince Harry's recent charity work shows that he's still super active in the global community.
This week, Prince Harry is attending the International AIDS Conference in Amsterdam. The royal is meeting with young people to talk about HIV, according to People. In a Facebook Live conversation with youth advocates from the Sentebale charity, which Prince Harry co-founded, Prince Harry praised young people for opening the conversation around HIV and AIDs, saying,
"We have to put the power into the hands of the younger generation, because that's where the solutions are going to come from. That's where the passion and engagement is coming from as well... There is a generational gap — there's a generational gap in pretty much every problem we have at the moment. But the younger generation not only have the solutions, but have the capability to be able to solve these problems in a much shorter period."
The royal family may not be allowed to talk about politics openly, but that doesn't mean they can't speak out about issues that are important to them. Like his mother, Diana, Princess of Wales, Prince Harry is working to take away the stigma surrounding AIDS conversations.
In addition to sharing a photo of Prince Harry speaking with youth advocates in Amsterdam, Kensington Palace also shared a photo of Prince Harry visiting children in Lesotho who are connected to Sentebale. The charity helps children and young people affected by HIV in Botswana and Lesotho, and Prince Seeiso of Lesotho co-founded the charity with Prince Harry.
Kensington Palace explained in its Instagram post that Prince Harry visited the children in Africa during a private trip last month. The palace confirmed to People that Markle didn't go with Prince Harry to Africa on this trip. Sentebale's official Instagram account also shared some sweet photos of Prince Harry spending time with the kids in Lesotho.
As Prince Harry works with the #LetYouthLead initiative this week, it's clear that he values young people's input about current issues. It's something other world leaders (and really, people in general) can look up to — the youth really are the future, and listening to them can only help move things forward.
And long before their wedding, Prince Harry and Markle showed just how committed they are to charitable work, both together and apart. Their first public appearance together, back in September, was at a charitable event, the Invictus Games, which honors veterans.
Markle was dedicated to charity long before she and Prince Harry were together, too. She traveled to Afghanistan in 2014 as part of a USO tour, and she's been outspoken about gender equality and women's rights. Markle has also served as a United Nations ambassador and has gone on charitable trips to places including India and Rwanda.
Plus, when Prince Harry and Markle were engaged, they broke with wedding tradition by asking guests to donate to charity, rather than giving them wedding presents. (Although, considering the fact that they're royals, they probably didn't need their wedding guests to give them things like blenders or silverware.)
The royal couple may not be together for every one of their charitable outings, but it's clear that both of them support plenty of noble causes. Based on the photos Kensington Palace and Sentebale have shared so far, it looks like Prince Harry is already making a difference in Amsterdam. Sometimes, making a difference can mean listening to other people's experiences, which Prince Harry is doing — and that's something everyone can learn from.