This Video Of Harry & Meghan's Latest PDA Has Got The Internet Obsessing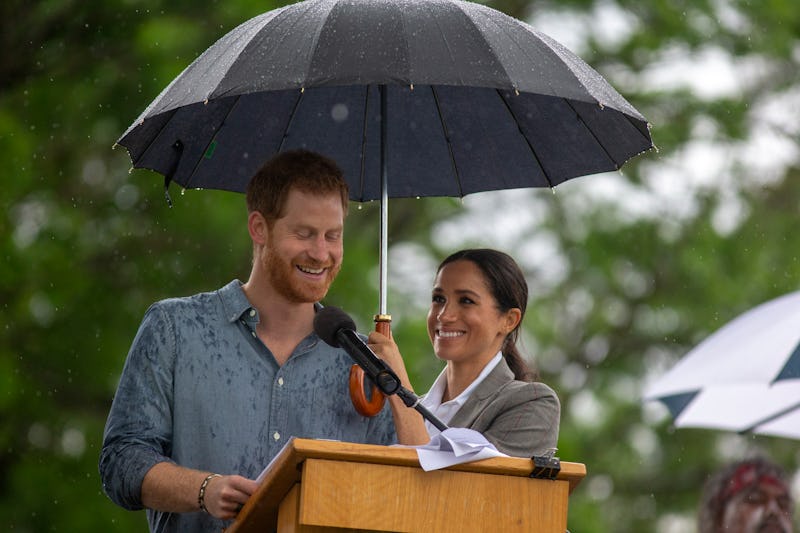 Pool/Getty Images Entertainment/Getty Images
Many royal couples are a little hesitant to show signs of PDA. But the Duke and Duchess of Sussex have always been a little more relaxed. Whether it's holding hands or even kissing in public, the pair are comfortable showing their love for each other. And on Monday, Prince Harry and Meghan Markle shared an umbrella in what turned out to be a truly adorable moment for the newly-married royals.
Currently, the duke and duchess are on a 16-day tour encompassing Australia, New Zealand, and the islands of Fiji and Tonga. First touching down in Sydney, they travelled to the city of Dubbo in New South Wales, which is where their latest cute PDA happened. They had planned to enjoy a community picnic with local residents during the visit, however, the wet weather soon turned that idea on its head. Strangely, Dubbo has been suffering from severe drought for the past couple of years, leading to lots of jokes that Harry and Meghan had brought a bit of luck with them.
Harry was tasked with giving a speech to farmers who, due to the lack of rain, have been struggling to produce crops and make money for themselves and their families. As the torrential weather showed no sign of stopping, Markle quickly came to her husband's aid, sheltering him with an umbrella.
The local mayor did offer the royal his own umbrella but was met with a humorous response from Harry: "It's alright, I've got my wife."
Although plenty of people have called the picture-perfect moment cute, the topic of Harry's speech was far from a laughing matter. As the Daily Mail reports, he began speaking of his gap year in Australia, telling the 15,000-strong crowd: "Coming here brings back memories of 2003 when I spent some time on a small 16,000 hectare property in Roma in Queensland, chasing cows through the bush. The greatest part about visiting Australia is the people. You are the salt of the earth: honest, hardworking, and as tough as they come."
Harry went on to talk about mental health, urging people to ask for help like he did after losing his mother, Princess Diana, in a tragic car crash 21 years ago. "It must be hard not to lose hope when you endure so many dry months knowing you are powerless to do anything about it," he said. "People in many farming communities are often more isolated, social networks are smaller, and there is still a stigma surrounding mental health.
"We know that suicide rates in rural and remote areas are greater than in urban populations, and this may especially be true among young men in remote regions. You need to know a part of being strong and tough is having the courage to ask for help when you need it. If I may speak personally, we are all in this together, because asking for help was one the best decisions that I ever made. You will be continually amazed how life changes for the better."
Once the locals had gotten a taste of Markle's freshly baked banana bread and shared another heart-warming moment with a five-year-old boy, the couple travelled to a school in Dubbo. There, they met several Aboriginal students who hailed Markle as a role model. "Us being Aboriginal girls and her being of a different race and being accepted into the royal family shows us anyone can be accepted," 17-year-old Kieasha Ross told the Daily Mail.
It seems like Harry and Markle are proving they're the people needed to help push the royal family into the future. Public displays of affection, inspirational speeches, and a penchant for flouting the no selfie rule: they really do have it all.