Prince Harry & Meghan Markle's Valentine's Day Week Plans Are Already Cuter Than Yours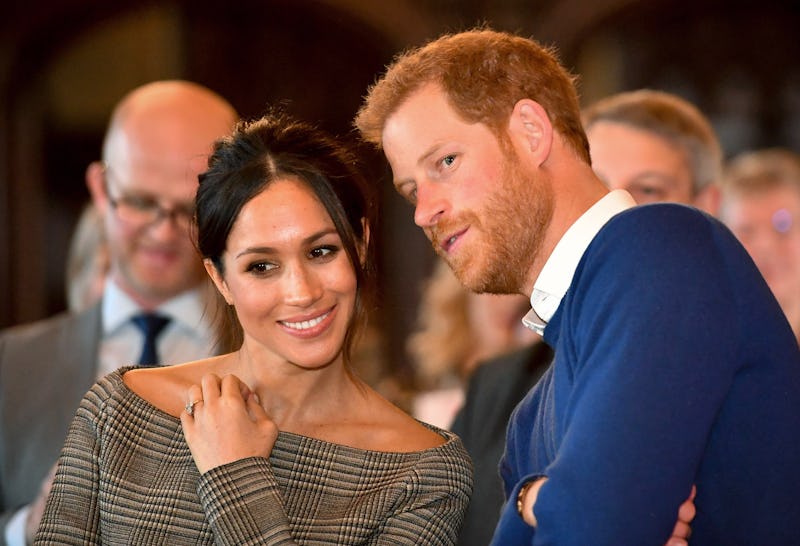 WPA Pool/Getty Images Entertainment/Getty Images
In case you needed something to gush over today, the official Royal Twitter account has shared Meghan Markle and Prince Harry's plans for Valentine's Day week. (Yes, it is being declared a full week now as per the Royal Family's plans. Call it commercialized nonsense if you're feeling pessimistic, but I think we could all use a few extra days of love-centric celebration.)
On the day leading up to Valentine's Day, the couple will be travelling to Edinburgh, Scotland. If the Google search results are any indication, Edinburgh is as simultaneously lush, quaint, and picturesque as an American would expect a Scottish city to be. Ms. Markle and Prince Harry will be attending events at the Edinburgh Castle, the historic fortress that looks straight out of Game of Thrones. (In fact, the two may be more connected than you think. George R.R. Martin has claimed his infamous "red wedding" scene was inspired by a massacre linked to Edinburgh Castle. Anyway, back to the romantic stuff.)
The engaged couple will also be visiting Social Bite, a restaurant whose mission is to help feed and employ people who are homeless. You may be familiar with the restaurant as, TIME points out, Leonardo DiCaprio held a raffle for people to have lunch with him at Social Bite in 2016. The establishment is pretty popular among celebrities as George Clooney also visited Social Bite in late 2015.
Prince Harry and Ms. Markle will round out their Edinburgh trip at the Palace of Holyroodhouse, where they'll be attending a youth achievement celebration. The reception is part of Scotland's Year of Young People, a campaign to empower young Scots aged eight to 26 and give them a platform to share their talents and ideas.
What the couple plans on doing on February 14 itself isn't specified so you can fill in whatever romantic, royal Valentine's Day dreams your heart desires. As a Valentine's Day gift to me from me, I'm going to imagine that they'll be binge-watching rom-coms in pajamas and then ordering in a pizza.
According to People, Ms. Markle is a self-proclaimed fan of the holiday of love, having previously written about it on her old blog, The Tig. "Hook, line and sinker, I am such a sucker for Valentine's Day," Markle wrote.
"Without fail, every February 14th, I wake up feeling like I'm immersed in a Robert Doisneau photo, waiting with bated breath to be dipped into a kiss. This is all happening in black and white, of course. And in Paris, if I had my way. But delusions of francophile grandeur aside, Valentine's Day is special wherever you happen to find yourself. And in terms of gifts, be it breakfast in bed, a sweet love note, or a single flower, it really is the thought that counts."
The couple's recent engagement is as culturally significant as one might expect a potential Royal Wedding to be. However, the fact that Markle, who identifies herself as biracial, is at the center of the narrative is worth noting. As Kadeen Griffiths states in a previous piece for Bustle, this engagement is particularly important in the context of cultural conversations on race and the Royal Family. "Many black women, including myself," Griffiths writes, "find the idea of a modern princess of African descent to be the ultimate wish fulfillment."
There are plenty of ways to celebrate Valentine's Day even if you don't have, you know, the entire world at your Royal disposal. Make plans with your favorite galentine. Live vicariously through Ms. Markle by binge-watching all her Hallmark movies. Find the perfect way to say "I love you" in gift-form without completely emptying your bank account. Or just spend the day, and the days leading up to it, wondering what the royal couple is up to. That's basically like watching a rom-com unfold in real life.