Prince Harry & Meghan Markle's Dog Reportedly Has The Most Adorable Book-Inspired Name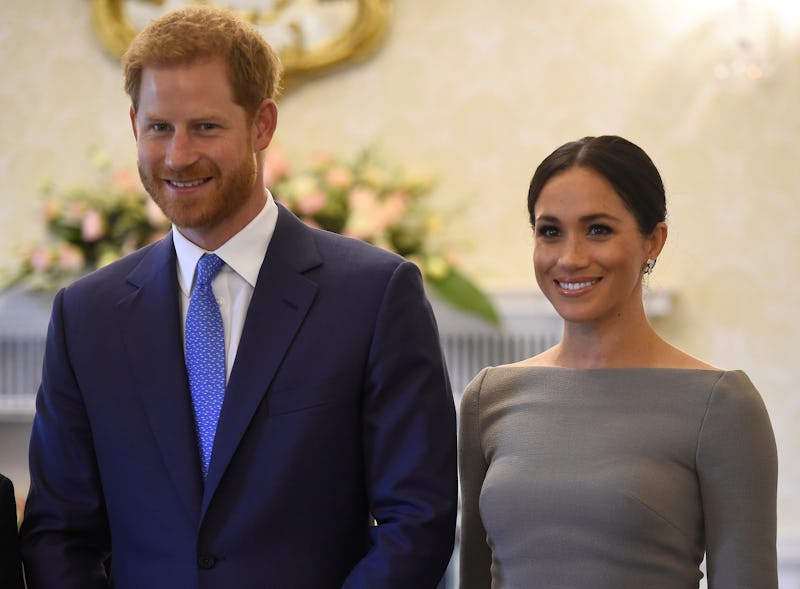 WPA Pool/Getty Images News/Getty Images
It's always good news when the royal family welcomes a puppy into the fold, and to make things even sweeter, Prince Harry and Meghan Markle's new dog's name is reportedly a literary one. According to Vanity Fair, the royal biographer, Sally Bedell Smith, confirmed the couple's new pup is named Oz, most likely after L. Frank Baum's famous novel The Wonderful Wizard of Oz or the classic film based off the book.
It was confirmed last week that the couple adopted a new black Labrador, and that the dog would join the newlyweds in the Nottingham Cottage of Kensington Palace. The couple already lives with Markle's rescue beagle Guy, who came with the star when she made the permanent move to the United Kingdom. Before the Royal Wedding, Markle also owned an older Labrador/Shepard mix named Bogart, who was deemed too old for the journey overseas and was adopted by a family friend. It's possible that the new puppy will help Markle adjust to life without Bogart, since she was very attached to the adopted dog.
Seeing the Duke and Duchess of Sussex welcoming another dog to their family is a joy, no matter the reason. Now if only they would share some photos of their new pup for the world to see — so far, they've yet to release pictures or comment publicly on the pet adoption. Still, it seems likely that the moniker Oz is taken from the classic novel, given the significance of literature in Prince Harry's life.
In July, Prince Harry reportedly bought his new nephew, Prince Louis, a first edition of Winnie the Pooh as a christening gift. According to The Sun, the present was likely a nod to his mother, Princess Diana, who reportedly loved old classics.
The Royal Family has a historic love for dogs - just ask Queen Elizabeth, who was a corgi owner for over 80 years. In 2012, Prince William and Kate Middleton also adopted a Cocker Spaniel named Lupo shortly after their wedding. The dog still resides with them at their home in in North Wales. Markle has a well-documented love of pets, and Guy was at her feet during much of the morning wedding preparations, according to People.
It's been an eventful summer for the royal couple, who are splitting their time between a country-getaway in the Cotswolds, and their residence at Kensington Palace. In late August, the couple attended a series of charity events, including a performance of Hamilton in support of Sentebale, an organization that helps children and young people affected by HIV. They also appeared at a 100 Days of Peace Concert that supported several organizations helping army veterans including Help for Heroes, Combat Stress, and Heads Together.
In July, the couple took a trip to Ireland, where they met with the country's President Michael Higgins and his wife, Sabina Coyne Higgins. The couple own two enormous dogs, Bród and Síoda, with whom Prince Harry and Markle were photographed. The trip might just have reminded them of their love for dogs, since it wouldn't be long after their return that they reportedly welcomed their new puppy to their home.
Fans are eager to see pictures of the Royal couple's new family member, but Kensington Palace has yet to comment on the adoption. It's unclear if the Duke and Duchess of Sussex will open up about the newest member of their family, but let's hope they share some official dog portraits soon. Until then, fans can only speculate on the meaning behind the name Oz, and whether or not it is a tribute to the classic novel and movie.