Prince Harry & Meghan Markle's Official Monogram Is A Perfect Fit For The Royal Couple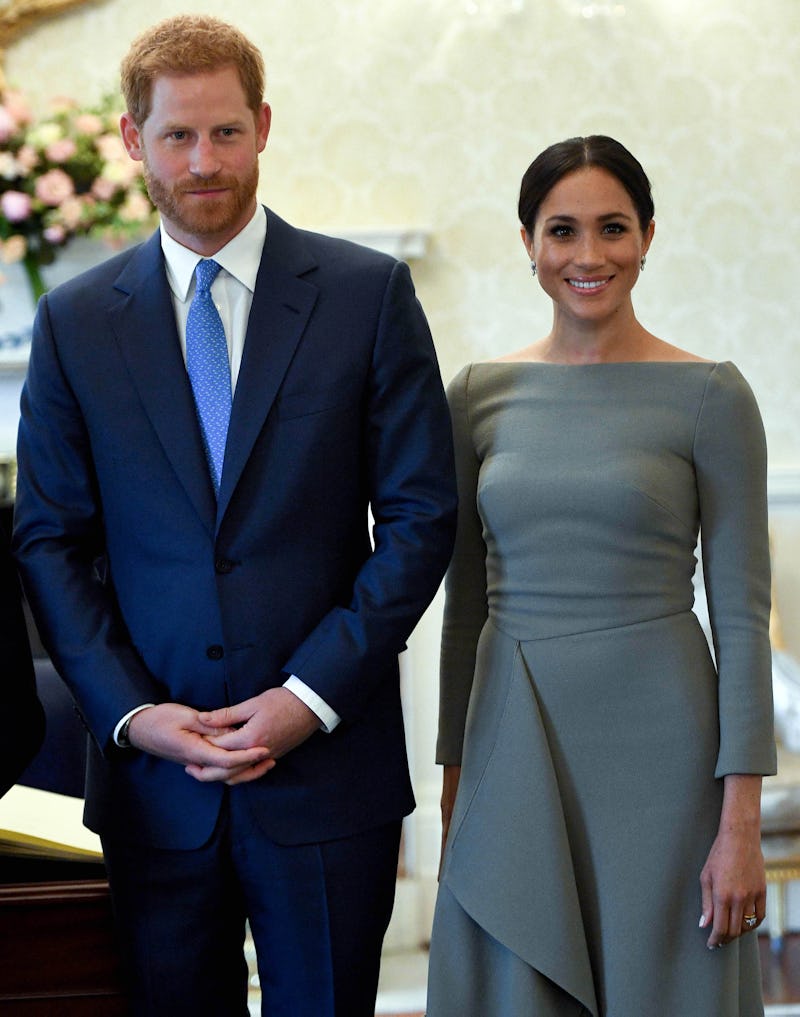 Pool/Getty Images Entertainment/Getty Images
Just in case you needed even more proof that Prince Harry and Meghan Markle are meant to be, the latest update to their regal stationary provides even further proof to that fact. That's right, my friends — Prince Harry and Meghan Markle's official joint monogram has been unveiled, and it's basically the definition of elegance. But then again, do we expect anything less from this adorable duo?
The reveal happened thanks to to host Georgie Gardner from The Today Show in Australia, who recently received a thank you card from the royal couple, which contained the impressive emblem at the top of the note. Gardner had given Harry and Meghan a "neoprene picnic rug" as a wedding gift back in May when she covered the live event, according to E! News. So she had expected to receive a card from them at some point, though she had no idea she'd also be giving fans a firsthand look at the newlywed's new monogram as well. Because as soon as Gardner started reading the letter out loud on the air, viewers were quick to notice the personalized nature of the stationary.
The cypher consists of an intertwined, "H" and "M" in the same style of cursive that both Harry and Markle have on each of their individual cyphers as well. Shown above the lettering is a coronet, which consists of many of the same features as Markle's coat of arms. "It is composed of two crosses patée, four fleurs-de-lys and two strawberry leaves," the Palace revealed in an official statement.
Once the emblem made its way through the Internet, the consensus was pretty unanimous: it's perfect. Much like Harry and Markle themselves, this monogram can do no wrong and is already beloved by any who have seen it. In fact, some Twitter users are even thinking about changing their names so that they could also use the monogram as their own.
"Oh, I love this! Almost makes me want to change my first name to something that starts with an M," Twitter user @KGraceHill wrote. Meanwhile, others just couldn't stop admiring the overall look of the cypher with @davidkfulmer tweeting: "I love the new joint monogram! So stylish and royal!"
Harry and Markle continue to make headlines on a weekly — if not daily basis — whether it's swooning over their PDA at a polo match or wondering how the Duchess of Sussex will be celebrating her birthday on Aug. 4. Fans never grow tired of learning as much as possible about this royal couple and they always seem happy to oblige. This monogram may seem like such a small thing to some, but to those of us who have fully immersed ourselves in all things involving the royal family, it's a pivotal moment in Harry and Markle's marriage. This will serve as a symbol of their unity and love from here on out, so it should come as no surprise that it's the epitome of class and elegance.