This Detail About Meghan & Harry's Wedding Cake Makes Their Celebration Even More Special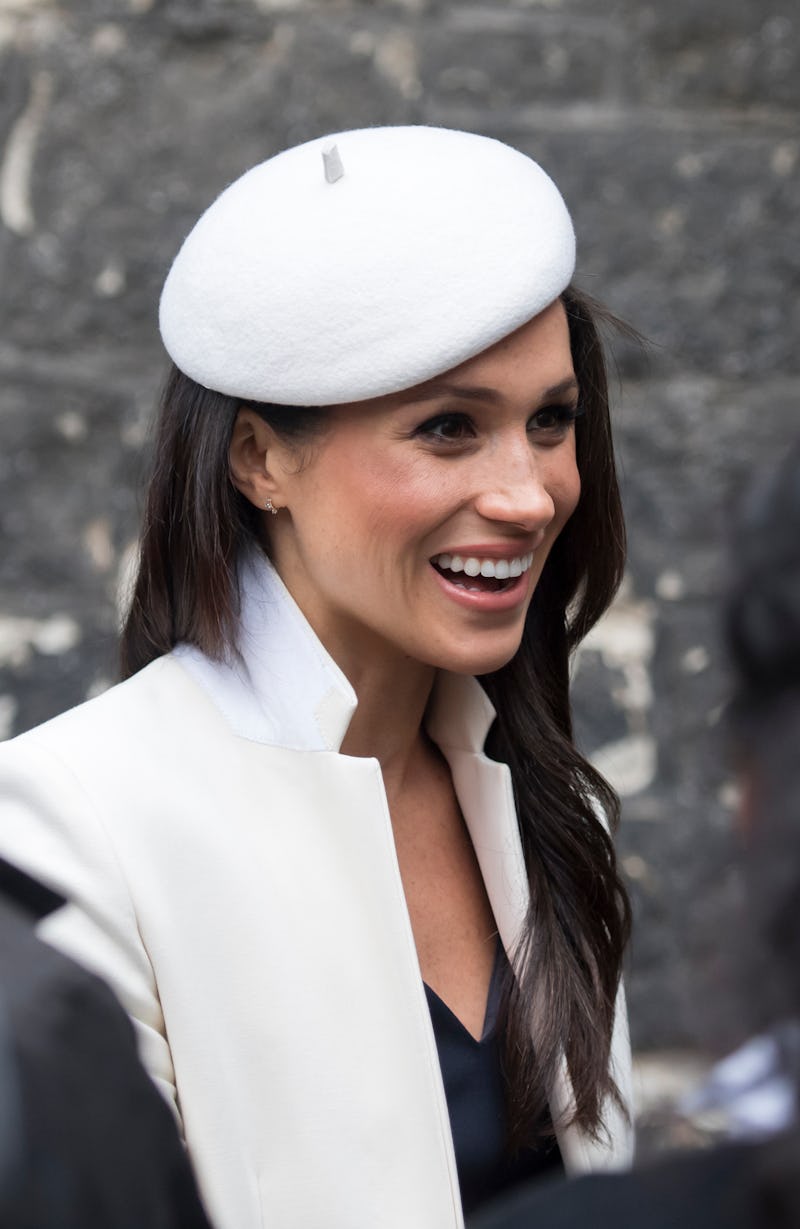 WPA Pool/Getty Images Entertainment/Getty Images
On March 20, Kensington Palace revealed all the details you never knew you needed about Meghan Markle and Prince Harry's wedding cake. And it turns out that Markle has a connection to the wedding cake baker, Claire Ptak, all thanks to her former lifestyle blog, The Tig. Their connection just puts another fun layer on this latest royal wedding news.
As Kensington Palace stated, Markle interviewed Ptak for The Tig. Since the website is unfortunately now deleted, there's no longer access to the pair's interview. Seeing as though The Tig featured professionals from all walks of life (from businesswomen to actors) as they discussed their trades and passions, it's safe to say that the two discussed Ptak's journey to opening a bakery in London.
According to the Kensington Palace Twitter account, Ptak owns the Violet Bakery in East London. The owner, who is originally a California native, opened the shop in 2010, according to a press release from Kensington Palace. Their statement goes on to note that the baker had previously worked at Chez Panisse under Alice Waters in Berkeley, California and at The Anchor and Hope in London.
Coincidentally, the bakery owner and Markle have a few similarities, including their current status as expats in London. The two are also both originally from California and see eye-to-eye on some particular values relating to food. In the same press release from Kensington Palace, Ptak discussed how glad she was that she shared those very values. She said,
"I can't tell you how delighted I am to be chosen to make Prince Harry and Ms. Markle's wedding cake. Knowing that they really share the same values as I do about food provenance, sustainability, seasonality and most importantly flavour, makes this the most exciting event to be a part of."
Not only is this connection really fun, but the fact that Kensington Palace recognized Markle's Tig past was also a nice inclusion. So far, tweets from the palace haven't placed a lot of focus on her other pursuits, including her acting roles and her lifestyle blog. Instead, they've usually focused on the other, current members of the royal family and their events. So, it was nice that the official account was the one to bring up this exciting connection and place the focus on one of Markle's past accomplishments, her successful, gone but not forgotten, blog.
Elsewhere in the official announcement, Markle and Harry's wedding cake flavor was revealed, and it sounds so delicious. In another tweet from the account, it was revealed that the couple asked Ptak to make a "lemon elderflower cake that will incorporate the flavours of spring." They went on to note that the cake would be "covered in buttercream and decorated with fresh flowers." Sign me up for a piece of this cake, please! If the cake is anything like Ptak's other creations that she's shown off on Instagram, Markle and Harry's wedding guests are in for a real treat.
This isn't the first time that Kensington Palace has released some cool details about the big event. Previously, the Palace revealed even more about the timeline of Harry and Markle's wedding day. They shared that the ceremony would start at 12 p.m. (8 a.m. ET). Then, the two would take a carriage ride around Windsor Castle, so that even more of their well wishers can get a glimpse of the newly married couple. Later in the day the pair are set to gather with their guests at St. George's Hall where they'll likely get to dine on that lovely lemon elderflower cake.
From the sounds of it, Markle and Harry are in store for a wonderful treat with their wedding cake. And considering that Markle has this connection with the cake's baker, it's likely that the royal-to-be knows that she's made an expert choice in enlisting Ptak's baking talents.