After They're Married, Here's How You Should Officially Refer To Harry & Meghan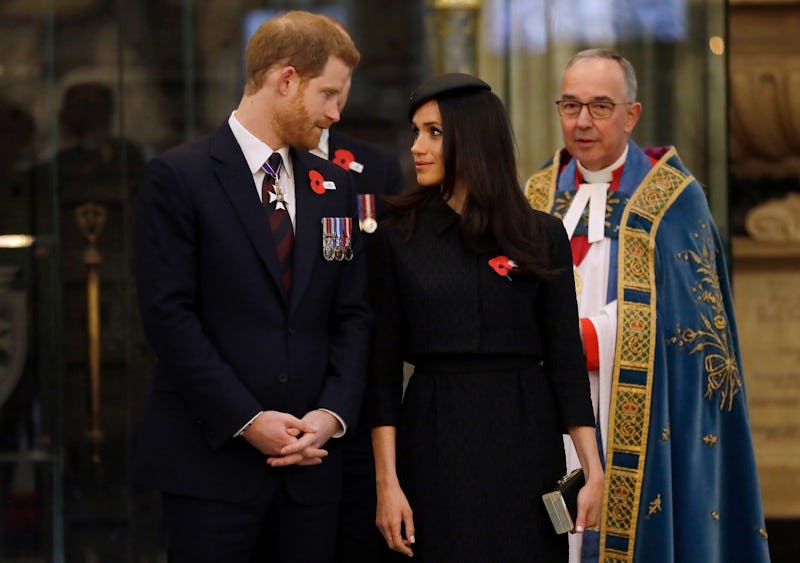 WPA Pool/Getty Images Entertainment/Getty Images
The royal wedding includes a fair amount of hullaballoo — there's speculation on everything from the guest list to what Meghan Markle, the bride, will be wearing — but it does include a fair amount of official royal business. Like, for instance, what are Prince Harry and Meghan Markle's official new titles? Every new married couple from the British royal family gets one, and now, Harry and Meghan have solidified their place in British history.
According to a statement from the British royal family, "The Queen has today been pleased to confer a Dukedom on Prince Henry of Wales. His titles will be Duke of Sussex, Earl of Dumbarton and Baron Kilkeel. Prince Harry thus becomes His Royal Highness The Duke of Sussex, and Ms. Meghan Markle on marriage will become Her Royal Highness The Duchess of Sussex."
When Harry's older brother, William, got married to Kate Middleton in 2011, that new couple received the titles of Duke and Duchess of Cambridge, Earl and Countess of Strathearn, and Baron and Baroness Carrickfergus. The other option of titles for Prince Harry was Duke of Clarence, but apparently the Queen thought it prudent to choose Duke of Sussex instead.
Getting a title after you get married is part of the deal when you're a member of the British royal family, but Harry and Meghan are such informal people, will they ever use them? Maybe for official business, or just when they need a new pet name for each other.
Details about the wedding are still trickling out, but here's what's known so far — the wedding is taking place at St. George's Chapel at Windsor Castle, England, which is about an hour outside of London. The chapel sits only (!) about 600 people, which is still much smaller than Prince William and Kate's marriage in 2011. But hey — Westminster Abbey is a much bigger venue, and since Prince William is the heir to the British throne, his wedding was a little bigger. St. George's Chapel, though it still seats 600 people, is a little more intimate and seems more akin to Harry and Meghan's style. They're much more low-key. And when Meghan and Harry do marry, the ceremony will be officiated by the Archbishop of Canterbury, and it all goes down starting at 12 p.m. GMT.
Watching Meghan ascend to the British throne has been particularly exciting because of just how many traditions she and Harry are breaking with their nuptials — Meghan is a divorcée and an actor, and it's really mixing things up in the royal family. Meghan is also biracial, and in a piece about her identity for Elle U.K., she wrote, "While my mixed heritage may have created a grey area surrounding my self-identification, keeping me with a foot on both sides of the fence, I have come to embrace that. To say who I am, to share where I'm from, to voice my pride in being a strong, confident mixed-race woman." Hear, hear.
It's also exciting to have an American as a part of the British royal family. If anyone is going to spice things up, it's going to be Harry, the youngest, fun-loving son of the late Princess Diana, who always strived to break royal tradition when she was trapped in the palace. Prince Harry and Meghan Markle's marriage is the ushering in of a new era for the British royal family, one that will hopefully bring them into the modern age and make them seem more accessible in the eyes of the public, both in Britain and around the world.