This Video Of Prince Harry Mentioning Meghan Markle's Pregnancy Is Absolutely Adorable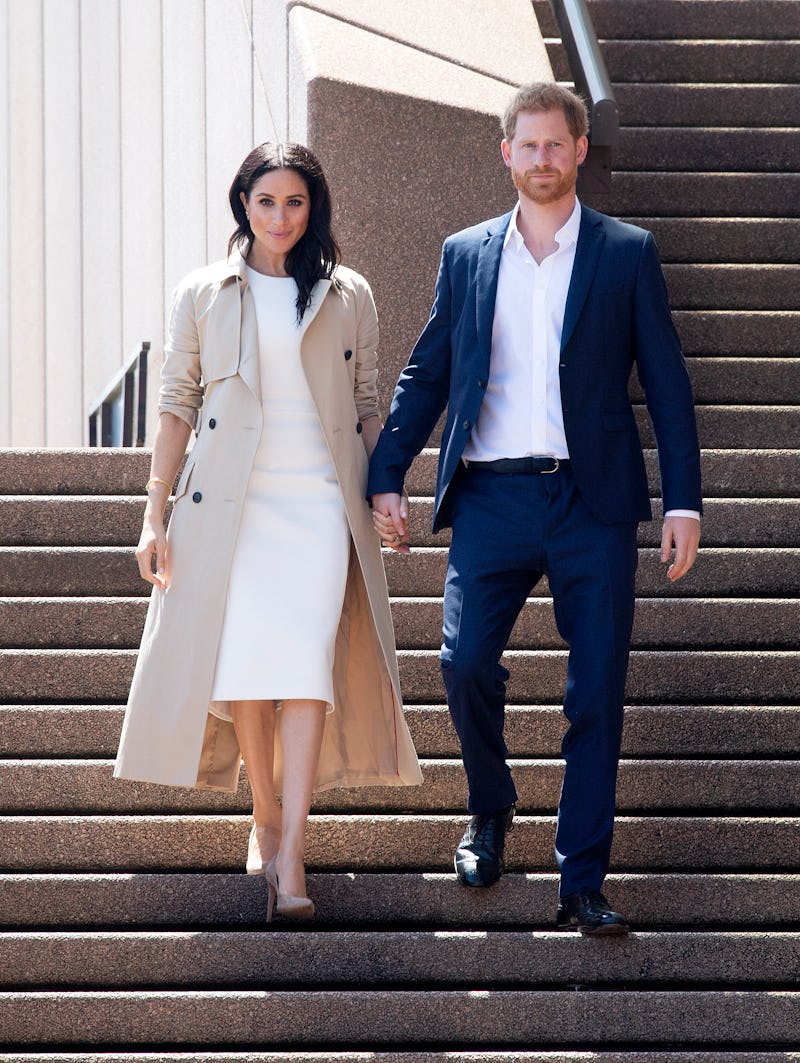 Pool/Getty Images Entertainment/Getty Images
It's only been one day since Prince Harry and Meghan Markle announced they're expecting their first baby together, but this proud dad-to-be is already talking to the public about this exciting time in their lives. During a visit to Australia on Monday, Prince Harry mentioned Markle's pregnancy for the first time, and although the comment he made in his speech was a short one, it was also very sweet.
This week, Markle and Harry are on a two-week tour, currently visiting Sydney. On Monday afternoon, they attended a reception that was held in their honor, and as videos of the speech that Harry made that night show, he couldn't help but talk about how their visit to Australia made the day they announced their pregnancy even better.
At first, Harry talked about how this trip was special since it was the first time Markle had visited Australia, and that they got to ride a boat and see koalas — and that he was pleased to see they were serving tea and beer. Then, he said as he smiled at Markle, "We also genuinely couldn't think of a better place to announce the upcoming baby, be it a boy or girl, so thank you very much."
Harry may not have shared much about his future son or daughter, but it's sweet for him to bring up the subject at all, especially since it was so newly announced. And seeing the way he smiled at Markle when he brought up the baby? Too perfect.
Markle and Harry first announced the news on Monday morning via a tweet from the official Kensington Palace Twitter account. The statement said:
"Their Royal Highnesses The Duke and Duchess of Sussex are very pleased to announce that The Duchess of Sussex is expecting a baby in the Spring of 2019. Their Royal Highnesses have appreciated all of the support they have received from people around the world since their wedding in May and are delighted to be able to share this happy news with the public."
Unfortunately, that statement includes all the details that are out there about this pregnancy so far, but being that the news was just announced, hopefully more information is on the way in the near future.
Markle and Harry's Australian tour kicked off this week, with Markle wearing Princess Diana's jewelry. According to CNN, that's where they were given their first baby gifts: a stuffed kangaroo and a pair of baby Ugg boots from Governor-General Sir Peter Cosgrove and his wife, Lynne Cosgrove. Later that day, they visited the Taronga Zoo, where they met baby koalas that had been named Meghan and Harry in honor of the royal couple. Sounds like a good place for them to take their baby-to-be when they're old enough to appreciate it, right?
It's sweet to see how happy Harry and Markle are about this new development in their lives. Hopefully, Harry's speech is a sign that he may share more about their baby as Markle's pregnancy continues. After all, fans of the royal family are going to need something to tide them over until spring 2019.